Native Instruments has premiered Molten Veil, an exciting new Maschine Expansion Pack aimed at producers looking for more commercial tech house styles. The expansion was curated by the awesome Umek, a 20-year veteran of the international tech house scene. Molten Veil runs in the latest Maschine software on Maschine Studio, Maschine, or Maschine Mikro and is available exclusively via Native's website. A compact version for iMaschine is also available via the iMaschine in-app store.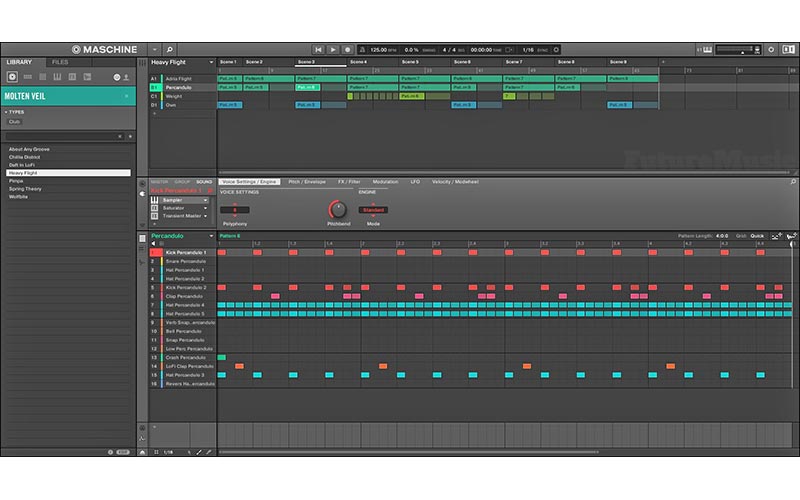 Molten Veil features the defining bass-lines, hi-hats, and deep kick drums characteristic of the dynamic, four-to-the-floor main room tech house sound. The expansion comes loaded with auto-mapped macros for instant, expressive control over sound shaping and effects. Exclusive Massive and Monark presets plus a collection of 178 new Maschine Drum Synth presets provide immediate access to sounds tailored to the genre while also acting as starting points for sound design.
Molten Veil Maschine Expansion Pack Features:
» Kits: 42
» Projects: 7
» Massive presets: 40
» Monark presets: 45
» Patterns: 170
» Library size: 197 MB
» System requirements:
— Maschine Studio
— Maschine
— Maschine Mikro 2.4 or higher
— Massive (latest update)
— Reaktor 6 or the Reaktor 6 Player
Molten Veil contains sounds crafted by acclaimed techno icon Umek. Since the early 90s, the Slovenian DJ-producer has risen from the underground techno scene to release music on Toolroom, Great Stuff, and his own 1605 imprint. To complement the release of this Maschine Expansion, Umek has also compiled an exclusive playlist on Spotify of some of his favorite tracks.
A compact version of Molten Veil is also available as an iMaschine Expansion, for creating beats on the go. Tracks can be exported to Maschine STUDIO, Maschine, and Maschine MIKRO for completion.
Native Instruments' Molten Veil is available now for $49 / €49 / £44 / ¥6,280 and runs in the Maschine 2 software. The iMaschine expansion is available at the iMaschine in-app store for $0.99 / €0.99 / £0.79 / ¥120.

Native Instruments