Arturia has released the B-3 V, an authentic-sounding software simulation of the classic B-3 tonewheel organ and Leslie rotary speaker combo.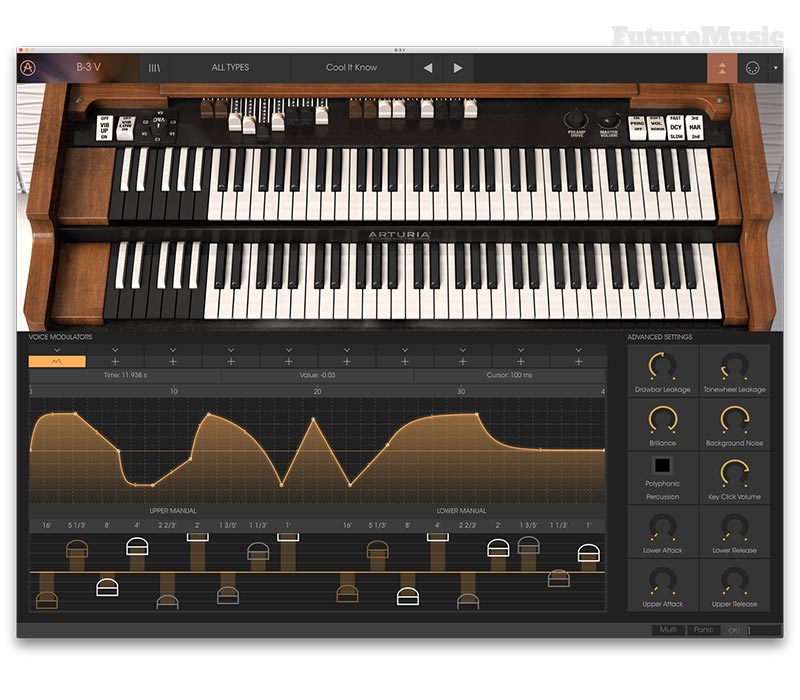 Arturia claims the B-3 V realistically recreates the unique sound of the B-3 tonewheel organ. Keyboard players have made their mark in all forms of popular music with the B-3, back from its inception in the Fifties way past its discontinuation through to today. Procol Harum's hit 'A Whiter Shade Of Pale' proved particularly memorable with a melancholic countermelody displaying an altogether softer side to the B-3. But raucousness remains the order of the day for the blues, jazz, and gospel genres with which it first found favor. After all, it had historically been aimed at churches as a more compact and affordable alternative to conventional pipe organs.
Arturia B-3 V Features:
» Physical Modeling Engine
» Dual manual Interface
» Each manual has separate MIDI channel preferences
» 9 Drawbars per manual
» 3 modeled chorus and vibrato settings
» Separate upper and lower ON/OFF
» Preamp drive
» Modeled rotary speaker emulator
» Advanced controls for adjusting the model
» Convolution based Reverb
» Traditional Leslie performance controls
» Swell pedal
» Percussion controls
— On/off
— Volume soft/normal
— Slow/Fast decay
— Harmonic selection
» Output effects where you can change the order
— Volume, wah, auto-wah
— Flanger
— Compressor
— Chorus
— Analog Delay
» New Advanced Drawbar modulators
— LFO's with multiple waveforms and phase
— Multipoint envelopes
— Step sequencer
— Drawbar destinations with positive and negative amount controls
» Physical model engine parameters
— Drawbar leakage
— Tonewheel leakage
— Brilliance
— Background noise
— Polyphonic Percussion
— Key click volume
— Attack and release controls
» 86 factory presets
» Easy to use MIDI mapping
Thirties-developed tonewheel technology originally made that special sound happen. An electronic current is created when rotating a metal tonewheel near an electromagnetic pickup and amplifying that signal. The B-3 has 91 of those tonewheels with each key connected to a fixed set of tonewheel outputs. Drawbar settings control how these are mixed together. The tube preamplifier subsequently shapes the sound a little further — filtering and distortion take hold here — while factoring the position of the expression pedal. This not only acts as a volume control but also affects the frequency response of the preamp which is connected to a speaker.
Speaking of which, B-3 V faithfully simulates the favored Leslie tone cabinet, containing a power amplifier that drives a rotating horn and a stationary woofer firing into a rotating drum reflector. B-3 V brings this classic combo — complete with the inherent imperfections that made that tonewheel technology sound so unique — to the present-day desktop as an AAX-, AU-, VST-, and VST3-compatible plug-in in any Digital Audio Workstation or as a standalone version.



Arturia implemented MIDI control of many parameters and insert slots for analog delay, chorus, flanger, overdrive and phase effects, as well as advanced settings for upper and lower manuals and rotary speaker behavior. The B-3 V also sports a built-in step sequencer, allowing anyone to easily set an amount of modulation for each step of the sequence.
Arturia's B-3 V comes in the AAX, AU, VST2, and VST3 flavors and is available now for $199 / €199.
Note: B-3 V is included in Arturia's V Collection 5 bundle of seventeen legendary keyboards — plus Analog Lab 2, available now for an introductory promotional price of $399 / €399.

Arturia