Grove Hill Audio has announced the Liverpool, a hand assembled, all-tube feedback compressor. The design is a variable transconductance compression circuit utilizing a medium Mu, semi-remote cutoff twin triode tube.
Altec 436 tube compressors were first introduced to Abbey Road Studios in 1960. Subsequently, they were improved with several modifications and are still in use today. These rare iterations of the Altec 436 tube compressors have never been commercially available. For years, there has been much curiosity surrounding the actual modifications made to these infamous compressors. To differentiate the modified units, the original green Altec front panels were painted gray and a new model number was assigned. In the spirit of the elder engineers, Grove Hill respectfully took liberties and made subtle circuit and control modifications that make this compressor very special.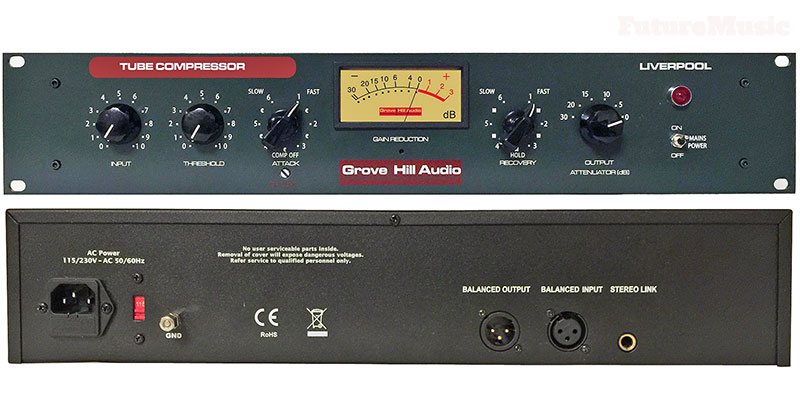 Grove Hill could not help themselves and ended up performing a little "hot modding" to the Liverpool, allowing users to push it harder on the front and the back ends expanding the creative possibilities. This is why the product is it's own product and not a clone. It is a hybrid, carefully thought out in the spirit of the original Altec/Abbey Road compressor, but new to the market with additional design enhancements.
The Liverpool compressor took well over a year to recreate the sonic character relative to the units still in use at Abbey Road and the original Altec 436. Custom wound input and output transformers, critical component choices and circuit layout were all carefully considered in developing a reliable creative tool for a wide variety of instruments, vocals and program sources. Technically, the Liverpool uses a medium Mu, semi-remote cutoff twin triode tube as the gain reduction element. This tube is re-biased by the 6AL5 vacuum tube rectified side-chain control voltage which causes the Mu tube to smoothly change its mutual conductance, providing the change in gain. The faithfully recreated Liverpool power supply provides low noise and stability even at 30dB of gain reduction.
Grove Hill Audio Liverpool Compressor Specifications:
» Type: Tube Compressor Amplifier
» Frequency Response: +/- 1.5dB, 10 Hz to 40,000Hz
» Frequency Response (Altec): +/- 1.5dB, 30 Hz to 15,000Hz
» Power Output: +20 dBu
» Total Harmonic Distortion: 0.08% at 1 KHz with output at 0dB
» Noise Level: 82 dBu below rated output
» Source Impedance: Any up to 15,000 Ohms
» Load Impedance: 600 Ohms
» Attenuation: 30 dB in 5 dB steps – Constant impedance.
» Maximum Compression: 30dB
» Attack Times (msec): 3*, 19*, 48*, 77*, 109*, 138*.
» Recovery Times (*msec): 127*, 447*, 917*, 1.9 sec., 3.4 sec., 6 sec.
» Threshold: 0dBm to +16dBm Output
» Compression Ratios: 2:1 at 0dBm Threshold, 4:1 at +16dBm Threshold
» Tube Complement: 6BC8/6BZ8, 6CG7, 6AL5
Grove Hill Audio's Liverpool Compressor is available now for $1495.

Grove Hill Audio