Focusrite is now shipping their Red 4 Pre, the flagship of their interface range. The Red 4 Pre combines four of Focusrite's digitally-controlled, Air enabled, Red Evolution mic preamps with dual Thunderbolt 2, Pro Tools | HD and Dante network audio connectivity. Featuring parallel path summing conversion and 58-in/64-out connectivity, married to Thunderbolt 2, Focusrite claims the Red 4 Pre has the lowest round-trip latency, in whatever DAW you use, of any of their products.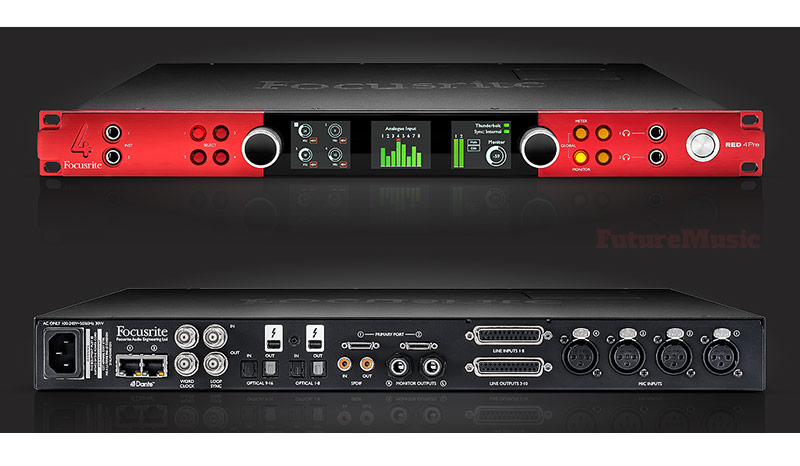 The Red 4 Pre can be incorporated into any Pro Tools | HD system, or use it with existing Avid interfaces, via its twin DigiLink connectors. Dual Thunderbolt 2 ports allow daisy-chaining of additional components such as hard drives and displays. Plus the Red 4 Pre is network audio enabled right out of the box, with dual Ethernet ports for Dante audio-over-IP networking, letting you expand your recording capability over Ethernet for up to 64 additional channels anywhere on your network, with low latency. Additional Red or other Dante-compatible components can be connected to the Ethernet ports of the Red 4 Pre to provide additional channels irrespective of the interface used to drive the Red 4 Pre.



The Red Evolution mic pres in the Red 4 Pre claim to deliver a clear and honest audio performance with –129 dB EIN and 63dB of gain that allows plenty of room to bring your own sound to life with your choice of external processing. The mic pres can be controlled digitally, for adjusting/recalling settings and stereo linking via Focusrite Control software. They also include Focusrite's Air effect, recreating the sound of the transformer-based mic preamps in the ISA range. When Air is enabled, the microphone impedance is set to 2.1k Ohm and the frequency response curve is given a subtle mid-high boost – all in the analog domain.


Focusrite Red 4 Pre Features:
» 4 Focusrite Red Evolution Mic Preamps
» 24-bit/192kHz converters with parallel path summing
» Flexible connectivity:
— Dual Thunderbolt 2 ports enable easy daisy-chaining
— Dual DigiLink connectivity to Pro Tools | HD systems and Avid interfaces
— Dual Ethernet ports for Dante audio-over-IP networking
» Low round-trip latency
» Ethernet expansion up to 64 additional channels
» Software bundle includes:
— Focusrite Control software
— Focusrite Red plug-in suite
— Softube Time and Tone plug-in pack
Focusrite claims the converters in the Red 4 Pre are "the best they've ever made," employing a parallel path summing configuration to lower the noise floor. They've selected high-performance, conversion chips and optimized sound quality through quality component selection, advanced design and board layout. Red 4 Pre's converter design strikes a balance between multiple factors – including dynamic range, distortion, noise floor and conversion latency – for the optimal overall sound. The Red 4Pre delivers 24-bit/192kHz sampling capability, 118dB(A-D)/121dB (D-A) dynamic range, ?0.0009% THD+Noise and a frequency response flat from 20Hz to 35kHz ±0.25 dB.
Focusrite's Red 4 Pre costs $3100 and is available now.

Focusrite