Nord has announced the Nord Drum 3 and the Nord Drum 3P with several new features, including Reverb and Delay effects, a simplified sound selection mode and new Sound Banks for quickly creating custom kits on the fly.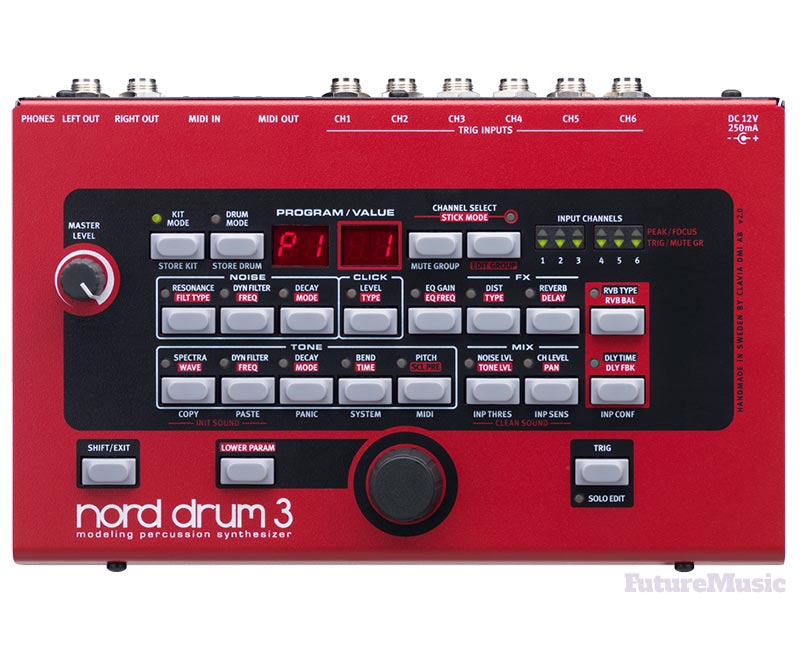 The new Sound Select-feature lets you browse a wide selection of great sounding drums sounds, simply assigned to each pad individually. Easily replace toms, cymbals or kicks in seconds by selecting from the new preset library. The new factory sound bank features 10 categories of great preset sounds that can be easily assigned to any of the six pads/channels. The categories include Kicks, Snares, Toms, Percussion, Bells, Tuned, Effects, Cymbals, Hihats and Claps.
Nord Drum 3 Features & Enhancements:
» Six-channel Percussion Synthesizer
» Nord Drum 3P with intergrated multipad, kick pad input and MIDI
» Nord Drum 3 with 6 generic trigger/drum pad inputs and MIDI
» Simplified user interface with easy sound selection
» New individual sound preset libraries for kicks, snares, toms and more
» Advanced sound engine with Resonant Synthesis, Subtractive synthesis and FM-synthesis
» Reverb and Delay Effects with adjustable amount per channel
» Drive, Crush and EQ-effects per channel
» MIDI in/out and full CC-control
» Stereo Output with improved output level
» Headphone Output with improved output level
The Tone Section is specialized for creating tonal and harmonically complex sound spectras and has three synthesis modes – Resonant synthesis, Subtractive Synthesis and Frequency Modulation synthesis. The Resonant synthesis mode offers a wide range of complex spectras inspired by materials like drum heads, marimba, vibraphone, tines and cymbals. A unique feature includes the possibility to tune harmonic spectra. The Subtractive mode sports the classic basic Sine, Saw, Square and Pulse waveforms and is designed for creating classic synth-type drum sounds and effects. The FM Synthesis mode features 6 different FM algorithms where the Frequency parameter controls modulation amount and Spectra controls modulation frequency.
The Nord Drum 3/3P offers control over the dynamic response of the harmonic spectras. When using Resonant synthesis waveforms the upper parts of the harmonic spectra be controlled with velocity, giving it a brighter timbre when played hard. When using the Subtractive synthesis mode, the Frequency parameter controls the cut-off frequency of a Low-Pass filter and the Dyn Filter controls how much the filter should respond to velocity. The Punch parameter lets you add more attack to the Tone by making the fundamental pitch perform an ultra-fast pitch or volume envelope at the very beginning of the sound.


The Decay controls the decay of the whole spectra, with a choice of Linear and Logarithmic decay envelopes. The Bend parameter is a powerful, velocity sensitive pitch envelope. Like the Punch parameter it can be used both to create attack-like effects but also more radical bending sounds that travel up or down when played such as the sound of a raindrop, tablas or the classic 80's tom-sound.
The Noise section can be sculpted with Low-Pass, High-Pass or Band-Pass filters with Cut-Off and Resonance controls. Once you've found the noise of your choice, it can be adjusted to respond dynamically to velocity in the same manner as with the Tone section with the Dyn Filter control. The Decay control has a choice of Linear and Logarithmic and Gated decay types. The Dynamic control enables you to control the length of the decay with velocity. The Click-section is a specialized section for an ultra-short attack to the sound. A wide range of different click types are available as well as a level control for finding the sweet spot where the Click merges with the other elements and becomes one coherent sound.



Each of the 6 channels of the Nord Drum 3/3P has its own effects – Distortion, EQ and Repeat. The Distortion effect has two modes – a crunchy Overdrive effect and a crackling sample-rate reducing Crush effect. Sometimes, adding just a touch of overdrive to all of your sounds can make a huge difference in terms of realism. A parametric Equalizer with selectable band and amount is also available for each channel for adding some finish or attitude to your sounds. The Nord Drum 3 features two new Master Effects, Reverb and Delay. The Reverb features 7 room algorithms with controls for tonal color. The Delay effect features a Tap Tempo-mode and adjustable feedback amount. The amount of Reverb and Delay can be set individually for each of the 6 channels of the Nord Drum 3/3P.
The Nord Drum 3 features 6 generic inputs that can be connected to almost anything you like, electronic drum pads, acoustic drum triggers, a contact microphone, the outputs of an old drum machine and much more. Setting the Input and Threshold is easy and we've added a selection of presets for popular pads and triggers. MIDI in/out is also available for using the Nord Drum 3/3P with any kind of MIDI pads or sequence it from an external MIDI Sequencer. All of the Nord Drum 3/3P sound parameters can be controlled via CC-controls over MIDI. If you own an iPad don't miss our free iPad app Nord Beat, specifically designed for sequencing the Nord Drum 3/3P via MIDI. Everything you play when using electronic drum pads or acoustic triggers is automatically output to the MIDI output, making the Nord Drum 3 a brilliant 6-channel trigger interface as well.
No pricing or availability has been announced.

Nord