WaveDNA has updated Liquid Music, a VST and AU plug-in, which facilitates song ideas and riffs in Ableton Live with specialized tools. Paint melodies, harmonies and chords using the Sketch tool and make dynamic beats using a collection of rhythmic building blocks.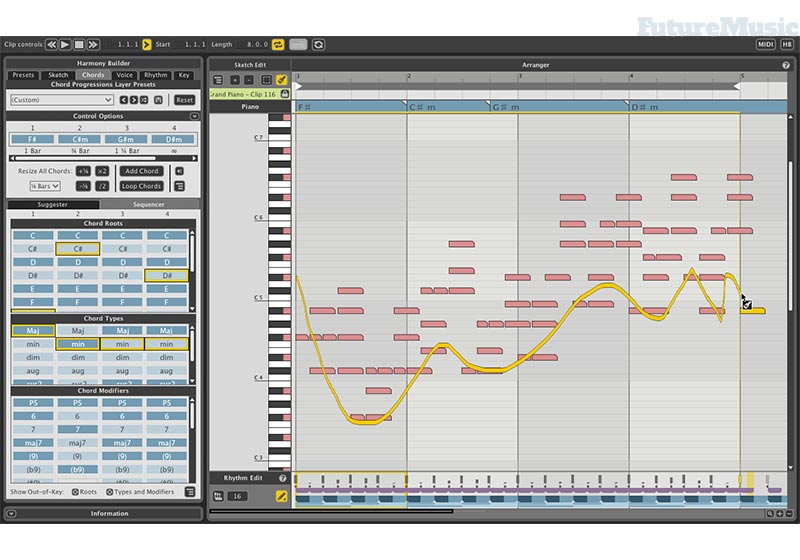 Liquid Music fully integrates with Ableton Live and Max for Live to help create original ideas and harmonies in seconds. No more waiting around for inspiration to strike. Simply create inspiring beats, chord progressions and melodies using a visual workflow. Sometimes to build it up, you have to break it down. Liquid Music separates music into five layers, Sketch, Key, Chords, Voice and Rhythm, each with specific tools you can modify and customize your music.
» Sketch is where all the layers come together into one intuitive musical shape. Simply click and drag to create original harmonies, spark new song ideas and draw the shape of your music. Want your music to build? Draw a cresting peak. How about a big EDM drop? Plunge your mouse down and draw a valley. And if you don't like what you hear, just erase and start over.
» Key determines your track's mood. Will it be an upbeat foray in a major scale? A forlorn dirge in a minor key? Or maybe a trippy experimental journey of exotic tones with Ultralocrian or Phrygian b5 modes? Liquid Music has them all, and more. You can even transpose (move the notes up and down) to better suit your vocalist.
» Chords are an important part of every song. But with hundreds to choose from, how do you pick the right ones? Liquid Music's Chord Suggester journeys deep into the land of known progressions to recommend complimentary chord changes that help you build progressions. Feed those to the Chord Sequencer to create clever chord progressions without hours of frustrating trial and error. The Chord Sequencer is like a drum sequencer for chords. Just choose or randomize a chord, and a list of complimentary chords helps you arrange your song quickly and easily.
» The Voice layer helps add just the right amount of harmony to melodies and chords. You can import a melody and use the Voice Layer to add harmony, create cascading arpeggios and even customize how thick the harmonies are for specific parts.
» Rhythm includes a host of tools based on WaveDNA's Liquid Rhythm software. You can experiment with new beats and customize their note duration, velocity, timing and more. Rhythm mode lets you create unique, elaborate beats in seconds using an extensive list note patterns and clusters—entire bars at a time.



WaveDNA's Liquid Music is available now for $149.99 (regular $199.99) until April 30th, 2016. Upgrades and crossgrades are also available.

WaveDNA