Sterling Audio has entered the arena of active studio monitors with the release of their new MX Series. The new powered studio reference monitors feature Sterling's proprietary dual-axis WaveGuidanceVH technology, which claims to "deliver high efficiency and ultra-low distortion, even when mixing audio with challenging content." The series includes three models: the MX8, which contains an 8-inch low-frequency driver and 1-inch silk-dome tweeter; the MX5, with a 5-inch woofer and 1-inch silk-dome tweeter; and the MX3, with a 3-inch woofer and 1/4-inch tweeter.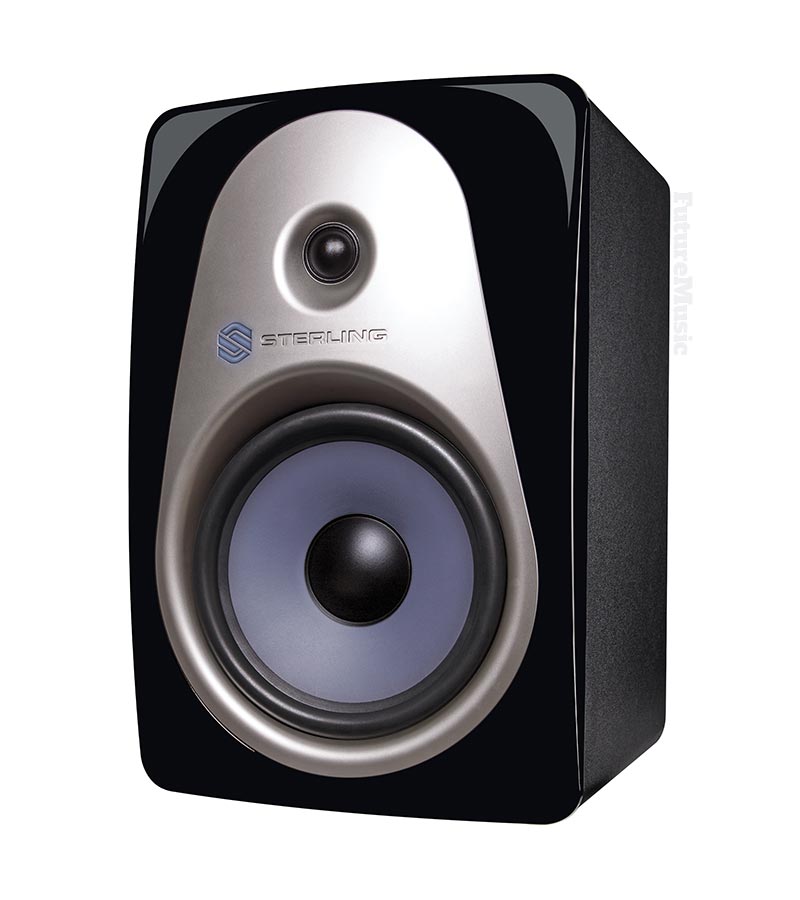 The MX Series' low-frequency drivers employ a proprietary, multi-fiber cone design with damping, which reduces sonic artifacts and unnatural resonances. A custom, four-layer voice coil delivers greater motor force for low-frequency performance. The silk-dome tweeter, powered by a neodymium magnet, provides smooth and natural high-frequency response. Each MX Series monitor sports a rear-panel acoustic port, which reduces low-frequency turbulence and distortion.
Sterling's dual-axis WaveGuidanceVH technology gives MX monitors a very wide sweet spot, with wide and high dispersion. This provides a clear, articulate, and centered sound, even when listening off-axis both horizontally and vertically.
Specifications:
» Amplifier
— Power Output: Tweeter 45W@ 0.5%THD-5KHz
— Woofer 80W@ 0.7%THD-1KHz
— Sensitivity: 650mV@1KHz to rated power
— Signal Noise Ratio with A-Weight: 85dB
— Total Harmonic Distortion: 0.2%@ 1W-1KHz
— Crossover Frequency: 2.0KHz
» Control
— Power Switch: Rocker
— Level: Rotary VR
— Input: XLR (balanced)
— RCA X 1 (unbalanced)
— 1/4″ TRS (balanced)
— Setting: High Filter: –2dB, 0, +2dB@ 10Khz
— Low Filter: –3dB, 0, +3dB@ 75Hz
» Enclosure
— Dimension: W 10.32″ x H 15.55″ X D 12.20″
— Weight: 34.17 lbs.
— Material: MDF box with plastic front
— Acoustic Mode: Vented box
— Tweeter: 1″ / 8 ohm
— Tweeter Magnetic Type: Neodymium
— Woofer: 8″ / 4ohm
— Woofer Magnetic Type: Ferrite
» Power
— Line Voltage: 115VAC/60Hz +/- 10%
— Fuse: T3.15A/250V
— Line Cord Receptacle: IEC320 C14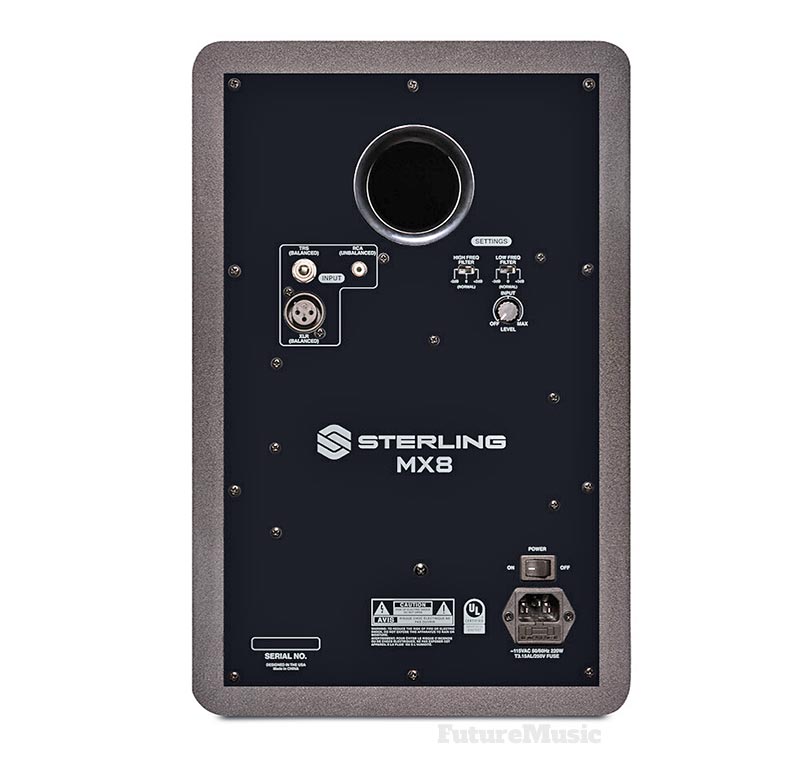 All three models feature variable highpass (+2, 0, or -2 dB) and lowpass (-3, 0, or +3 dB) filters that enable you to custom tune your MX monitors to suit your listening preferences and recording environment. The MX8 and MX5 provide balanced XLR, balanced ¼-inch TRS, and unbalanced RCA inputs; the MX3 offers unbalanced RCA inputs. MX Series monitors include Class A/B power amps: MX8 125W power; MX5 80 watts; and MX3 20W and protective internal circuitry.
Sterling's MX8 Studio Monitors cost $249.99; the MX5's are $149.99 and the compact MX3's are $99.99 for a pair.

Sterling Audio