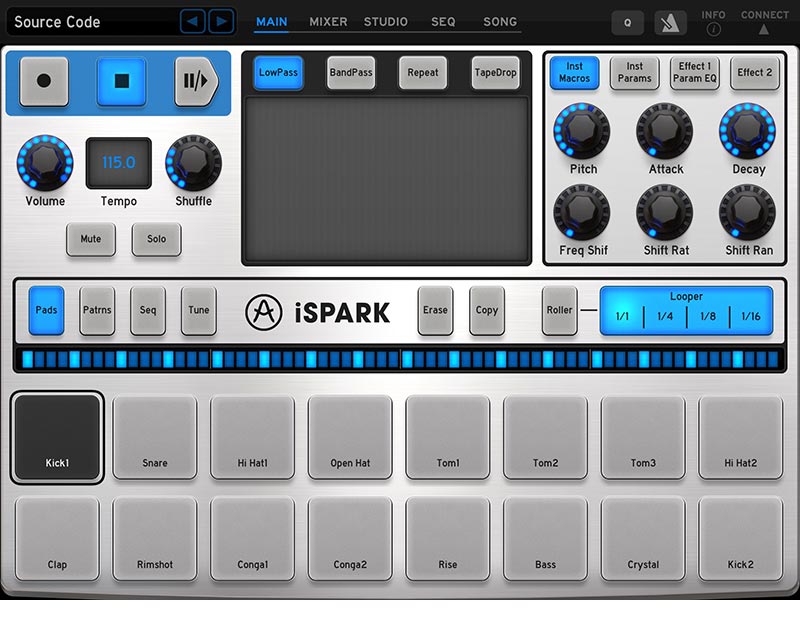 Arturia has released iSpark, an iPad mobile beat-making app. iSpark is a port of their Spark 2 drum production desktop software, which now adds an iOS solution to the Spark ecosystem.
By taking the best elements from analog drum machines, sample-based beat boxes, and physical modeling, and translating it to the iPad as iSpark, Arturia has completed their own mobile beat-making environment. The Spark 2 software and iSpark app share much of their content, projects, kits and instruments. iSpark is also compatible with Arturia's SparkLE ultra-compact controller — and this is where it can get really interesting — allowing you to connect a SparkLE to an iPad running iSpark to harness the power of a hands-on hardware controller. iSpark's user interface is strongly reminiscent of the popular SparkLE's layout, but optimized for iPad.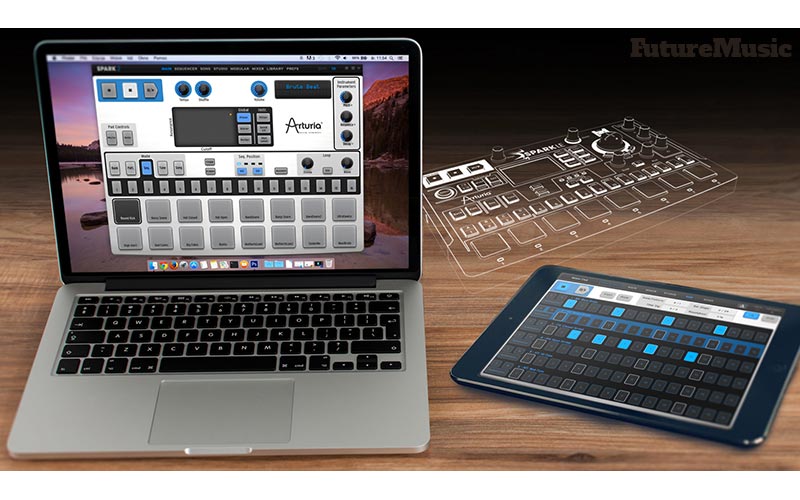 iSpark includes a wide variety of drum kits and individual instruments based on classic drum machines, electronic kits, and acoustic kits, each making much use of several sound engines, including Arturia's core TAE (True Analog Emulation) technology, physical modelling, and multi-layered samples. iSpark includes 40 factory kits in a variety of musical styles and soundscapes, and you can create your own kits by selecting from 640 individual instruments, as well as importing samples, and tweaking several parameters to shape your own sonic signature.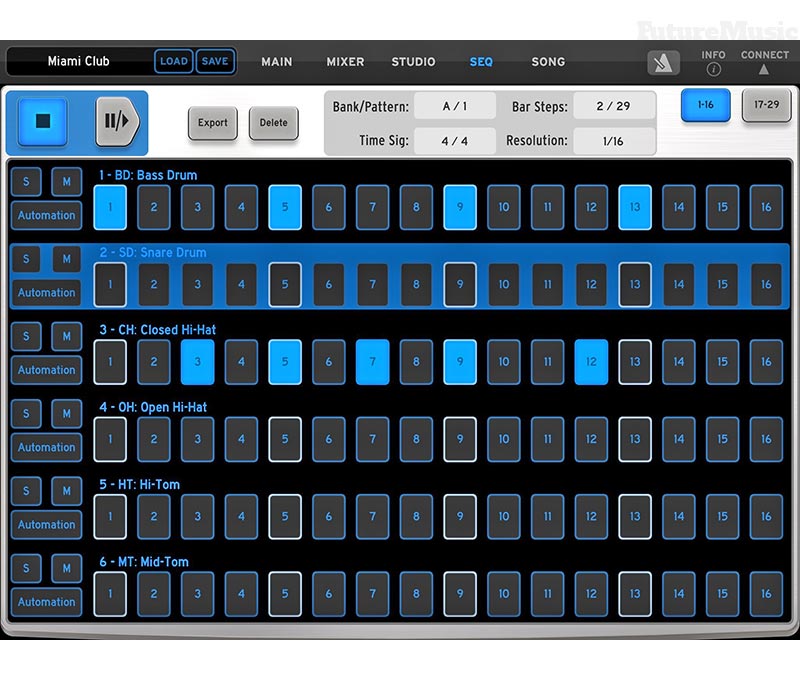 iSpark's MAIN screen is all about performance, allowing users to conceive patterns on the fly using its flexible 64-step sequencer or by realtime recording with the virtual pads. Jump between patterns in an instant or chain them together using an advanced Song mode to create complete and complex performances. iSpark is designed to make the most of its host by providing a range of performance possibilities. Polyvalent XY touch pads make modifying the filter cutoff and resonance a breeze while also allowing the Roller/Looper to be dynamically activated. iSpark also integrates an automation tool that can be used to bring realtime movement to dozens of parameters simultaneously.



iSpark also features: Shuffle and Shift modes to humanize grooves; choke groups to mute instruments naturally; performance master effects (Repeat, TapeDrop, Reverse, Strobe, Pan, Mix, Bit Crusher, eight-mode Filter, and Roller); 16-track mixer with quality effects (Multiband Compressor, Bit Crusher, Multiband EQ, Chorus, Delay, Reverb, Distortion, Phaser, Plate Reverb, Destroyer, Flanger, Space Pan, Limiter, Sub Generator); Ableton Link integration; AudioBus and Inter-App Audio compatibility to offer integration with iPad-based setups.
Arturia's iSpark is available from the App Store for a three-week introductory price of $9.99 / €9.99 for iPad Air (or higher).

Arturia