One of the worst kept secrets in the industry, as of late, was the coming together of two industry heavyweights to create "the ultimate DJ mixer." Most of you reading this will know the name Richie Hawtin, one of the true pioneers of electronic music, who continues to push the envelope at an age (45) when most DJs have long retired. Not was well-known, but very influential is Andy Rigby-Jones, who was Allen & Heath's Design Manager for the Xone DJ range for the past thirteen years until he left the post to wrestle his perpetually problematic Jaguar into an operational state that would actually make it to the pub and back launch his Union Audio consultancy.


Now it appears the two have been frolicking behind closed doors to develop a wireless DJ mixer, which will consolidate several components from Hawtin's live rig into one device. Hawtin has always been pretty transparent about what he uses on stage, and can be seen showcasing certain aspects of his live rig on various videos (see Point Blank video below). The only real constant, as far as hardware goes, has been his use of the Allen & Heath Xone:92 mixer. So it's no wonder he dragged Rigby-Jones away from working on his car, and convinced him to put his efforts into something that will actually work.



Hawtin has been making the rounds of late to pimp his new controller, most recently at NAMM, and even enlisted PR heavyweight Alexandra Greenberg from MSO to tease the new device:
Richie Hawtin & Andy Rigby-Jones announced a collaborative partnership with Allen & Heath and parent company Audiotonix. Richie Hawtin described a two-year process creating an instrument to take the artistry of DJ-ing and performance to the next level. "The ethos of Play Differently is to create products that will magnify the individuality and expand the creativity of today's generation of electronic music artists, producers and DJs . We hope to encourage and inspire creatives to PLAY differently."
While the new controller, which reportedly will be wireless and combine aspects of the Xone:92 and Native Instruments' X1 and D2 controller into one package, the big reveal from the statement was that this was not just going to be one instrument and other products will follow.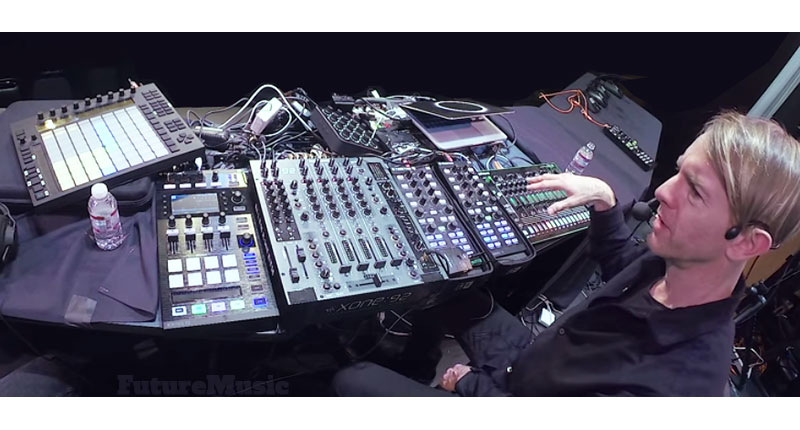 The Future: Believe it or not, but this could be even better than the Dave Smith / Tom Oberheim lovefest that emerged from this year's NAMM show. Except for a few shining examples, the DJ mixer/controller market has been more about "me too" than innovation as of late. Richie certainly brings the live performance/artistic component, in a big way, but partnering with the brilliant Andy Rigby-Jones is what sends Play Differently into a whole new realm of possibilities.

Play Differently

A more extensive interview with Richie Hawtin and how he uses technology in the studio and on stage: