Audio-Technica has unveiled two new instrument microphones, the AE2300 and the ATM230. The Artist Elite AE2300 Dynamic Cardioid Instrument Microphone features Audio-Technica's proprietary double-dome diaphragm construction, which claims to provide a high-frequency and transient response that far exceeds typical dynamic microphones. With its brass metal construction and low-profile design and the ability to handle high SPLs, the AE2300 is able to capture sound from guitar amps, brass and woodwinds, drums and percussion instruments.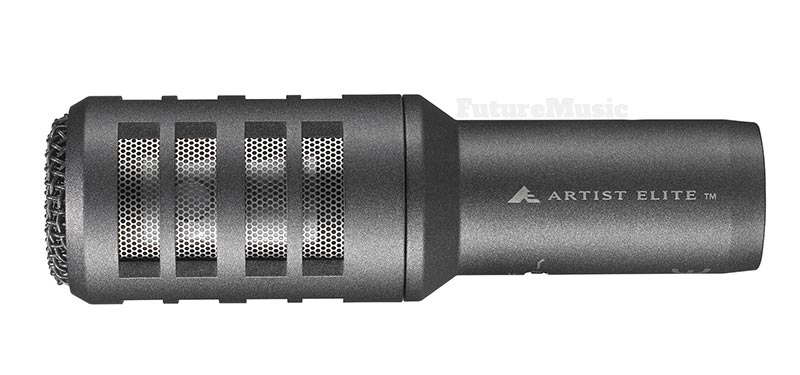 The double-dome diaphragm construction allows the AE2300 to maintain directionality across the entire frequency range, with little off-axis coloration (frequency response is nearly identical at 0°, 90° and 180°) for excellent phase cohesion in multiple-mic setups. The microphone is also equipped with a switchable low-pass filter that cuts out harsh, high-frequency noise, such as hiss from a guitar amp or high-hat bleed, without negatively affecting the overall tone of an instrument – an especially useful tool in live settings to get a clear, focused sound.
Audio-Technica AE2300 Features:
» Targets high-SPL applications
» Proprietary double-dome diaphragm construction that improves high-frequency and transient response
» Maintains directionality across the entire frequency range
» Minimal off-axis coloration helps to maintain phase cohesion in multiple microphone setups
» Switchable low-pass filter removes harsh, high-frequency hiss without negatively affecting the overall tone of an instrument
» Low-profile design allows microphone to be placed easily and unobtrusively in a wide variety of setups
» Rugged, brass metal construction ensures dependable performance in live music applications
AE2300 specifications:
» Element: Dynamic
» Polar Pattern: Cardioid
» Frequency Response: 60 – 20,000 Hz
» Open Circuit Sensitivity: -57 (1.4 mV) re 1V at 1 Pa
» Impedance: 250 ohms
» Weight: 14.6 oz (415 g)
» Dimensions: 3.7″ (94.0 mm) long, 1.1″ (28.0 mm) maximum diameter
» Output Connector: Integral 3-pin XLRM-type
» Accessories Included: AT8471 isolation stand clamp for 5/8″-27 threaded stands; 5/8″-27 to 3/8″-16 threaded adapter; soft protective pouch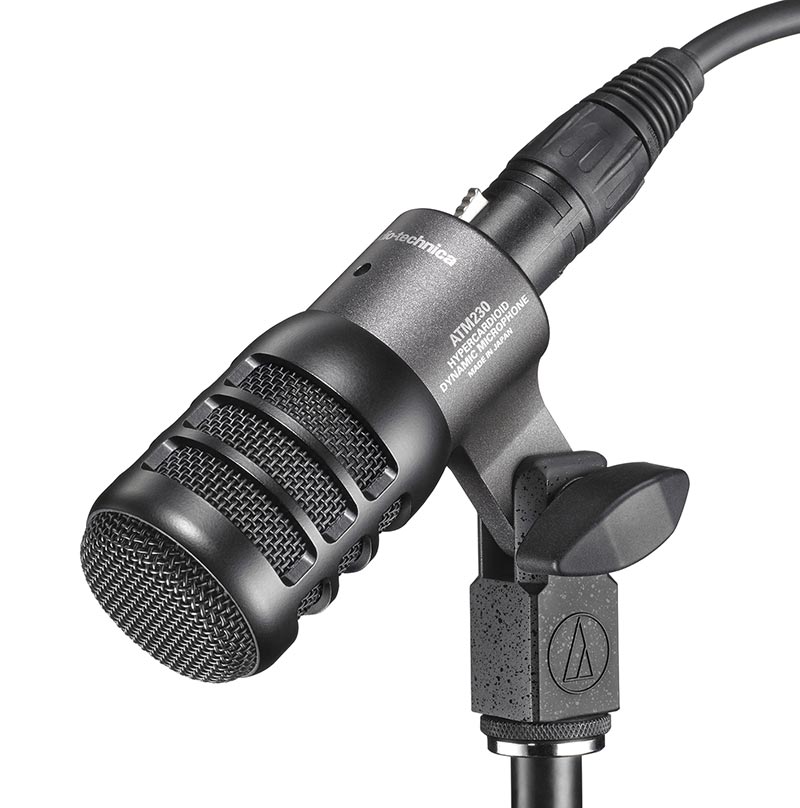 The ATM230 Hypercardioid Dynamic Instrument Microphone is designed for capturing drums and percussion to Audio-Technica's popular Artist Series line. The mic's capsule is designed to also excel in high SPL applications, delivering full, well-rounded audio with an exceptional low-end. The hypercardioid polar pattern reduces pickup of sounds from the sides and rear, improving isolation of desired sound source – directionality that is aided by the mic's low-profile design, which allows it to be placed in a wide variety of setups. ATM230 is ideally suited for miking toms, snare and other percussion instruments.
Audio-Technica ATM230 Features:
» Warm low-frequency response with excellent attack
» Handles very high SPL at close range
» Rare earth magnet for improved output and transient response
» Low-profile design permits versatile placement around drum kit
» Hypercardioid polar pattern reduces pickup of sounds from the sides and rear, improving isolation of desired sound source
» Rugged, all-metal design and construction for years of trouble-free use
ATM230 Specifications:
» Element: Dynamic
» Polar Pattern: Hypercardioid
» Frequency Response: 20 – 12,000 Hz
» Output Connector: Integral 3-pin XLRM-type
» Accessories Included: AT8665 drum mount; soft protective pouch
The Audio-Technica Artist Elite AE2300 Cardioid Instrument Microphone will be available in February 2016 for street price of $269. The ATM230 Hypercardioid Dynamic Instrument Microphone will be available March 2016 with a street price of $139.

Audio-Technica