Waldorf has bought into the Eurorack zone in a big way. The German concern has debuted a new Eurorack keyboard, the kb37 and several new modules for outfitting the albino motif.

kb37
Waldorf's kb37 is a compact performance instrument. It can house up to 100 HP of modules in its angled panel that sits right on top of the quality Fatar TP9 keyboard. With its high-resolution and temperature stable 16-bit CV interface, it provides flexible control for your modules. MIDI channel and velocity curve are both programmable. It provides connectivity to all your modules with an array of real-time control elements such as pitch and mod wheels; the full-sized 37-note keybed transmits velocity and aftertouch.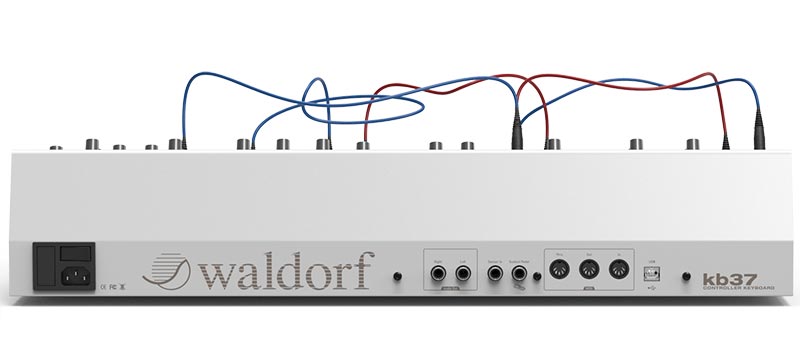 Waldorf Eurorack kb37 Specs:
» Keyboard & controllers
— Fatar TP9 37-keys keyboard with aftertouch
— Multiple velocity curves
— Pitchbend wheel
— Modulation wheel
— Glide
— Selectable note priority
— Octave up/down switch
— Gate retrigger
» Module section
— Width: 545mm/107 HP
— Eurorack compatible bus
— Bus CV & Gate linkable to CV interface via jumpers
— Built-in regulated power-supply (+12V/-12V, 1.5A)
» CV interface
— 8 CV outputs
— Pitch
— Velocity
— Aftertouch
— Pitchbend
— Modwheel
— 3 user-assignable MIDI controllers
— 3 Trigger outputs
—Gate
—Clock & Reset outputs for MIDI sync
» Connections
— USB with isolation
— MIDI In, Out, Thru
— Sustain pedal input
— Sensor input?/?output
— Stereo line outputs with volume control
— Headphones output with separate volume control
nw1
nw1 is based on an advanced wavetable engine with independent control of the spectral envelope and noisiness. Wavetable scanning is cyclic with optional modulation of travel speed, position, spectrum and more. By providing the Waldorf wavetable set from the Microwave and Wave synthesizers, you can access an array of classic sounds, and the nw1 sound engine also lets you easily create your own user wavetables right from the front panel via time domain multiple foldover analysis. All you need to do is connect any sound source to the nw1 to transfer audio into a wavetable. Or you can use the integrated speech synthesizer to translate typed text into wavetables.
mod1
Three different modulation sources in one module make the mod1 the control center of your modular patch. From simple envelopes and LFOs to complex looped multi-stage curves, the mod1 delivers many modulation options – all based on pure analog circuitry for everything from smooth curves to razor-sharp edges that never sound brittle. From gently undulating LFOs to precise hard cuts, you get it all based on innovative analog circuits for a truly musical touch.
dvca1
Built around two VCAs with a wide range of options including the most important one: the ability to musically color the signal. Starting in dry mode, you get high-precision analog amplification. But then when you turn the Color knob, you add a warmer and more colorful timbre to the signal based on a finely-crafted state variable filtering circuit. Simultaneous linear and exponential control as well as specialised AC and DC coupled inputs are also provided. A positive gain control makes the dvca1 a true amplifier, and flexible link modes let you create modulated panning.
cmp1
An analog compressor, which not only adds punch to your signal, but it also can be modulated in provocative and unconventional ways. Side-chaining with a adjustable balance control will open a huge set of modular possibilities. The cmp1 has all the features you expect from a modern compressor including attack and release control, automatic and manual modes, hard and soft knee as well as output gain and bleed amount of the original signal.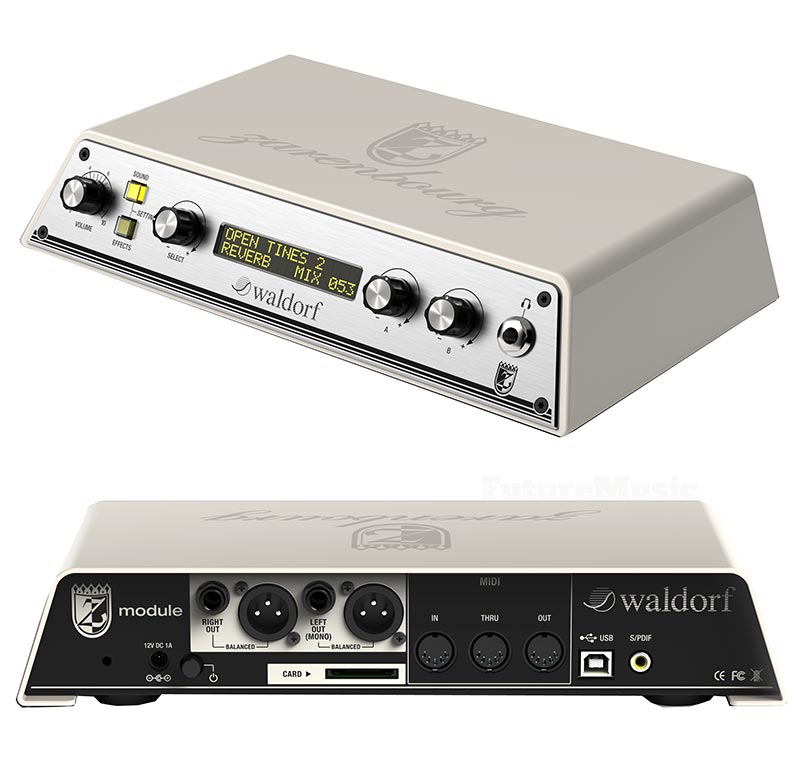 The Kompaktklavier (Zarenbourg Module)
The Zarenbourg Module offers the sound engine of the Zarenbourg Piano in a stylishly compact full-metal enclosure. And like its larger cousin, three different sound generators deliver Waldorf quality: Physical modeling recreates the glory of classic E-Piano sounds with authenticity. The direct streaming sample playback engine with 4 GB of sample memory provides a selection of fantastic grand, upright and electric pianos. The third sound generation system is a 6-operator FM synthesizer, perfect for classic DX pianos and a variety of other trademark FM sounds. The effects section provides a huge selection of high-quality effects, such as Reverb, Chorus, Flanger, Phaser, Echo, Auto Wah, Equalizer and Overdrive, as well as many effect combinations. Each sound can be freely combined with an effect(s) combination and stored in the internal memory. New sounds and effects can be added via the integrated SD Card slot. Connect the module to your Mac or PC to work on sounds, setups and effects via the included software editor. And like its cousin, Zarenbourg module awakes right in the moment you turn it on.

Waldof