Well, Sweetwater, the behemoth US retailer, has just showcased their clout by debuting the Korg's new minilogue analog synth, before Korg. The minilogue features shapable VCOs, which you can manipulate with a switchable 2-/4-pole lowpass filter, and modulation. There are 100 presets onboard available and the ability to store 200 more of your own creations. It also contains a tape-style delay effect and an OLED oscilloscope display, as well as an onboard 16-step sequencer, and all for 500 bucks, which will make anyone second guess their Roland Boutique synth purchase. Information below is based on Sweetwater's specs: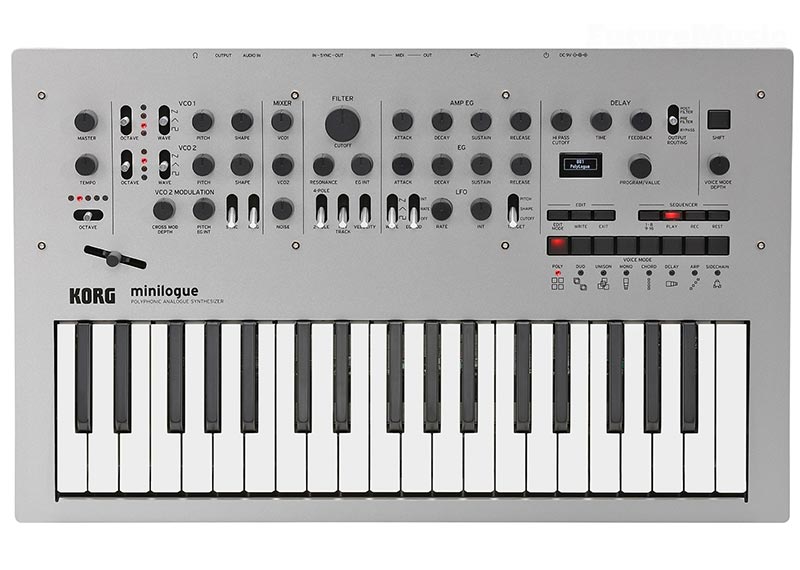 Filtering, Modulation, and Delay, oh my!
Before you dive into its Voice Modes or sequencing capabilities, you'll already be impressed by the minilogue's sound-shaping capabilities. For starters, both VCOs include a Shape control, which allows you to dial harmonic content into the three selectable waveforms. Cross modulation, oscillator sync, and ring modulation settings provide further sound-shaping possibilities as well. A sophisticated lowpass VCF section offers 2-pole and 4-pole modes and more than enough resonance, while an envelope generator and an LFO add time-based dynamics to a wide range of parameters. Finally, there's a tape-style delay onboard, which lets you pull off many classic wet and saturated synth sounds.
Eight Voice Modes
The thing that sets the minilogue apart from other polyphonic analog synths are its eight Voice Modes, which let you employ all four of its voices in fun and creative ways. Poly mode allows you to play up to four notes at once, whereas Duo mode cuts the polyphony down to two notes, using two pairs of voices to create unisons. For even bigger, richer voicing, there's Unison mode, which turns the minilogue into monosynth with a 4-voice unison stack. Conversely, Mono mode trades the unison stack for a fat suboscillator. Chord mode triggers chordal note arrangements, while Delay mode triggers the third through fourth voices at offset intervals after voice one – an effect that sounds massive when you add the onboard delay effect – and Arp mode creates short arpeggiator runs with up to four voices. Finally, there's Side Chain mode, which ducks previous notes as you play new ones.
16-Step Sequencer
The minilogue's step sequencer allows you to record in real time, or you can enter in each step. Real-time recording lets you overdub, allowing you to automate many parameters to create intensely complex patterns, whereas step recording is perfect for creating phrases and rhythms. What's more, you can easily combine this onboard sequencer with other MIDI and sync-equipped gear such as Volca series modules.


Korg minilogue Analog Synthesizer Keyboard Features:
» 4-voice analog synthesizer with flexible sound-design tools onboard
» Fully programable analog controls, with 200 program memories and 100 presets
» Analog signal path includes 2 x VCOs, 1VCF, 2EG, 1VCA, and 1LFO
» Shape controls allow you to dial in harmonic content in any of the oscillators' 4 waveforms
» Voice Modes allow you to define your sound in 8 highly creative ways
» 16-step sequencer includes realtime motion recording and step programming
» Monitor waveform shaping via the onboard OLED oscilloscope display
» Cross modulation, oscillator sync, and ring modulator let you further shape your sound
» Switchable 2-/4-pole lowpass filter with resonance provides subtractive synthesis
» Modulate many parameters with a ADSR envelope and an LFO
» Tape-style delay effect includes a dedicated highpass filter
» Stylish yet rugged design includes chassis-mounted pots and rubber-coated knobs
» USB plus MIDI and sync I/O provide easy connectivity with your other synth gear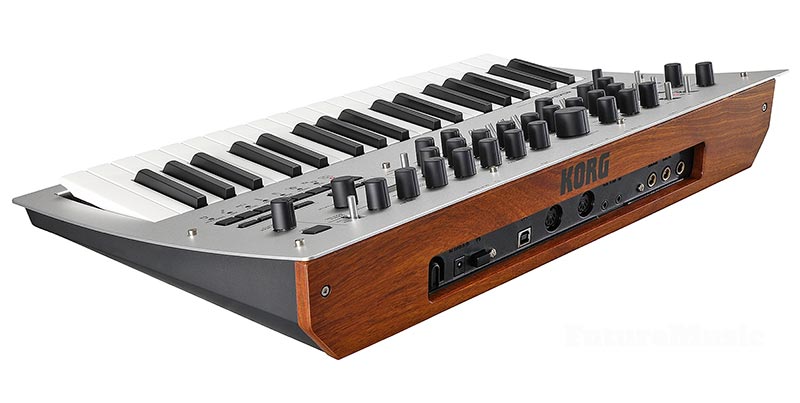 Korg's minilogue synth will be available next month for $500 (street).
The Future: Wow. Serious win for Sweetwater, who trumped all the NAMM action by exclusively debuting this a week in advance of the big show. Although Korg will still bring out a few surprises (Hello ARP 2600!), this demonstrates that the Indiana company is getting Favored Nation Status from the Japanese concern. Although, Guitar Center has some pre-order information, other major retailers such as Sam Ash, are left holding the proverbial bag.