Keith McMillen Instruments has debuted the K-Mix,a Mac OS X-compatible audio interface and programmable mixer for studio and stage.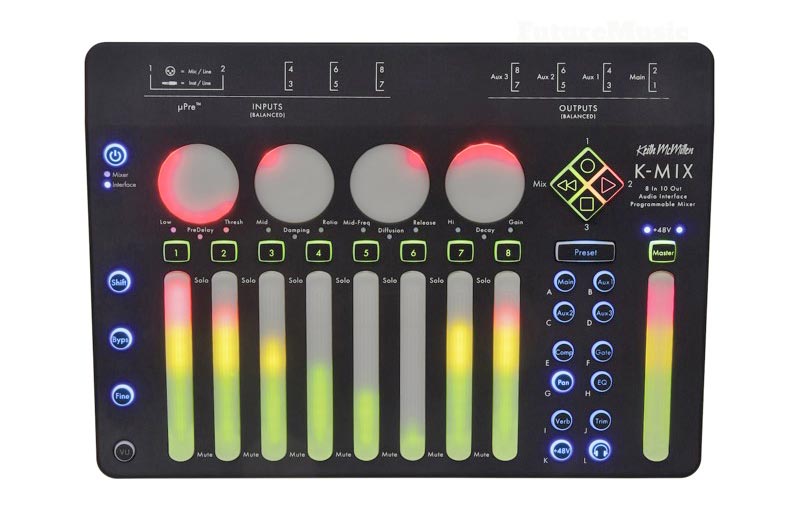 K-Mix is one part audio interface, one part digital mixer, and one part control surface. As a eight-input/10-output audio interface and programmable mixer, the finished product features two uPre preamps, and a opto-tactile control surface that was designed from the ground up to command any DAW (Digital Audio Workstation) with eight channel faders, one master fader, four rotary controls, nine channel select buttons, four bank select buttons, and 17 function buttons.

The USB bus-powered mixer features flexible routing, per-channel DSP (Digital Signal Processing) — three-band, semi-parametric EQ, compressor/limiter, gate, master reverb (with individual sends per channel), and surround (Quadraphonic, 5.1, 7.1, and Octophonic) output, and can also function without a computer, courtesy of the included USB power supply (with international convertor blades). With no moving parts, the K-Mix can comfortably be transported without fear of snapping off a fader or knob.
"I needed a very special mixer that did not exist — a fully-programmable, MIDI-controlled, portable mixer. Not having a mixer that could do all of this when wanting to play live in a group without a sound man was heartbreaking. K-Mix had to be capable of tying all of my needs together — from live inputs to USB interfaces — to then operate as a fully-programmable stage mixer," touts McMillen.
The eight balanced, analog inputs on two XLR/TRS combo jacks and six 1/4-inch TRS connectors can handle signals up to +28dBu, while eight balanced analog outputs on eight 1/4-inch TRS connectors are supplemented by one Micro-USB digital connection (providing audio I/O using 24-bit AKM convertors at 44.1, 48, 88.2, and 96kHz sample rates), MIDI I/O, and power. A second Mini-USB connection provides power and MIDI I/O (via an optional KMI Expander).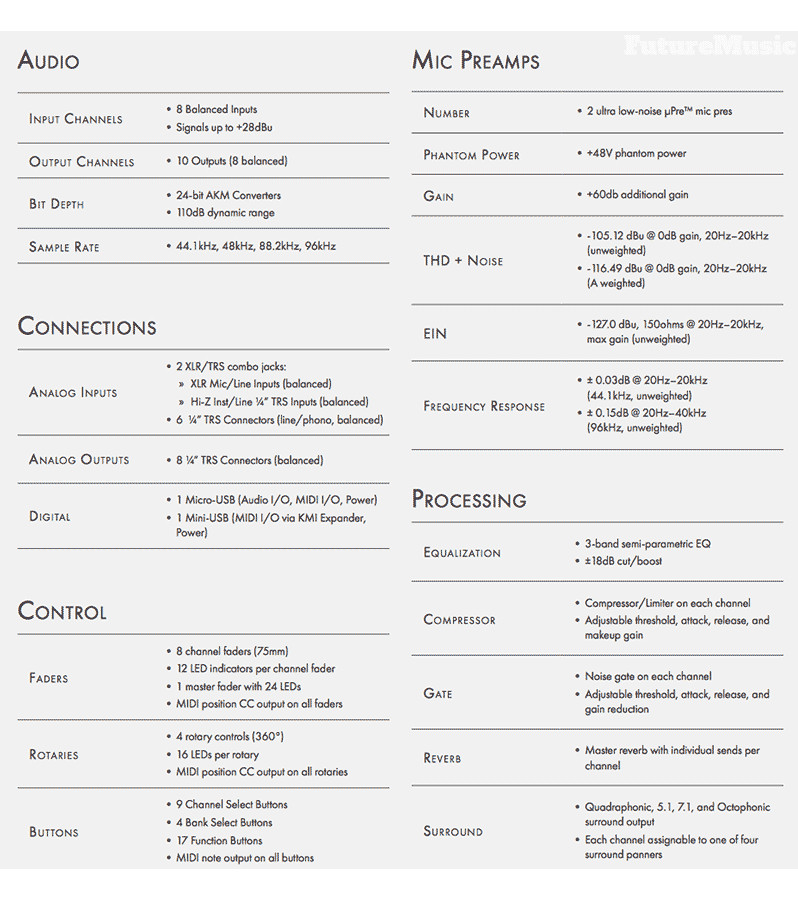 The preamps offer +48V phantom power, +60dB additional gain, unweighted THD of -107.6dBu @ 0dB gain, and a 96kHz frequency response of ± 0.56dB @ 20Hz–40kHz. Meanwhile, MIDI position CC output on all faders, MIDI position CC output on all rotaries, and MIDI note output on all buttons.



Keith's K-Mix costs $599.99 and is available now.

Keith McMillen