Black Lion Audio recently debuted the third incarnation of their dedicated master word clock, the MicroClock mkIII. Analog to digital conversion is something that BLA is passionate about, so much so that the concern, based out of Chicago, is constantly evaluating new crystal technology as it develops to determine how to enhance their products. Better crystals mean less jitter, and less jitter means better sound. Thus, when Black Lion released the third version of the MicroClock, we knew that this was not going to be just a polishing of the mkII. According to Nate Bierdeman, Black Lion Audio's Chief Executive Officer, the company not only infused the latest crystal technology into the mkIII, but also looked to "remove the parasitic elements out of the signal." This meant the company "performed critical listening at each stage, often A/B'ing different component pools and crystals to come up with the best result possible."

Black Lion Audio enhanced every aspect of MicroClock mkIII for version 3.0

Dan Brotman, FutureMusic's Editor-In-Chief, has been in discussions with Bierdeman from BLA about clocking technology, ever since they released the first MicroClock. Brotman has been a proponent of quality clocking when he noticed the significant improvement it made, not only in his studio, but in other studios he solicited for blind "taste tests" along the way. This led to discussions regarding using different clocking technologies for different types of music and the proposition of having one dedicated super clock, which contained different clocking methodologies. Of course, a product of this nature would be cost-prohibitive to most, but the idea that different clocking technologies can change the sound of a mix, and that an engineer would choose a clocking device based on the music genre, is a fascinating concept. (And one that is sure to fuel clocking flame wars for years to come. —Ed.) The best evaluation of any clock is not its specifications, or what crystal sets are utilized, but by the ears. To that regard, we gave the MicroClock mkIII a long-term test using five different evaluators, plus our Editor-In-Chief, who took the unit to several studios to compare it, not only against their current technology, but also the MicroClock mkII. Our evaluators comments are in quotes below.


Features:
» Low jitter, harmonically-enhanced word clock signal generation
» Dimmable frequency display
» Eight selectable sample rates (44.1kHz, 48kHz, 88.2kHz, 96kHz, 176.4kHz, 192kHz, 352.8kHz, and 384kHz)
» Six BNC outputs with dedicated output drivers for maximum isolation
» RCA S/PDIF output
» Optical S/PDIF output
» AES output
» 1U removable rack ears

Black Lion's dedication to clocking technology to reduce jitter and increase the soundstage also benefits their other products containing internal clocking, something that was noted by most of our evaluators when we reviewed the White Sparrow mkII.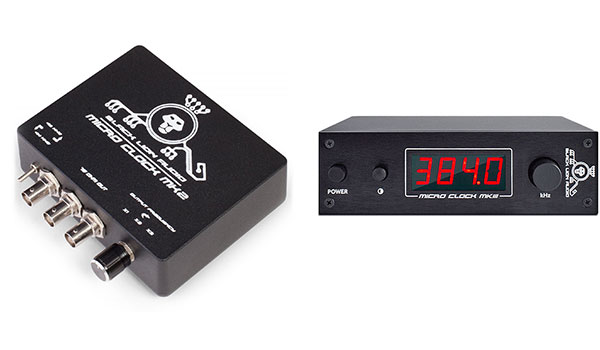 All Grown Up
The first thing one notices about the MicroClock mkIII, as opposed to its predecessors, is that it appears to have grown up. As Black Lion Audio has matured as a company, so has the fit and finish of their products. No longer looking like it just came off of a soldering bench, the MicroClock mkIII now has an on/off switch, a dimmable LED screen to denote the frequency and a full assortment of connectivity on the back. This includes six BNC outputs, a RCA S/PDIF output, an optical S/PDIF output and an AES output, a big upgrade from the single BNC output from the mkII. There are eight selectable sample rates: 44.1kHz, 48kHz, 88.2kHz, 96kHz, 176.4kHz, 192kHz, 352.8kHz, and 384kHz, but not all outputs feature each rate (see Specifications below).
Although clocking is somewhat of "a VooDoo art" in the world of music, there are three distinct areas, which a clock can elevate the overall sound. Mastering engineers are quite sensitive to these facets of the sound picture, but even a layman, who is not versed in clocking, can ascertain the differences because, in some cases, they can be so apparent. The first is Soundstage. Usually this pertains to the width of the stereo spectrum and where each element sits in the mix, but as clocking has gotten more sophisticated, this also applies to the depth of the soundstage with more obvious placement of elements "forward or behind in the mix." Next, is the center image. By which we mean how present certain elements appear in the middle of the stereo field. This usually means vocals, but in instrumental recordings, such as jazz, this can pertain to how vibrant the saxophone appears during a full frontal solo. Lastly, clocking can have a very positive affect on the bass frequencies in a mix. Adding "detail, roundness and big energy." All this from a clock? Hell yeah!
Core technological improvements include lower-jitter crystal oscillators, higher-quality galvanic transformer isolation in the signal path, dedicated output drivers with better isolation, higher-precision signal division, and much heavier noise filtration throughout the circuit. All of this results in a more robust, lower-jitter clock signal than the Micro Clock MkII, with even more desirable harmonics in the clock's spectral band that impart an undeniable musical quality to the conversion process.

The above quote are the enhancements to the mkIII, which Black Lion Audio eloquently states on their website. Sounds impressive, but for a small company BLA has been trotting out a new clock faster than some companies bring a single product to market. The reason? "Every year they debut at least two new great crystals," according to Nate Bierdeman, "as the crystals get more sophisticated and we want to bring those advancements to our users." Fair enough, but the mkIII is almost twice as expensive as the mkII. Well not only do the crystals advance, but "they're becoming more expensive to source," reveals Nate. Coupled with the LED display, advanced connectivity options on the back and enhanced build-quality and it's not hard to validate the price increase. Still, "at $600, a dedicated clock is an investment, but it didn't break the bank, however at $1000, it's a decision that an engineer or small studio owner is going to weigh more heavily," stated one of our evaluators.




Black Lion Audio includes rack ears with the MicroClock mkIII

Ultimately, It Comes Down To The Sound
Ultimately, it comes down to the sound. Will your $1000 investment pay off in terms of the final quality of your music. According to our five evaluators in our long term test, as well as our Editor-In-Chief, the answer is a resounding "Yes!" The BLA mkIII simply made almost every studio sound better. From a project studio, to a mastering suite specializing in electronic music, plugging in the mkIII enhanced the three attributes mentioned above. Even in studios with more sophisticated gear, the mkIII made a difference. Case in point, the Dangerous Convert-8, a well-regarded, multi-channel digital to analog converter, and the pride of a studio-owner who relished its "wide, expansive soundstage." Now Chris Muth's audio designs are top notch, but "plugging in the MicroClock mkIII, gave the mix back it's center edge" and "added even more spatialization around the instruments. Impressive."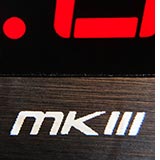 For electronic musicians, "it's all about the bass," and any gear that's going to enhance your low end, should be taken seriously. This is the one area that every one of our reviewers cited as "something special." As one of our taste-testers aptly put, "what the [mkIII] did to the low end defies gravity. It actually separated the 909 kick from the creamy Moog bass…something I was not able to accomplish to my satisfaction in the mix." Our Deep House producer had nothing but great things to say in the way it "tightened up his mix with more detail and an expansive field, especially on the sparse synth stabs."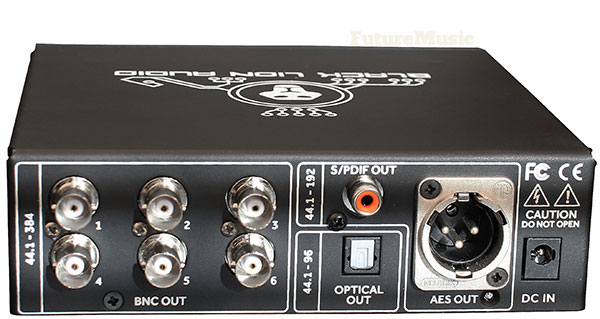 Connectivity options took a huge step forward with the MicroClock mkIII

Specifications:
» Jitter: 1.92pS RMS (BNC outputs)
» Outputs: 6 BNC, 1 XLR AES, 1 RCA S/PDIF, 1 Optical S/PDIF (recommended max. cable length = 1m)
— BNC: 75?, 5V unterminated
— RCA S/PDIF: 75 ?, unbalanced
— AES XLR: 110 ?, balanced
» Clock Frequencies:
— BNC (kHz) – 44.1, 48, 88.2, 96, 176.4, 192, 352.8, 384
— RCA S/PDIF & AES (kHz) – 44.1, 48, 88.2, 96, 176.4, 192
— Optical S/PDIF (kHz) – 44.1, 48, 88.2, 96
» Power: 9VDC (6W power consumption)
» Power connector: 2.1mm barrel connector with 5.5mm outer diameter (center pin positive)
» Weight: 2.2lbs
» Dimensions: 6.5"L x 6"W x 1.75"H (without 1U rack ears installed)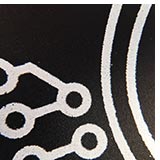 So would there be value in creating a FrankenClock, which would house multiple crystal configurations in one unit? "Maybe for the post-production or broadcast market," Bierdeman muses, "but it would be cost prohibitive to most users." For now, Bierdeman is focused on looking at each stage of the signal chain to constantly refine Black Lion Audio's ever-growing product offerings. "[Black Lion Audio] continues to work forward, instead of backwards based on a price point dictated by marketing research. Our approach is to give our customers the most for their money with the best and latest technology available."
Conclusion
The MicroClock mkIII lifts Black Lion Audio into the major leagues of clocking. While more prominent manufacturers could point and giggle at the rough construction of the mkI and mkII, the mkIII, with its polished interface, full connectivity and big LED looks is the real deal. With all the enhancements and refinement, comes a big price jump, which may turn off some potential customers who are still unsure if clocking with make their studio rigs actually sound better. We assure you, it will, as demonstrated by our five reviewers and blind tests. If you've finally made a decision to go with a dedicated clock and want a great product at a price that still far below their competitors, then you can't make a better choice than the Black Lion MicroClock mkIII. Highly Recommended.
The Future
Including rack ears at no extra cost, is a nice added value. Unfortunately, it's a bit wonky when trying to make the connections on the rear of the unit, since it's quite small. Now most users will most likely set & forget when employing the mkIII in their rig. However, we were constantly connecting and disconnecting the unit during our long-term test. An obvious solution did not reveal itself, during our time with the mkIII. If you believe that you'll be moving the unit from gig to gig, but still want to rack mount it, then we suggest mounting it in a rack slot (we always went for the top), which will give you easy access to the connections. Other than that, there was little to cite as a negative to improve upon.
FutureMusic Rating: 96%
Cheers:
+ Build Quality
+ Sound Quality
+ Bang For The Buck
+ Connectivity
Jeers:
– Big Price Bump From mkII
– Connectivity When Racked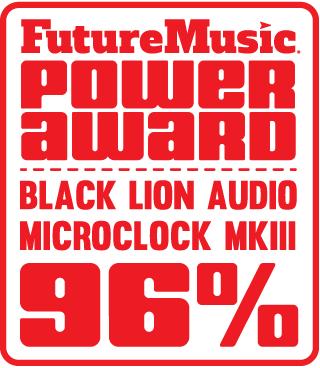 Black Lion Audio's MicroClock mkIII costs $999 and is available now.
Black Lion Audio