Kenton, the MIDI hardware specialists from the United Kingdom, have released the Godzilla of MIDI Thru boxes with their new THRU-25. The 9V powered unit features a single, opto-isolated MIDI input and a separate driver for each MIDI out, and that would be 25 outputs that duplicate the original input…Twenty-five.


The Kenton THRU-25 is housed in a solid, aluminum chassis

So when exactly would you utilize 25 MIDI outputs of a single 16-channel MIDI bank? That's the question we proposed to two of our evaluators, one tested the THRU-25 in a static studio environment, and the other took the unit "on-the-road," performing at three gigs in Brooklyn. Their impressions in quotes below.
In the studio, the Kenton THRU-25 is meant to be "set and forget." You plug it in, configure your cables and get to composing. Unlike other MIDI Thru boxes, which are more square in shape, the Kenton is thin and long. Utilizing a lightweight, yet robust, aluminum chassis, the THRU-25 can fit in a variety of locations, whether your have a desktop rig, or a designated music production desk. A green LED light indicates that the unit is powered on and then flashes as MIDI data, clock, SysEx and MTC is transmitted, which is handy for trouble shooting. Unlike other MIDI boxes we've reviewed in the past, the 2.1mm DC power input sits securely in the socket.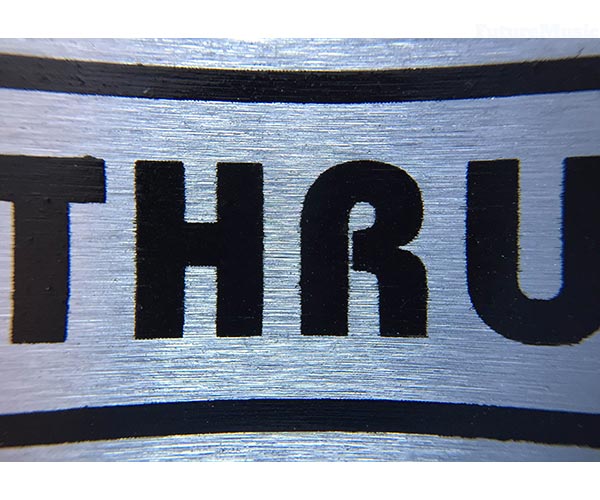 The Godzilla Of MIDI Thru Boxes
Our studio reviewer connected 18 pieces of kit, running synths on channels, 1-9 and 11-15, his drum machines on 10 and processors on 16. Setup was "a breeze" and each MIDI Din plug "fit snuggly" in each designated socket. The THRU-25 was able to "replace three individually-powered MIDI Thru boxes in about half the space." The Kenton THRU-25 provided "a strong MIDI signal" with no "discernible latency." On synths that doubled up on a single channel, he found the units were "always in perfect sync" and "didn't have any issues with dropped notes." SysEx data dumps were all executed "as expected" with "no reported issues."

Features:
» One MIDI In and 25 MIDI Thru's
» Works for ALL MIDI messages including Clock, SysEx, MTC etc.
» Includes schmitt trigger logic for signal quality restoration
» Less than one microsecond latency
» DC power input jack 2.1mm
» Power/Data indicator light
» Housed in a brushed aluminum chassis
» 9V switch mode power supply included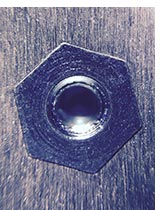 Although our live electronic musician "thoroughly tested" his setup prior to performing, it "did take a leap of faith" for him to trot out the Kenton THRU-25 "into the wild." What convinced him, besides fear of a beatdown from our Tech Editor, was the unit's "size and form factor," as well as being able to replace a rack mounted unit, "which was starting to show its age." As with the studio owner, our performer found setup to be "very fast and easy" with the added dimension of having all the cables front and center, "so I could double-check and ensure a good connection." He also noted the secure couplings of both the DIN connectors and power supply. One modification he made was affixing the THRU-25 to the table he was using on stage using some strong tape. "It would have been nice for the THRU-25 to have the ability to mount the box, but nothing a little Gaffer's tape couldn't solve, once I had everything connected," he commented.
As for the Kenton's functionality and performance? "No issues to report of," he recalled, "well, except for two." However, neither could be attributed to the Kenton. "I did have some problems with a couple of hanging notes on my Moog Taurus," he lamented, "but considering that synth's history, this is not something I could pin on the Kenton." The other occurred when an adoring, and drunken, fan flopped on stage and hooked a few of his choice wires with her swinging purse. The Kenton "got jettisoned" and "hit the side of one of the monitors pretty hard." Despite "a good nick" on the aluminum housing, he didn't notice any performance problems. His live rig didn't tax all the Kenton's outputs, but his two hour sets did push the unit for an extended period of constant use.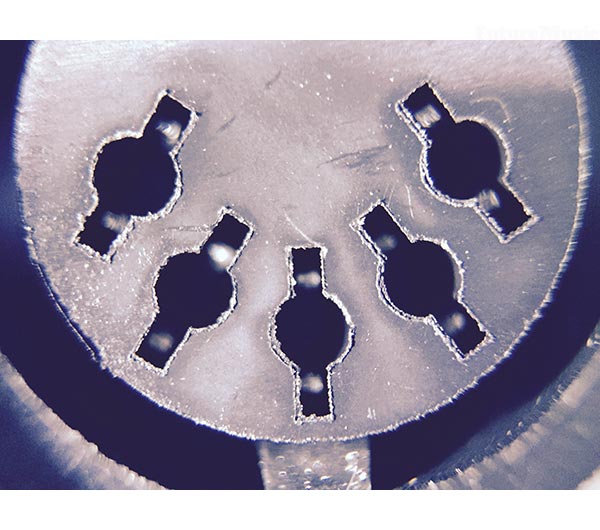 Conclusion
The Kenton THRU-25 performed as advertised in both a studio and live settings. The THRU-25's form factor and solid connecting DIN connectors showcased Kenton's dedication to quality to this "utility box," which is "something you don't see anymore for a interface of this nature." In addition, the Kenton utilizes signal conditioning via the Schmitt trigger logic to ensure a solid and clean signal. If you're looking for a robust MIDI Thru box, which will serve you for years to come, you can't go wrong with the Kenton THRU-25.Highly Recommended.
The Future
Considering our reviewers evaluations, the Kenton THRU-25 would certainly be well served by adding some mounting options to the unit. This certainly would not be hard to achieve, by either Kenton or a user who doesn't mind "modding" the chassis, since the chassis has two end screws on the sides of the unit. Simply adding a small "L" plate to the sides provides a methodology for securing the Kenton to the top or sides of a studio production desk, or to a solid area of your live rig.
FutureMusic Rating: 94%
Cheers:
+ Build Quality
+ Strong Signal
+ Secure sockets
+ Robust Power Input
+ Low Latency
Jeers:
– Expensive
– No Mounting Options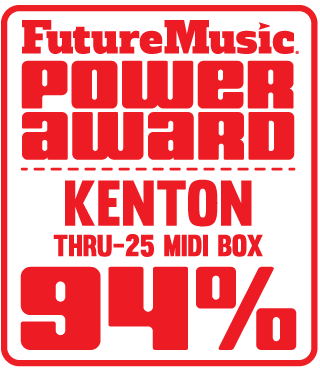 Kenton's THRU-25 MIDI Thru Box costs £128.92 and is available now.