V-Moda, the da Vinci of headphone manufacturers, has unveiled the limited-edition Zn earphones (zinc element symbol). V-Moda utilizes a zinc alloy casted by a patented process, which allows for unique shapes and precision necessary for consistent acoustic quality in the Zn's metal chassis. V-Moda claims Zinc has a unique hardness and resonance, which delivers "a balanced sound over other commonly used materials."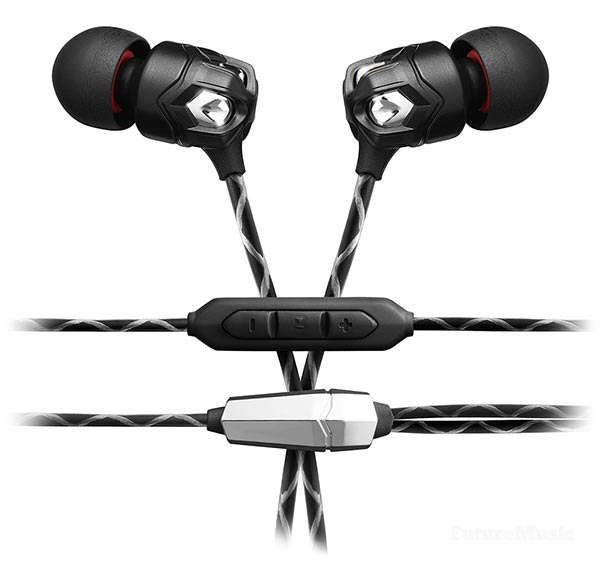 The acoustic filters, installed between the driver and the housing that control the airflow mechanics, are from a finite Italian supply, making the Zn's a limited edition. Although, we're sure V-Moda will source more, if the Zn's provide to be a hit. Four ergonomic sizes of patented BLISS 3.0 (Bass Level Isolating Soft Silicone) buds naturally block out background noise, isolating the audio to enable tighter bass for the best fit, stability and sound. The V-PORT airflow system mechanics has been optimized for a 3D soundstage and to bring out subtle sounds not heard through typical earphones.
The Zn earphones' 8mm dynamic driver has been tuned to increase the midrange in order to enhance clarity, and provide low distortion (<0.5dB). The DiamondBack cable claims to be up to 20x stronger than the industry average, and is reinforced with Kevlar. The 3-Button SpeakEasy Remote Mic for Apple iOS (or 1-Button SpeakEasy Remote Mic for Android) includes a high-sensitivity microphone for phone calls, plus controls to manage playback without touching a smartphone or music player. Play/pause, skip or go back a track with ease. Hold it down to command Siri, Google Now or Cortana and record voice memos or audio messages on the fly. The patented ActiveFlex sport earhooks are seamlessly integrated when listening to music during a long run or tough workout at the gym.


V-Moda Zn Specifications & Features:
» Bi-aural in-ear type monitor headphones with remote and mic
» Speaker Driver – 8mm dynamic-type
» Frequency Response – 2 – 25,000 Hz
» Sensitivity – 105 dB @ 1kHz 1mW
» Microphone Sensitivity – -42dB @ 1kHz
» Impedance – 16 Ohm
» Cables: DiamondBack Kevlar-reinforced, 33″ plug to y-connector, 13″ even-length earphone cables
» Plug: 45 degree, 24k gold plated, 3.5mm stereo
» Weight – 20.8g
» Black carrying pouch included
» 8 pairs of Bliss 3.0 fittings in XS, S, M and L sizes
» 1 pair of ActiveFlex sport earhooks
» 60-Day test drive guarantee
» 1-Year premier warranty
» 50% Immortal Life Program Replacement
As is paramount for any V-Moda product, the Zn has been built to withstand the unexpected. Tested beyond military-level standards MIL-STD-105, V-Moda's new earphones can bear extreme environmental conditions like high and low temperatures, humidity and UV exposure.
V-Moda's Zn with 3-Button SpeakEasy Remote Mic is available now for $180.



V-Moda