ADQ recently premiered a very affordable Bluetooth speaker with a provocative form factor and sound dispersion system. The Maestro Bluetooth Speaker looks like it could have been a prop from the movie Alien with its white, egg-shaped design and blue LED accents.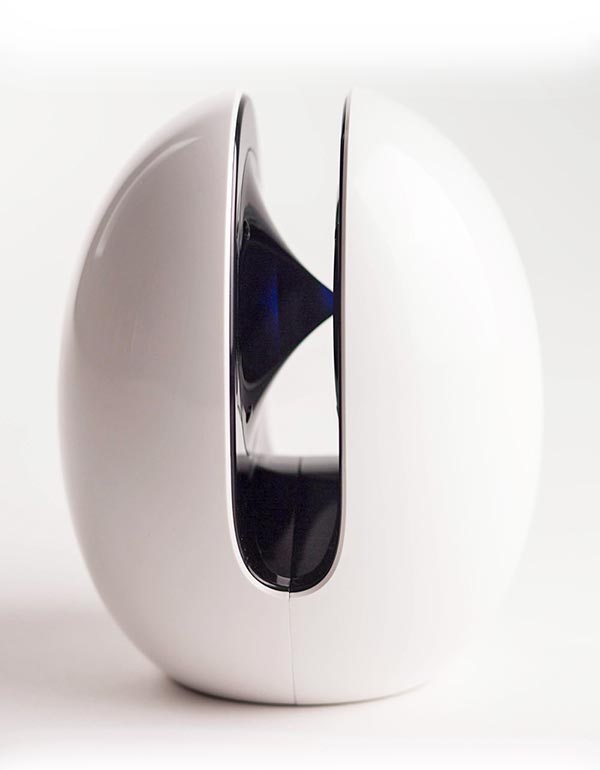 The ADQ Maestro Bluetooth Speaker


The egg, standing just under 8″ tall, contains a 1.5″ slit down the center, which houses a single 3″ midrange-tuned speaker, facing a dispersion cone. The Maestro weighs in at under three pounds and features a built-in rechargeable lithium battery, which provides about four hours of playtime with a four hour charge. The manufacturer claims the single speaker provides a dynamic range of 20 to 20 kHz, but that's not accurate at all, with the Maestro's output slitting the throat of any real bass frequencies. The top end suffers with anything above 5kHz getting lopped off as well. That said, the Maestro does provide solid, present midrange, which is well-suited for typical Bluetooth audio compression. While not "room filling," the dispersion methodology works well considering all the sound is essentially being emitted from a small slit.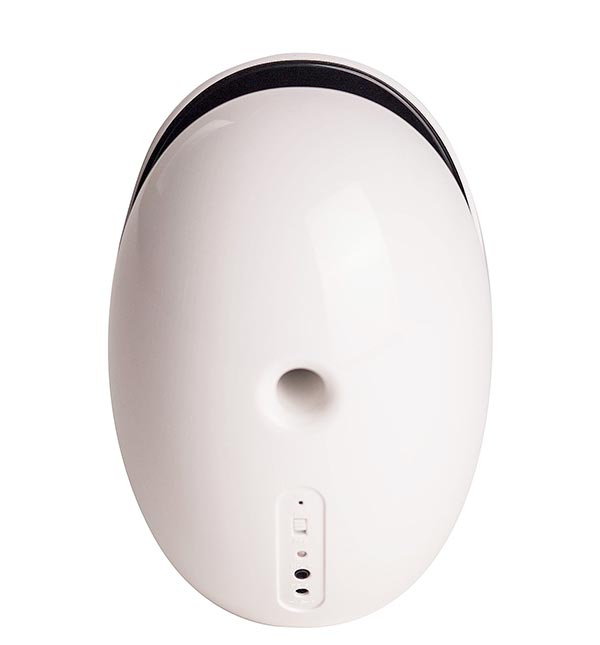 ADQ's Maestro features a bass port on the back, but it does little for the low end


King On The Throne
Considering the color and form factor, we found the best use for the Maestro to be the bathroom where the unit benefits from the tile reflections. The white color enables it to blend in to its surroundings, and the small footprint permits it to be placed almost anywhere.
Pairing it couldn't be easier and it works with both Android and iOS phones, as well as your laptop. It has a 3.5mm input, if you want to hardwire it to other audio devices, which do not have a Bluetooth connection. With the very low price point, you'd figure that the build quality would be poor, however that's not the case. The Maestro feels solid, with a nice weight, and thanks to the battery being located in its base for a low center of gravity, it's not easy to tip over, despite the egg shape.
Features:
» Hand free function
» 3.5mm Minijack audio input
» Touch sensor controls
» Audio Max Power: 5W
» Claimed Frequency response: 20Hz-20kHz
» Built-in rechargeable lithium battery
» Connect external USB 5VDC power source to charge the unit
» Charging time: around 4 hours
» Continue to play for about 4 hours when built-in lithium battery is Fully charged
» LED Bluetooth indicator
» Power charge indicator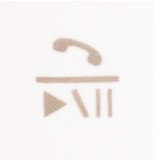 The Maestro also contains a nice added feature, a speakerphone! Yes, you heard that right. Once paired with a mobile phone, you can answer a call and use the Maestro handsfree. Again, great for stepping out of the shower and grabbing that call, even if you have soap in your hair. How useful this feature will be to your particular habits is to be determined, but while the mic quality is not stellar, in a pinch, it works well. The touch sensitive controls on the back include play, pause, forward and reverse. A hard slider switch turns the Maestro on or off to avoid inadvertently turning it on when you move it.

Conclusion
We received the Maestro Bluetooth Speaker unsolicited and with the unsophisticated packaging, Made In China build, and low price, we weren't expecting much. However, after seven weeks of use without a problem, we were pleasantly surprised on how well this speaker works. If you're looking to rock out in your shower, and not break the bank, you can't go wrong with the Maestro Bluetooth Speaker. Recommended.

The Future
While the white color looks great in the bathroom, more color options would be nice. A carrying handle would also be a nice addition. Finally, a redesign of the bass port is in order since the functionality of the current construction is minimal.
FutureMusic Rating: 84%


Cheers:
+ Unique Design
+ Inexpensive
+ Easy Pairing
+ Speakerphone
+ Warranty

Jeers:
– Limited Dynamic Range
– Only One Color Option
– Bass Port
– No Charger Included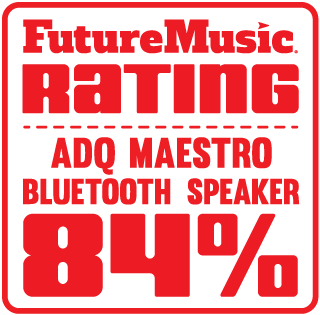 ADQ's Maestro Bluetooth wireless speaker costs $38 and is available now.

ADQ