Ableton has announced a revamp of their Push Controller, an update to Live and Link.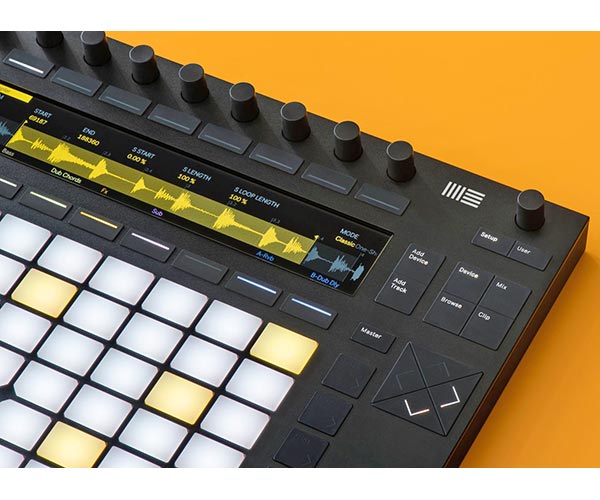 New Push
The "New" Push, not Push 2 or Push II or Push S has one thing conspicuously absent. No it's not the new large multicolor display, or the Recycle-like sampling workflows or the overhauled pads…
Ableton is no longer calling Push an instrument. Why? Because it was never an instrument. It was a controller specifically tailored to their software to take the users out of the box, a trend that is only gaining more and more traction in every aspect of the industry. An instrument's interface doesn't change. Push 2, although similar, has already gone though a significant interface update (see below and click image for larger size —Ed) from version 1.0 and this is the first redesign, just two years laters. Now we're not going to take Ableton to task for dubbing the first Push an instrument, simply because they were trying to evoke that Push was a physical extension of the software, and calling it an instrument provided that connection by differentiating it in the market. However, the German concern eliminated that nomenclature when they made another choice…ditching Akai.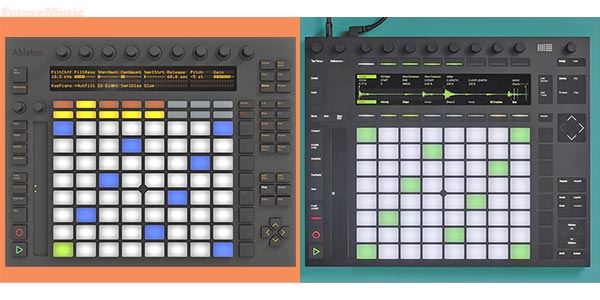 The new Push is being made entirely by Ableton, not Ableton's specs in Akai's Chinese factory. At some point, Ableton realized that they needed to completely own their software/hardware vertical and moving beyond Akai was the right choice. So what exactly is new with New Push?
Like the original Push, the new version brings hands-on creation of melody and harmony, beats, and song structure. Ableton now claims New Push "has a new level of playability that puts even more elements of song creation at your fingertips. Everything about Push has been carefully reconsidered to make creating music as elegant and effortless as possible."
Everything about Push has been carefully reconsidered
to make creating music as elegant and effortless as possible.

Large Multicolor Display
We liked First Push's amber monochrome display, but with advances in color displays, not to mention the competition, it was time for Ableton move in that direction. Still no multitouch, (Scott? Hello??!), but New Push has a crisp and colorful display, which adapts to show what you need and keep you in the creative flow. Library navigation, sample waveforms, effects parameters, and mixer levels are visible on the display and tweakable via the touch-sensitive encoders.
Sampling Workflows
New Push now has fast and flexible sampling workflows that let you slice samples across the pads and play back single hits and timestretched samples. Create looping instruments on the fly, chop up drum kits from recordings, or play longer rhythmic samples back in tempo without touching your mouse.
Redesigned Pads
Push's new pads have been carefully redesigned to feel just right for musicians of all kinds. Softer, smoother, and more responsive, they provide the perfect playing experience for creating beats and melodies.
Live 9.5 Update
Along with the New Push or Push 2 controller, Ableton also announced an update to Live. Version 9.5 brings out a few choice enhancements, including some modeled "analog" filters, revisited meters (Yay!! —Ed.) and an overhauling of the Simpler sampler.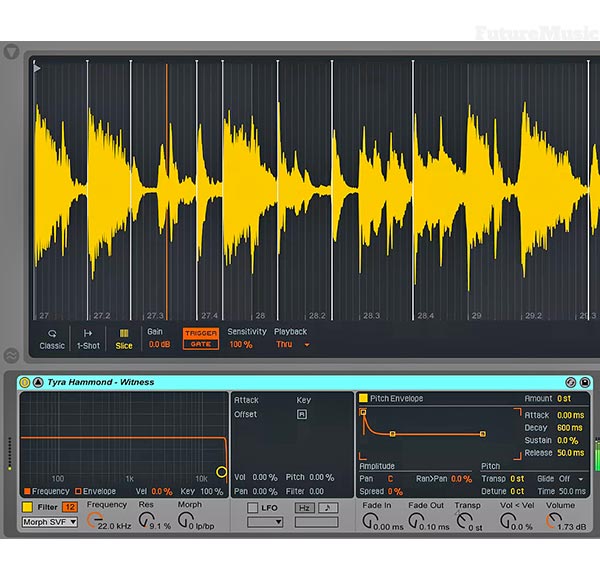 Simpler now features a new interface, warping, slicing, and Cytomic's new analog-modeled filters. Slice samples across the keyboard, play single hits, or warp long samples so that they always stay in time with your song. In addition, Live 9.5 receives new waveforms, which claim to show more detail and zoom and scroll smoothly.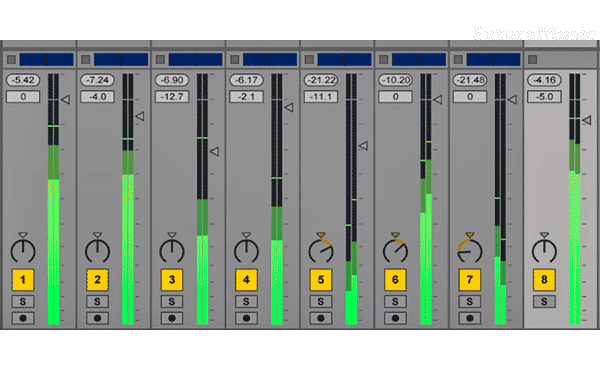 The meters, which have been crying out for some lovin' from Live 2, have finally gotten some attention. Ableton didn't take them to Vegas, but they did update the meters to display both peak and RMS. They could still be much "beefier" with more calibration and other visual and technical enhancements, but it's a step in the right direction.
Live 9.5 Enhancements:
» Better sampling with Simpler
» Improved waveforms and coloring
» Peak and RMS meters
» Analog-modeled filters
» More sounds, samples, and drums
» New Max Essentials
» Play in time with Link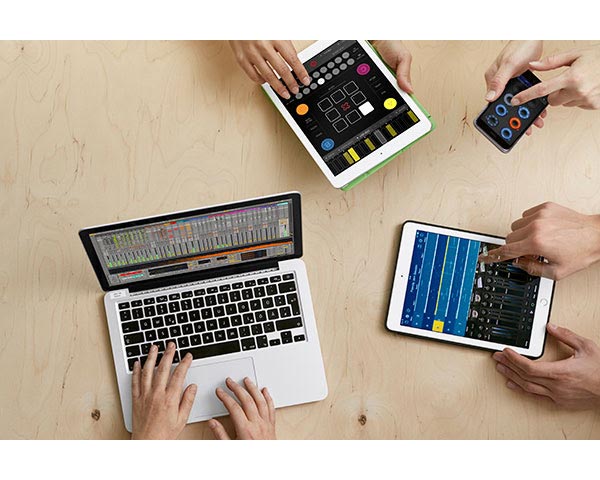 Link
Coming in a future update, Ableton also declared Link, which could turn out to be the most significant of all of today's announcements. The new technology allows users to play in time with multiple instances of Live and a growing number of iOS apps. It syncs devices' timing over a wireless network, so you can set up almost instantly and jam with others as freely as a live band.
To set up, just switch on Link, connect to the same network and start jamming. Anyone can start and stop their part while others keep playing. And anyone can adjust the tempo and the rest will follow. No MIDI cables, no installation, just free-flowing sync that works. Link needs to be baked into a wider range of iOS apps as a built-in feature to really be effective, so if you're an app developer who's interested in joining the band of music-making apps that have Link built in, contact link-devs@ableton.com.