The Sennheiser D1 with the ME 3 II headword cardioid microphone is a 24bit / 48kHz digital wireless platform, operating in the globally license-free 2.4GHz band. Sennheiser positions the Evolution D1 as prosumer-level in their wireless system hierarchy. However, in our extended test, our reviewers discovered the platform performed well in a wide variety of applications, exceeding expectations.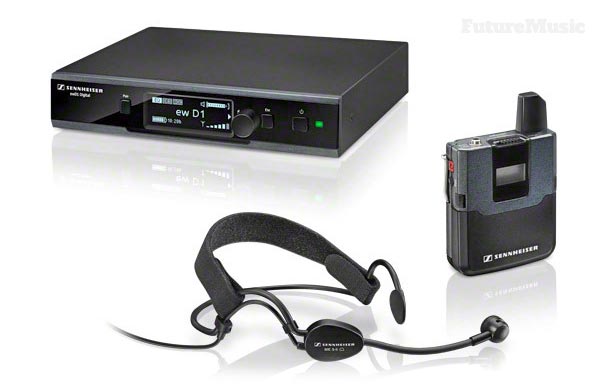 The evolution wireless D1 system


The Sennheiser D1 systems claim to have >135dB of dynamic range and come with a receiver, a belt-worn transmitter and several different mic options. For some reason, Sennheiser thought the headworn vocal mic was something our readers would be interested in, but we think they just needed to round out their reviews and this particular solution was missing from their portfolio. No worries. Our five reviewers ended up "hacking" the mic to work in a variety of scenarios. Their comments in quotes below.



The Sennheiser evolution wireless D1 features a vivid OLED screen


Three-In-One
The D1 has a revamped transmitter, which is sleeker than the early incarnations of the design, and is much simpler to operate. In addition, the battery caddy works well and can be opened with just one hand. The only caveat, which all of our evaluators noted, was the very small LCD screen is not backlit, "making it impossible to see on a dark stage." The minimal controls consist of power and pair buttons, plus a slider mute switch. "The belt clip is solid and it looks like the transmitter got some trickle down tech and design cues from their SK2000XP unit," one reviewer remarked.
The D1 receiver "could be mistaken for a Wi-Fi router" with its dual 2.4GHz SMA antenna connections. It features a balanced XLR output, an unbalanced 1.4″ output and an Ethernet port on the rear. The front features an indented infinity knob with click input, a power button, escape button and a pair button. The "very bright" and "gorgeous" OLED display puts "everything front and center." Pairing the base receiver with the transmitter "took literally two seconds" with "an obvious" green pairing light on both units, informing you that they are locked. The power buttons, on both the transmitter and receiver, need to be held down for a few seconds before powering off. It "doesn't seem like much is going on" with the minimal controls, but the D1's "makes everything work without a user even needing to break the seal on the manual.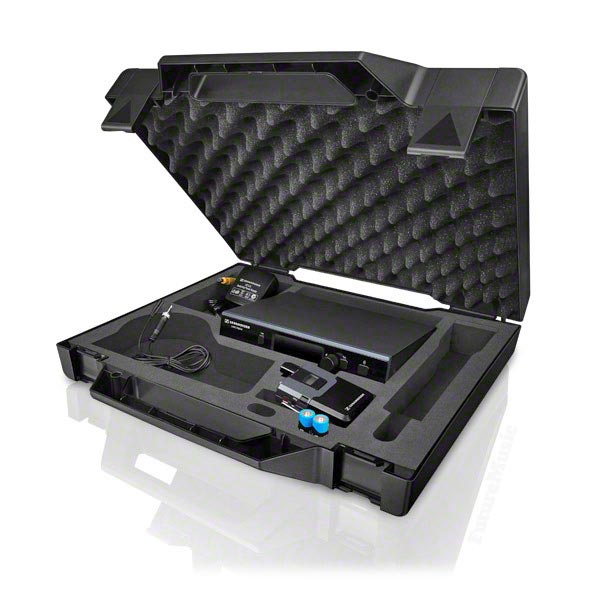 Included with the Sennheiser evolution wireless D1 system is a sweet hard case


The system evaluates the radio channels in your spectrum 133 times per second, making finite adjustments to ensure signal quality. It can boost the transmission power (up to 100mW) when needed and their proprietary aptX Live codec provides the best audio quality possible, which is important in the crowded 2.4GHz part of the spectrum. The D1 analyzes what's happening in the radio field when you turn it on and selects the best channel to avoid interference. In addition, it latches onto another "backup channel" in case of band competition, and can switch over at a moments notice, if it senses a problem. Not only that, but if two D1's are operating in the same area, they can talk to each other to avoid battling for the same frequencies. We weren't able to test this with our one review unit, but Sennheiser claims up to 15 D1's can be used simultaneously without a hiccup in a clean environment.



Features:
» Up to 15 compatible channels in license-free 2.4 GHz band
» Automatic frequency management
» Intelligent channel back-up allows co-existence with Wi-Fi & Bluetooth
» Audio effects: equalizer, de-esser, automatic gain control
» iOS app for remote control and monitoring of the system
» Sturdy metal chassis
» Signal-to-noise ratio: ? 105 dB (A)
» RF frequency range: 2,400 to 2,483.5 MHz
» Modulation: GFSK with back channel
» Dynamic range: > 135 dB (A)
» Audio sampling: 24 bit/48 kHz
» Transmission method: TDMA, time diversity, frequency diversity, fast switching antenna diversity
» Latency: 3.9 ms
» Audio codec: APT-X Live
» AF frequency response: 20 to 20.000 Hz
» Weight: approx. 824 g



» Audio output:
— Mic/line level switch –24 dB/0 dB
— XLR balanced max +18 dBu,
— 1/4″ (6.3 mm) unbalanced/balanced max +12 dBu/max +18 dBu
» RF output power: Back channel 10mW/100mW
» Power supply: 12 V DC hollow jack
» Antenna connector: 2 x Rev-SMA
» Current consumption: 350 mA
» Low-cut filter: –3 dB at 120 Hz
» RF sensitivity: < -90 dBm
» Equalizer: 7-band graphic equalizer
» Automatic gain control (AGC) compression/expansion with automatic make-up gain function
» Display: OLED
» Network socket: RJ45
» Network protocol: Media Control Protocol, UDP IPv4 (DHCP, Manual)/IPv6
» Hard carrying case included
» ME 3 II Headworn Microphone
— Pre-polarized condenser
— Max. sound pressure level: 150 dB SPL
— Pick-up pattern: cardioid
— Sensitivity: 1.6 mV/Pa
— Total harmonic distortion: typ. < 0,1 %

Not one of our testers had an issue setting up the D1. It's "pretty much, plug 'n' play," which makes it "completely unintimidating to users who have never worked with a wireless mic system previously." Range is "pretty good" for a prosumer model and most users "should not experience an issue in most bar venues or small clubs." Latency is listed as just under 4ms, but none of our reviewers listed this as an issue.


Sweet App
So what's up with the Ethernet port on the back? Glad you asked. The D1 can interface with a wireless router, allowing you to access the unit from your iPhone. The iOS app reveals all connected receivers, and provides tweaking of system functions and audio settings, including EQ. Three of our reviewers mentioned the Walk Test feature, which allows you to "evaluate the RF signal strength on your iPhone as you sashay around a venue to ensure quality." Remarked one reviewer, "although the Walk Test feature could have just been implemented on the transmitter, it's the app's killer function, and a phenomenal idea."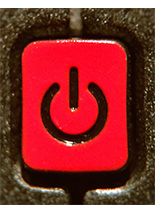 The D1 we tested came with the ME 3 II "head worn" microphone, which is obviously not the most popular mic option for this system. Donning the ME 3 II carries somewhat of a stigma, unless, of course, you're Madonna, but that didn't stop our testers from discovering "alternate uses for the mic." The pre-polarized condenser has a "loose cardioid pattern" and is housed within a wire frame and a velcro strap. It "confused" a couple of our evaluators on how to exactly wear the mic at first, but with a "little trial and error" they "figured it out." Each one desired "the ability to extend or retract" the mic "for optimal placement," but it seemed to work, "even if the mic was more on the side of the mouth, instead of in front." Our Technology Editor used it to conduct a Digital DJing seminar and found "once I became accustomed to the apparatus, I forgot it was on." He was impressed with the "sound quality for vocals" and the mic showcased "excellent clarity."


Another used the mic while DJing to add vocals and spoken word samples, as well as "callouts to some of the better dancers." She affixed the mic "to the back of [her] vest with a little Gorilla tape," since she didn't like the "sensation" of wearing the head wore rig. This application allowed her to "simply bow [her] head" whenever she wanted to add to the mix, and "get out into the crowd to connect with the audience of break dancers."

Microphone Hacking
The most creative use came from our Editor-In-Chief who "hacked the harness" and somehow affixed the mic to his djembe drum with nothing more than "a twisty-tie and repurposing the velcro strap to adhere to the head rope." He then positioned the mic's flexible gooseneck stem to pick up the tones and slaps. "Although it didn't pick up much of the bass tones, the mic tracked the midrange admirably." The Evolution D1 allowed him to perform in the middle of the crowd during a tribal house set. "I was a bit worried about having feedback issues being in the middle of the crowd with that massive PA, not to mention latency, but the D1 rocked it," he praised.

Conclusion
The Sennheiser D1 is a terrific and robust wireless microphone solution with plenty of options to ensure the system keeps up with your musical endeavors. During our long-term test, the evolution wireless D1 was passed around from one reviewer to the next, each pushing the system to its limits, as well as shoehorning it into roles it's not trained to support. The result? An affordable wireless system that will continue to perform, no matter what you ask. Highly recommended!

The Future
We'd love to see Sennheiser ME 3 II have the ability to extend or retract the microphone for optimal placement, especially for larger head shapes.
FutureMusic Rating: 94%


Cheers:
+ Build Quality
+ Sound Quality
+ Easy Setup
+ Microphone Options
+ Robust

Jeers:
– Transmitter LCD Screen Not Backlit
– Short Mic Gooseneck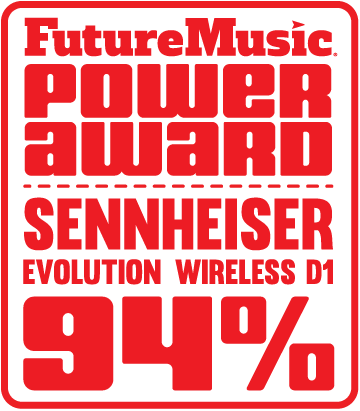 Sennheiser's evolution wireless D1 with the ME 3 II Headworn Microphone costs $749 and is available now.

Sennheiser