Trinity Audio Engineering, a new concern based in the UK, kickstarted their own line of "audiophile" earphones, which they tout as "providing the most detailed and accurate listening experience possible." Unfortunately, they fell far short of that claim for our five evaluators (their impressions in quotes below).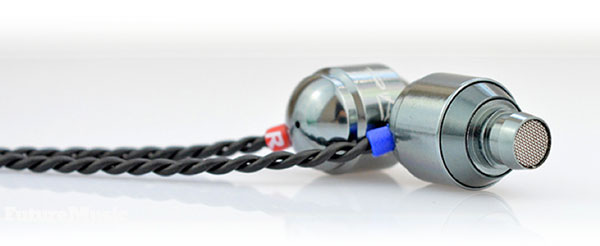 The Trinity Delta Hybrid earphones feature a filter tuning system


We evaluated their Trinity Delta Hybrid, one of four different models, including a new Sport version, called the Atlas. The Delta Hybrid's contain Trinity's proprietary neodymium 8mm dynamic drivers with their custom tuned balanced armatures enclosed in a "bulky" aluminum chassis. These custom tuned balanced armatures are basically three different filters with specialized screens and materials to shape the sound according to a specific sonic profile. The Trinity's are not the first earphones to feature custom-tuning filters, and while they do work to an extent, all of our reviewers found them to be more of a "marketing gimmick" instead of something of true value.
Features:
» 8mm neodymium dynamic drivers
» Interchangeable tuning filter system
» Impedance 16Ohm
» Sensitivity 110 +/- 3DB
» Claimed Frequency response 19 – 21000HZ
» 24ct Gold plated 3.5mm Jack
» 1.2M Cable length


What Your Product Is vs. The Stories You Tell
Trinity claims the frequency response of the Delta Hybrid are 19 – 21000Hz, but in our lab, that was far from accurate. Bass response was nowhere near their claims and the high-end topped out at 18,600. Not that this will make a tremendous difference in your listening experience, but Trinity does seem to do an awful lot of chest-pounding in their claims with little foundation.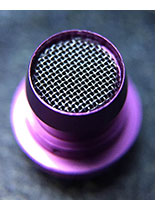 The three included filters Silver (Fun), Gunmetal (Smooth) and Purple (Vivid) allow a user to tailor the sound to their particular tastes. Trinity has since added a fourth filter, Gold (Smooth2), to the mix, but our evaluators did not test this product. The Fun Silver is supposed to enhance the bass frequencies, while the Gunmetal (Smooth) offers a more balanced and neutral signature. The Purple reduces the bass impact, while enhancing the treble frequencies, which is suited for Classical and Speech material. While "it's not difficult," to change the filters, our evaluators recommended performing the task on a flat table, "since it's easy to drop the tiny filters, losing them forever."
Each reviewer noted a difference between the filters, but overall felt that changing your sound source's "EQ was a far more effective way" to change the profile, "if your starting off with a solid sonic foundation." Remarked one evaluator, "while the filter system works, there's no way I'm going to stop what I'm doing, take out the miniscule filter tube, fish out a filter and then swap them out in my earphones whenever I change the type of music I'm listening to." Another reiterated, "I get that Trinity is trying to differentiate themselves in the market with the filter system, but once someone finds a filter they like, they're never going to swap it out again."

Our reviewers found the Trinity Delta Hybrid problematic in another crucial area as well, bulk and weight. Although the earphones are made from aluminum, the earphone's girth and density cause them "to fall out of the ear canal continuously." It's hard to determine if the cause is the internal components or the filter system that contributes to the earphone's barrel design, but the mass was a gripe that all reviewers cited. "No matter which silicon earpad size I tried, I could not get the earphones to stay secured in my ears," noted one evaluator. The reality is that the "coffee mug shape" is not conducive to head movement, and is an antiquated design, which other manufacturers have long abandoned due to this issue.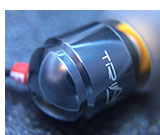 Once a filter selection is made, the sound quality is decent, but nothing close to "providing the most detailed and accurate listening experience possible." There are a lot of earphones out there at this price point that "make the Trinity's look real sissy" and if a company is to tout their sound quality in this manner, "they better bring it." That said, the Trinity's do provide "a smooth, clean bass tone" and "excel at midrange material" as long as "they don't have to work too hard." The problem is the "overall picture" and "soundstage" feel "quite restrictive." This "diminishes the high end from its full potential," making popular music genres feel "compressed" and "confined" and even "claustrophobic."


Conclusion
The construction quality of the Trinity Delta Hybrid earphones is of a high standard, including the attention that the company directed towards the cables and gold-plated connectors. Unfortunately, this is the only area our testers could truly praise. Not recommended.


The Future
With their new Sport model, Trinity does seem to be re-tinking the blueprint of their earphones. The new Atlas model conforms more to the shape of the ear, instead of the cylinder approach. They should continue in this vein with the next version of the Delta to eliminate the aggravation of the earphones continuously dismounting. While the filter may seem to be a novel idea on paper, it comes across as a ruse when a user realizes its basically a miniature pipe screen. Instead, Trinity should just dial in the best sound signature from their 8mm drivers, and let users tweak the sound to their own tastes.
FutureMusic Rating: 70%


Cheers:
+ Build Quality
+ Connectors
+ L/R Indicators
+ Included Case

Jeers:
– Weight
– Bulky
– Filter System
– Expensive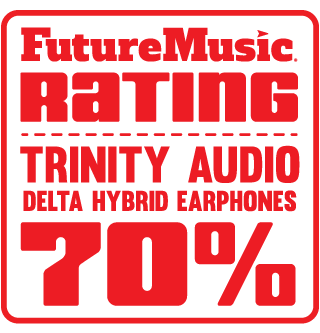 Trinity's Delta Hybrid earphones retail for £90 and are available now.

Trinity