First it was Stems and now Native Instruments has announced a new MIDI keyboard/controller standard, dubbed Native Kontrol Standard, which brings the Komplete Kontrol advancements to other brands. The new version 1.5 update of Komplete Kontrol adds Native Kontrol Standard, an extended plug-in format allowing third-party instruments to achieve the deep integration features previously only reserved for Komplete Instruments.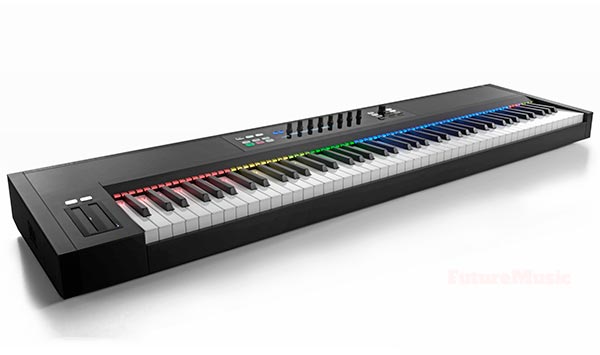 At the same time, Native has also announced the sexy Komplete Kontrol S88, a new keyboard controller for composers, performers, and pianists with 88 fully weighted, hammer-action keys. Aimed at professional producers and performers alike, the keyboard provides a truly piano-like playing experience with a premium keybed from Fatar, featuring fully-weighted, hammer-action keys and aftertouch. The keyboard also provides the full set of controls and advanced features as the other S-Series keyboards, notably Smart Play (a set of melodic features controlling chords) and Light Guide (the unmistakable colored LEDs that indicate key switches, sound types, and more).
The Komplete Kontrol 1.5 update offers a major development in debuting the Native Kontrol Standard (NKS) – an extended plug-in format that opens up the system to other manufacturers. NKS allows VST and Kontakt instrument developers to integrate their plug-ins with Komplete Kontrol and Maschine hardware and software at the same deep level as Komplete Instruments. Instrument developers can use Native Map to create detailed parameter mappings for the eight controller knobs on the S-Series keyboards or Maschine. NKS instruments can also access the Light Guide, so that third-party instruments can display key switches and sample assignments, for example. NKS also allows plug-ins to access the Smart Play features in the Komplete Kontrol software, including the touch strips, scale mapping, Chord Sets, and the arpeggiator. VST support also lets Komplete Kontrol owners load and play their entire software instrument collection.
The NKS format has already been adopted and implemented by a number of leading instrument manufacturers, and the list of NKS plugins and supporters is growing rapidly. Notable partners currently finalizing their NKS-compatible instruments are Arturia, U-He, Output Audio, Soundiron, Heavyocity, Spitfire, ProjectSAM, Softube, XILS Lab, Waldorf, e-Instruments, Sonokinetic and Evolution Series. All NKS partners have committed to releasing the NKS versions of their instruments as a free update to current owners.
Komplete Kontrol 1.5 also introduces VST compatibility allowing producers to play and control VST instruments on their S-Series keyboard. Version 1.5 also provides a new Control Panel – a dedicated interface for customizing instrument parameter mappings to the eight control knobs on the hardware. Customizing assignments is simple and intuitive – even across multiple pages – and any double assignments are recognized automatically. Using the control panel, producers can quickly and easily customize presets for specific use cases, such as a live performance.
Native's Komplete Kontrol 1.5 software update and Komplete Kontrol S88 will be available on October 27, 2015 for $999 / €999 / £729 / ¥119800 / AU$1399.



Native Instruments