We can just hear the lightbulbs going off during a Velodyne marketing meeting…
"We're the kings of big bass tone, why don't we come out with our own headphones and grab a piece of the Beats market!" Certainly not the worst brand extension we've heard before. Velodyne, known for their quality sub woofers for the consumer audio market, should know a thing or two about bass representation, and why shouldn't they try their hand at headphones, everyone else seems to be jumping into that market. However, instead of trying to climb the 70% Mt. Everest market share that Beats enjoys, they decided to go another route and position their Forged Aluminum vTrue's as Studio Headphones.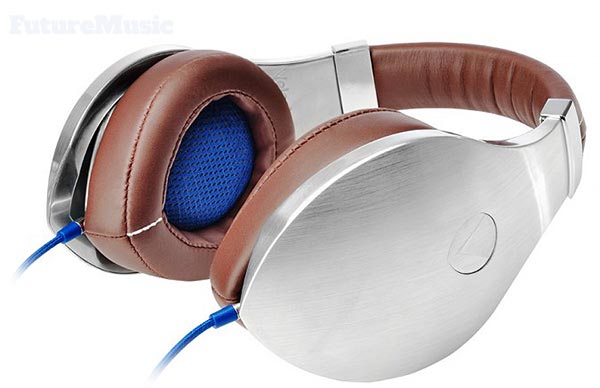 Velodyne went for big luxury in their first headphones release


Silly Rabbit, Bass Is For Kids!
Considering how overhyped the current crop of headphones are in the bass department, thanks to Beats, the vTrues almost sound like neutral studio cans. The bass is certainly tuned for prominence, yet it's "controlled and very tidy," according to one of our evaluators. They're not nearly as "over blown" as many of today's contemporary headphones, which made most of our reviewers continually go back and forth when A/B'ing the Velodyne's against the V-Moda, Beats and other bass-forward cans in our arsenal, wondering where the bass went. Fact is, it didn't go anywhere. It's plenty powerful and detailed, just not "overbaked." Velodyne even compensated for the low frequency push by dialing up the midrange and treble frequencies for added detail and clarity. The vTrue's did excel in their staging, with terrific definition and separation of elements in the stereo field. Listening to the Chemical Brothers new album (Born in the Echoes), perfectly demonstrated this attribute, since Tom and Ed take considerable care in placement of sonic facets in the spectrum. "Midrange attack and transients were also spot on," which promoted the headphone's natural clarity, "especially on vocals." The end result is a sonic signature that will provide a very good listening experience, but you won't be mixing your next masterpiece with these pups.
Features:
» 50 mm drivers tuned to Velodyne's low-distortion bass reproduction
» Braided cloth tangle-resistant cables
» Dual 3.5 mm gold plated cable connectors
» In-Line controls are compatible with iPod 3rd generation and newer, iPhone 3Gs, 4, 4s, 5, and iPads only
» Forged Aluminum & Brown Leather Construction
» 4 foot, 3.5 mm (1/8″) Y-cable connector
» 4 foot, 3.5 mm (1/8″) Y-cable with control module
» 3.5 mm (1/8″) to 6.35 mm (1/4″) stereo adapter
» Carrying pouch included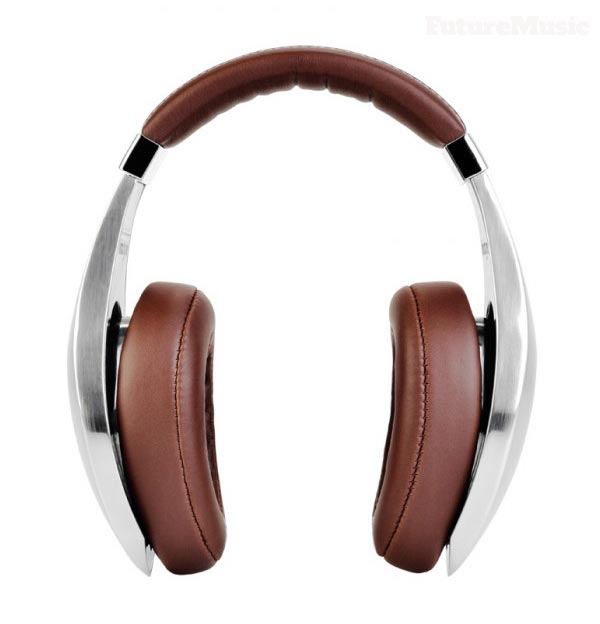 Specifications:
» Driver size: 50 mm
» Frequency response: 10 Hz – 20 kHz
» Sensitivity: 96 dB/1 kHz/1 mW
» Impedance: 24?
» Power handling: 100 mW
» Transducer type: Dynamic
» Weight: 10.6 oz., without cable
Our reviewers found the design of the vTrue's to be a love/hate experience. Aesthetically, they've got a distinctive look with large heart-shaped earcups, and quality materials throughout. Lush, supple brown leather ear cushions bathe your ears in luxury, and the substantial, forged aluminum earpieces and headband make for an almost Hermes experience. Despite the "headphones heft," they "sit quite nicely on the head" and are indeed "comfortable for long periods of listening." However, they will widen your head about five inches, so watch those narrow openings (we're not kidding) when on the move.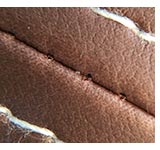 The over-the-ear design seals out ambient noise without feeling tight on the head, but at the expense of the headband, which ended up being a gripe of two reviewers who felt it "was only a matter of time" before the band failed "due to the excessive weight of the earcups." The headband is padded with the same leather material as the ear cushions, but it doesn't add enough reinforcement to keep the band from bending significantly, if you happen to grab the vTrue's by a single earpiece.

Velodyne's vTrue headphones come with a high-quality, braided headphone cable with gold-plated minijacks. Two go into each side of the vTrue's earpieces, with distinctive color-coding, while the third plugs into your sound source. The rich blue color nicely accents the silver and brown of the headphones, and adds "an opulent touch." Velodyne doesn't offer a hard carrying case, since they would need to ship you a coffin, but does provide a drawstring cloth bag.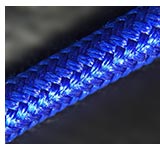 Conclusion
Athough Velodyne's vTrue headphones have a relatively flat frequency range, with a couple of bumps at 2.6kHz and 7kHz, they're unfortunately not neutral enough for true monitoring purposes. That said, one reviewer felt they would be a "good pair of cans to test mixes, since they would represent bass-tuned headphones in a more refined manner." Being Velodyne's strong-suit, it's no surprise the "bass really shines on the vTrue," but with intense competition from dozens of manufacturers at this price point, that may not be enough to lure consumers away from some of the more popular offerings. However, if you're looking for a more luxurious experience from your bass forward headphones, and are not afraid to standout from the crowd, the Velodyne vTrue's a certainly worth a test drive.

The Future
The vTrue's are a really solid effort from Velodyne, especially since this is their first foray into the headphone market segment. We'd like them to continue with the luxury approach, but fine tune some of the details. An overall reduction of weight, especially in the earcups, would provide additional comfort, take the burden off the headband and reduce bulk. Lengthening the cord 12-18″ inches would certainly increase applications, including listening to music via computer, since many external audio interfaces are often farther away. A retail price point at $299.99 would open up the market and allow the company to debut a truly high-end pair of headphones, maybe even including their preamp technology.
FutureMusic Rating: 84%


Cheers:
+ Aesthetic
+ Sound Quality
+ Comfort
+ Quality Removable Cord
+ Inline Mic Quality

Jeers:
– Weight
– Bulky
– Short Cord
– Weak Headband
– Expensive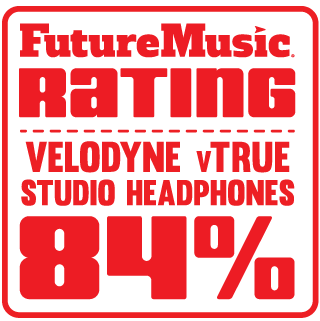 Velodyne's vTrue Studio Headphones retail for $399, but "street" for $199.

Velodyne