Novation has announced Circuit, a new, stand-alone, grid-based groove box. Circuit features two Novation polysynths, a four-part drum machine, and a grid-based sequencer. Taking cues from Korg's Electribe and even Roland's MC-303, the Circuit approaches groove-box music making with a modern flair that focuses on being able to quickly create sequences without being bogged down by learning a computer software system.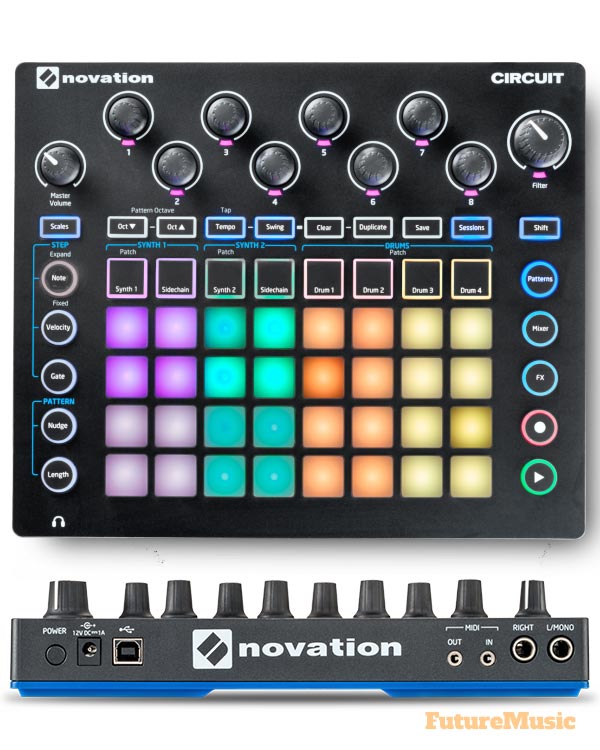 Circuit, like most modern controllers/groove boxes as of late, features multi-colored, disco pads. Thirty-two, velocity-sensitive buttons line the bottom of the unit with eight continuous rotary knobs on top. The knobs change functionality based on what arena of the unit your dialed into, whether it be the drum, synth, sequencer, or effects.



Features:
Hardware Specifications
» 32 RGB backlit velocity sensitive button grid
» 28 RGB backlit function buttons
» 8 Continuous pots with RGB indicator LEDs
» Dedicated filter and volume pots
» 1/4″ jack sockets for left and right outputs
» Two MIDI sockets (3.5mm jack sockets with MIDI din break-out cables)
» USB socket
» Front-mounted 3.5mm jack socket for headphones
» Integrated speaker
» Rubberised knob caps
» Rotary controls secured to the chassis with metal nuts
» Power supply connector
» Power switch
» Battery compartment for 6x AA batteries (included)
Sound Engine
» 2 Nova synths
» 4 Part drum machine
» 6 Note polyphonic per synth
» 64 Synth patches, 64 Drum patches
» 8 Synth macro controls (Control up to 4 parameters with one knob)
» 4 Drum parameter controls (Pitch, Decay, Distortion, Filter)
» Mixer view with levels and mutes
» Master FX with individual track sends
» 16 Delays, 8 Reverbs, Sidechain effect (7 types and off). Triggered from Drum 1
» Hi-pass / low-pass master filter




Sequencer
» 32 Sessions
» 6 Tracks per session (2 Synth and 4 Drum)
» 8 Patterns per track (Synth 1, Synth 2, Drum 1&2, Drum 3&4)
» 16 Demo sessions
» Real time record (notes, with velocity and automation)
» Auto-quantise notes to steps and automation to 6 events per step
» 50 Automation parameters (up to 4800 events per pattern)
» Internal tempo range 40 – 240
» External synced tempo range 30 – 300
» Swing 20 – 80%
Performance
» Full range velocity scanning and record. Editable to 16 levels
» 16 Scale types and chromatic transposition
» Synth expand view doubles playable area
» Drum expand view allows real time drum record
» Octave (input) and pattern octave (edit)
» Pattern length and nudge
» Configurable pattern chain
» Session instant switching and queued switch




Editing
» Velocity and gate per step
» Multiple gate lengths per step (via real time record)
» Automation edit per step
» Clear step, automation parameter per pattern, pattern, session
» Duplicate step, pattern
Misc
» Circuit will also work as a standard USB-MIDI controller.
» Powered using 6x AA batteries or power supply (both included). (It cannot be powered via USB)
» 240mm width x 200mm depth x 35mm height
The Future: As you can see from the two tutorial videos above, operating the Circuit will certainly take some dedicated time for users to become comfortable with the mechanics. Although the concept of composing on a dedicated Groovebox has its merits, manufacturers still seem to be missing the concept of a hybrid system, which would allow you to use the hardware component "on location" – whether it be composing on the go, or on the stage – and then plugging it into your computer and offloading your work to a DAW to be tweaked further. Think Native Instruments Maschine, but the Mikro could be used as a battery-powered, standalone unit. Clearly, there are hurdles to such a system (just ask the Beat Thang's developers), but that approach, by a major brand, would be very compelling.
No pricing or availability has officially been announced, but expect it to arrive in stores for the holidays.