According to a lawsuit filed in Colorado District Court, David Mueller a former radio DJ known as "Jackson," has sued Taylor Swift this week after she accused him of "grab[ing] her bottom" which got him dismissed from his DJ Gig at KYGO.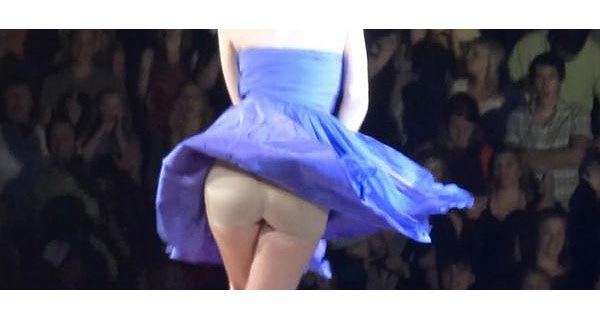 In June 2013, David Mueller, attended a Swift and met her during a VIP event with his girlfriend and co-worker Shannon Melcher. They all met Swift and had their picture taken with her. During the picture, Swift reportedly claims Mueller lifted her "skirt with his hands and grabbed her bottom." According to Mueller, Swift's security team quickly booted Mueller and Melcher from the concert. Next thing Mueller knew, KYGO fired him for the alleged booty brail.
Mueller states he never inappropriately touched Swift, and learned of the accusation when someone informed him he had "put his arms around her, hands on her bottom."
Bottomgate
"The contention that Mr. Mueller lifted up Ms. Swift's skirt and grabbed her bottom, while standing with his girlfriend, in front of Ms. Swift's photographer and Ms. Swift's highly trained security personnel, during a company sponsored, VIP, backstage meet-and-greet, is nonsense, particularly given that Ms. Swift's skirt is in place and is not being lifted by Mr. Mueller's hand in the photograph," states the lawsuit.
The radio station states they were provided evidence immediately after the incident, which resulted in Mueller's dismissal. The lawsuit asserts the photo was described as "damning" by Swift's managers. But Mueller says that's false. And now folks, we bring you "bottomgate."
In "the photograph, Ms. Swift is smiling and hugging Ms. Melcher. Although Mr. Mueller's hand is behind Ms. Swift and therefore not visible, it is clear that her skirt is in place and is not being lifted by Mr. Mueller's hand. Similarly, Ms. Swift's hand is behind Mr. Mueller and therefore not visible."
Thus far, the photograph has not materialized, nor has the evidence provided by Swift's "security team." Mueller is looking to recp the lost income from getting canned, which he claims was about $150,000 a year.