AKG has released the C314 multi-pattern condenser microphone. Designed for project studio owners and professionals, the C314 has advanced features that help musicians fine-tune their sound including four selectable polar patterns, the lowest self-noise in its class, and an overload detection LED. Using the same one-inch dual diaphragm capsule as the C414 XLS, The C314 features computer-matched diaphragms, integrated capsule suspension and 20 dB attenuation pad and bass-cut filter.
Features:
» Four selectable polar patterns
» Lowest self noise – for highest resolution in high dynamic applications
» Overload detection LED – indicates overly high sound pressure levels
» Computer-matched diaphragms – to guarantee the highest polar pattern accuracy
» Integrated capsule suspension – reduces mechanical noise and resonances
» 20 dB attenuation pad and bass-cut filter – for close up recording and reduction of the proximity effect
» Includes Universal Shock Mount, Windscreen, Metal Carrying Case & Stand Mount
Specs:
» Audio Frequency bandwidth – 20 to 20000 Hz
» Sensitivity – 20 mV/Pa
» Equivalent Noise Level – 8 dB-A
» Signal to Noise – 86 dB-A
» Preattenuation Pad – -20 dB
» Bass Cut Filter – 100 Hz, 12dB/octave Hz
» Electrical Impedance – 200 Ohms
» Recommended Load Impedance – 1000 Ohms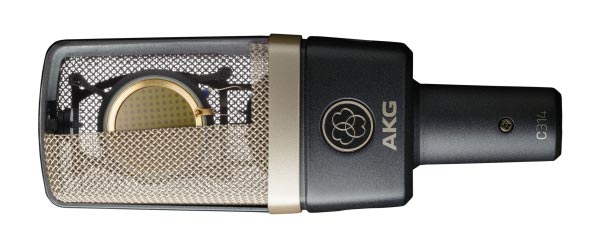 AKG's C314 costs $879 and is available now.