Sonarworks, a recording studio software development company specializing in acoustic calibration and DAW plug-ins, has premiered Reference 3.1, a headphone calibration plug-in for Mac and PC. By using model specific calibration profiles, the Sonarworks Reference 3.1 plug-in delivers a neutral sound profile on many headphone models.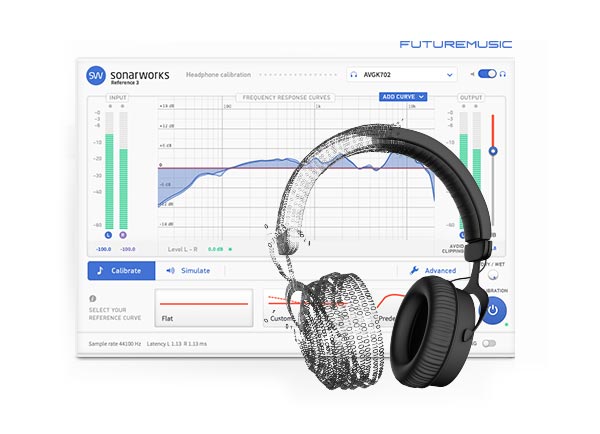 Reference 3.1 headphone calibration software is a digital audio workstation (DAW) plug-in which uses pre-made profiles to give headphones a frequency response similar to neutral speakers. These model-specific profiles are made by measuring many sets of studio headphones to determine their tonal characteristics and then adjusting the headphone frequency response where needed. Profiles are available for:
» AKG K141 MKII
» AKG K240 Studio
» AKG K271 MKII
» AKG K701
» AKG K702
» AKG K712
» Audio-Technica M20x
» Audio-Technica M40x
» Audio-Technica M50x
» Beyerdynamic DT770 80 Ohm
» Beyerdynamic DT770 250 Ohm
» Beyerdynamic DT880 Pro
» Beyerdynamic DT990 Pro
» Focal Spirit Pro
» KRK KNS8400
» Sennheiser HD25-II
» Sennheiser HD280
» Sennheiser HD598
» Sennheiser HD600
» Sennheiser HD650
» Sennheiser HD800
» Shure SRH840
» Sony MDR7506
» Superlux HD681
The standard version of headphone calibration does not require any extra hardware. Anyone using a pair of supported headphones will be able to enjoy reference headphone sound in a matter of minutes. After downloading the DAW plug-in, the headphone model must be selected from pre-measured profiles, at which point it is possible to toggle calibration on/off or to adjust the level with wet/dry control. A 21-day full-functionality free trial is available on the company website.
Sonarworks' Reference 3.1 plug-in for Mac and PC is available in the AU, AAX Native, RTAS and VST flavors, and costs $69 / €69 and individual headphone measurement service is available at a special introductory price of $44 / €44.



Sonarworks