Many remember D-Fuse as an enthusiastic DJ with a percussive flare in the 90's, but Mike Faulkner reinvented himself as a multimedia artist who evolved the D-Fuse brand name into a London-based artist collective that work across a range of media.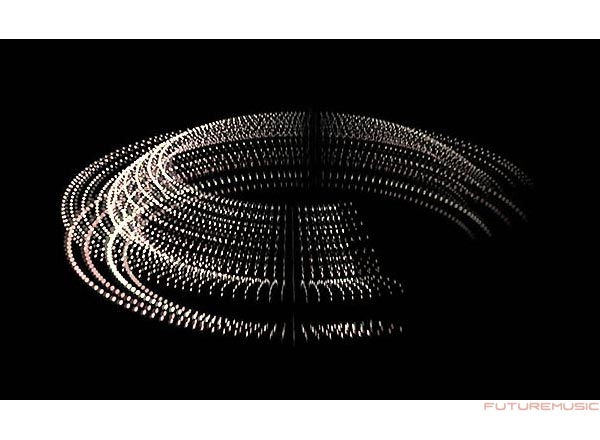 The collective's output encompasses installations, film, experimental documentary, photography, live cinema performances and architectural projects. Beginning in graphic and web design and VJing, D-Fuse's work has transformed to address social and environmental themes. In addition to working with Steve Reich, Beck, Hauschka, Scanner and Swayzak, much of D-Fuse's output since 2004 includes sound and music by audio director Matthias Kispert. Their work has been shown internationally, including SFMOMA, WRO Festival [Wroclaw], Prix Ars Electronica [Linz], Sonar [Barcelona], onedotzero Festivals, Eyebeam and TriBeCa Film Festival [NYC], MU and STRP Festival [Eindhoven], Lisbon and Valencia Bienniale, Moscow Architectural Biennale, and many others.



D-Fuse has announced that he's taking his show on the road with two exhibitions, dubbed Pattern and Noise, in the United States. The first one kicks off tonight in Pittsburgh, Pennsylvania at Pierce Studios, with a run at Wood Street Galleries through September 6th.
Pattern and Noise is D-Fuse 's first solo exhibition in the US. Across the two floors of Wood Street Galleries they will explore the different themes central to their work: Small Global, on the 3rd floor, focuses on data visualisation in relation to environmental issues and global interdependency, while Tektón, on the 3rd floor, references their roots in audio-visual culture, exploring the spatio-temporal qualities of light and motion.
Small Global is an immersive interactive installation that combines data visualisations, graphics, animation, filmed footage and surround sound to address issues of global interdependence, consumption and environmental degradation. With two modules, Deforestation and Coltan, produced at Eyebeam [NYC] in 2005, the recent Extreme Energy module takes a look at the increasingly desperate measures taken to extract more fossil fuels out of the earth's crust. Multiple transparent screens arranged in a cube are catching the light of projections on several layers, with the images echoing on walls, ceiling and floor of the space. Members of the audience can walk around and inside the cube, their bodies becoming part of the projection surfaces. Interaction sensors allow visitors to reveal visual information with their presence.
Tektón is an ongoing collaboration between D-Fuse and Labmeta exploring the materiality and temporality of light in motion. Multi-layered light emitting objects are organised into kinetic structures that are governed by algorithmic systems. As the mechanics of the devices are rendered invisible we witness trace elements. The fragile binaries of disorder and pattern, light and dark, harmony and disarray, human and machine become delicatly balanced as they are stabilised in motion and ghost like images hang in the air.
Beginning as a series of audiovisual shorts with musicians including Hauschka, Lusine, and Swayzak, the project has generated a series of experimental shorts and an audiovisual performances. The exhibition in Wood Street however moves this concept forward into the art gallery space with the construction of a large scale kinetic machine, the virtual machines from early exploration have become a physical, kinetic sculpture.
To celebrate the opening of the Pattern and Noise exhibition, on July 10th there will be two live A/V live shows – D-Fuse will present Latitude and will be joined by Labmeta for a performance of Tektón – at Pierce Studios as part of the Gallery Crawl, a free quarterly art showcase in the heart of Pittsburgh's Cultural District.