IK Multimedia has upgraded AmpliTube for iPhone, iPad and iPod touch to version 4.0. AmpliTube's new digital signal processor, based on the same DSP found in AmpliTube 3 Custom Shop for Mac/PC, takes the sound quality up a level. The new "Cab Room" lets users mic cabinets in 3D with up to 2 microphones and IK has released 16 new microphone models that are now available for in-app purchase. In addition, musicians can now expand their sonic creativity with more stompboxes in their rig (up to 6 total) via a drag and drop interface that provides 4 open slots before the amplifier and 2 open slots afterwards. Along with these major updates, the latest version also includes a number of interface upgrades, organizational tweaks and other improvements.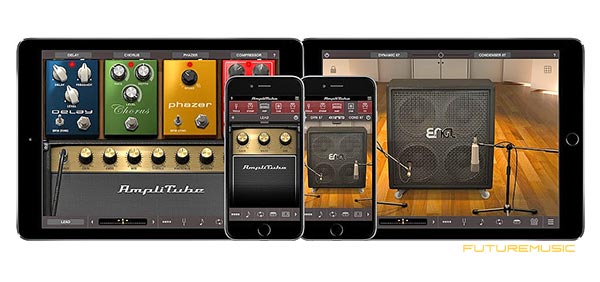 The latest version of AmpliTube allows for more creativity with the ability to create a guitar or bass rig comprised of 6 stompboxes, 1 amp, 1 cabinet and up to 2 freely positionable microphones and then drag and drop their favorite effects into the provided slots. There are now 4 available spaces before the amplifier and 2 post-amplifier.
Features:
» Create your own rig with 6 stompbox effects (4 pre amp, 2 post), 1 amp, 1 cabinet and 2 positionable mics
» Comes with 11 stompboxes, 5 amps, 5 cabinets and 2 mics
» Same DSP as AmpliTube 3 Custom Shop for OS X and PC
» "Cab Room" for 3D miking of cabinets for the utmost in sonic realism
» Features modeling from Orange, Fender, ENGL, Soldano, Ampeg and more
» Built-in recorder (expandable to 8 tracks via in-app purchase)
» Advanced DAW-style editing (via in-app purchase)
» Loop Drummer drum module, a loop-based programmable drum module (additional Style Packs available via in-app purchase)
» UltraTuner, the most precise tuner for iOS (normally a standalone app), can be installed via in-app purchase
» Looper, a 4-track looping tool (available via in-app purchase)
» Export high quality audio (WAV/m4A) via email, FTP, iTunes and direct to SoundCloud
» Import and play songs for use as backing tracks directly from your iPod library or computer
» NO VOICE feature lets you effectively remove the led vocal or guitar solo
» Includes a tuner and metronome
» Compatible with Audiobus
» Compatible with Apple's iOS 8 including the InterApp Audio feature
» MIDI Controllable
IK has included a new Looper* feature that gives users a convenient way to make and play up to four loops at a time. The Looper also features MIDI assignable controls, so it can be activated from the floor with any Core MIDI compatible controller like IK's wireless iRig BlueBoard. This is perfect for musicians who want to create their own accompaniment on the fly and also experiment with different melodies, leads and chord progressions.
IK's AmpliTube for iPhone/iPod touch and AmpliTube for iPad are available now as a complimentary update for existing users or as a paid app for new users for $19.99* — Expandable demo and LE "Light Edition" versions are available for iPhone and iPod touch. An expandable demo version is also available for iPad.
* If there's one caveat to IK's pricing, it's their in-app purchases, which can add up quite quickly. New available expansion features include the 3D Dual Mic Positioning Cab Room ($9.99), 16 Mic Bundle ($9.99, also available individually for $0.99 each), Looper ($9.99) and the All New Features bundle ($19.99), which includes the Dual Mic Positioning "Cab Room", 16 Mic Bundle and the Looper. All other new enhancements to AmpliTube are included at no additional charge. As with previous versions of AmpliTube, all purchased gear can be freely transferred between all versions and between iPhone, iPad and iPod touch.



IK Multimedia