BAE Audio has released the 1073MPL 500 series pre-amp. The 1073MPL, the result of more than two years of research and development, claims to deliver the same classic class A sound, with harmonically rich lows, slightly resonant highs, and a defined, focused midrange — all in a compact and cost effective 500 series package.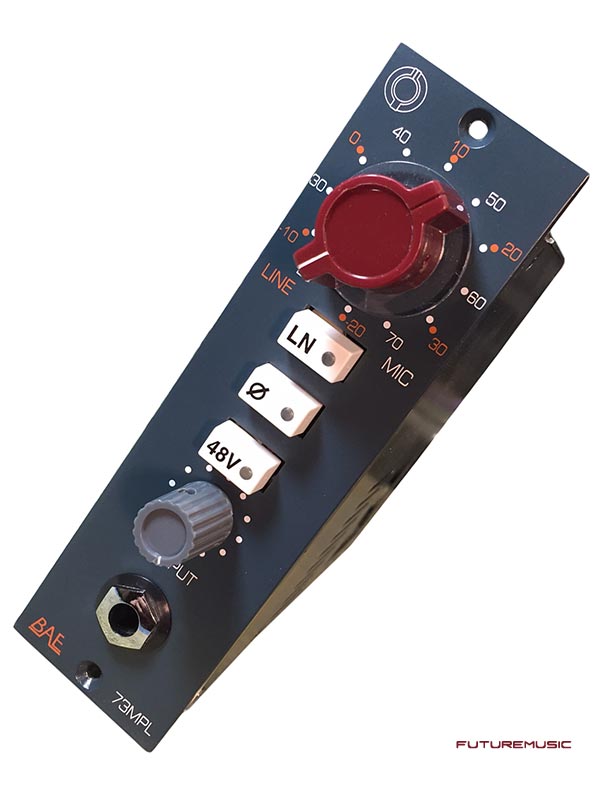 The 1073MPL, which is hand-wired and assembled in California using Carnhill/St Ives transformers, lives up to the reputation of its larger, rackmounted brethren and delivers authenticity down to the last detail, from its original Marconi knobs to its inimitable sonic signature across the frequency range. Similar to the rest of the BAE 1073 line, the 1073MPL contains a trinity of core elements helping it produce the 'vintage' sound that is associated with classic recordings of the 1960s and 70s. These include the aforementioned Carnhill transformers — imported from England and hand assembled at the company's plant in North Hollywood.
Specifications:
» Frequency Response: 10Hz to -3dB at 55kHz
» Line Input Impedance: 10k ohms
» Output Impedance: 65 ohms
» Common Mode Rejection Ratio: 100dB min @ 60Hz
» Maximum Output Level: +27.4 dBu @ 600?
» Gain dB: 0 to 71 dB
» All Class A, transformer-coupled design in a 500 series module
» Original Marconi knobs
» Input impedance selector switch between 1200 and 300 ohms
» Line level capability for extra versatility as a line preamp
» High impedance DI for guitar and synth
» Same Carnhill St Ives transformers as the 1073 and 1084
BAE Audio's 1073MPL is available now for $899.



BAE Audio