Zynaptiq used their home turf to reveal their upcoming plug-in, UNMIX::DRUMS, at Musikmesse. UNMIX::DRUMS claims to provide real-time suppressing or boosting of drums in recorded music.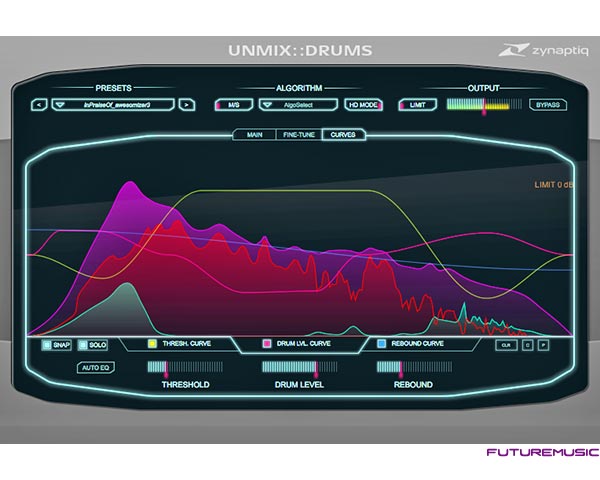 Using advanced source signal separation technology (de-mixing, unmixing, sound extraction, sound isolation), UNMIX::DRUMS furnishes drum level control that ranges from up to +18dB of boost to virtually complete removal. Sporting a multi-level GUI, frequency dependent control of key parameters, analyzer display, M/S operation and an output limiter, UNMIX::DRUMS opens up new options for mastering, music production, sample-based music creation, mash-ups and remixes.
Features:
» Balancing drums against the rest of a song in mastering
» Restoring dynamics to over-limited music in mastering
» Unique EQ alternative for mixed music
» Suppression of drums in sampled audio to remove "clashing" or "flamming" when mixing with new content
» Drum extraction for creating new drum-kits
» Drum removal for Mash-Up creation
» Drum Kill Switch for Dj applications
» Pre-processing for voice extraction or similar applications
UNMIX::DRUMS supports all common sampling rates from 44.1kHz to 192kHz, mono and stereo, as AAX native, AU, RTAS and VST, on Mac & Windows.
No pricing or availability has been announced.



zynaptiq