Activision has announced Guitar Hero Live, a reboot of the Guitar Hero franchise. Guitar Hero Live is being developed by FreeStyleGames, the same rhythm developer that worked on the DJ Hero franchise, and the company started by revamping the guitar controller and adding social, online action. Instead of five colored buttons reaching down the neck of the guitar, there are six black and white buttons – three on the top and three on the bottom. And instead of just playing in front of some cartoons, FreeStyleGames filmed several different segments in front of a stadium crowd. Play well and the audience goes nuts, play poorly and well, you better duck.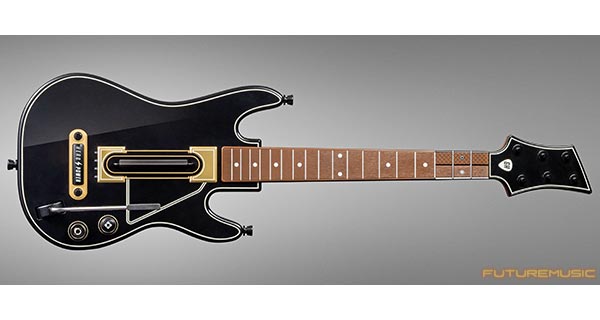 Visually, the game is also a big departure from the previous Guitar Hero games. Instead of a cartoon avatar, all of the performances were filmed with actors in front of a live crowd. Jackson said, "We filmed the crowd. We basically made a movie. We didn't do it in the old engine with avatars and things like that. We just went and filmed it. … Every song is unique and is crafted with a band, an audience, and a venue." As you perform well, your bandmates and the crowd cheer you on. But when you perform poorly, the reaction from both groups is significantly more negative.
"As soon as you had to use the pinky, it all got a bit dangerous. So we built this around the concept of keeping the fingers in one position, but adding complexity at the higher levels. Beginner players can experience the game while using only three buttons, but intermediate and expert players get a very different, and very challenging new experience," revealed Jamie Jackson, Creative Director at FreeStyleGames.
Here's a sampling of the current line-up of music: The Black Keys, Fall Out Boy, My Chemical Romance, Gary Clark, Jr., Green Day, Ed Sheeran, The War on Drugs, The Killers, Skrillex, The Rolling Stones, The Lumineers, Pierce the Veil, Blitz Kid.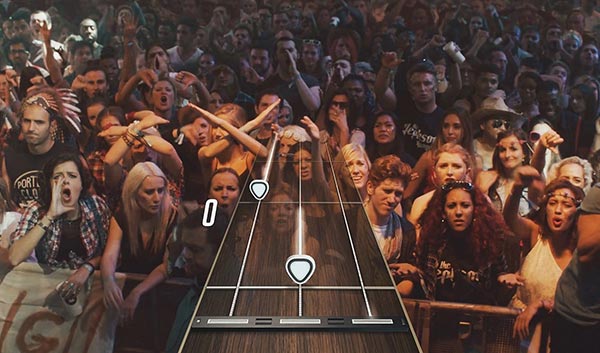 Guitar Hero Live also introduces GHTV, the world's first playable music video network. GHTV is a 24-hour mode that lets fans play along to a continually-updated collection of official music videos – across a wide variety of genres – from the newest releases to favorite hits. The new Live mode puts you onstage, with a first-person perspective as a real crowd reacts to the notes you play. Or switch over to Guitar Hero TV, an always-on, 24-hour music video network, where you can play along in real time, discover new music and challenge players around the world. Want to know how you're doing? Watch the faces in the crowd. They react in real time to your performance. Are they screaming your name — or screaming for you to get off stage? With over 150 videos available from the start, the feed will be continuously updated with new tracks from yesterday and today.
You'll experience it all, from the intimacy of a small club to the massive main stage of an epic outdoor festival. You'll play as the lead guitarist of multiple bands across a wide variety of music genres. Fans can pick from multiple channels and themed shows, discovering new songs as they play, and can also choose songs to play on-demand. In GHTV, fans can also play with their friends in the same room and against players from around the world to see who has the highest score on a given song, while completing challenges along the way. On-demand videos mean you can watch your favorites again and again. You can even earn special premium shows as you play.
Guitar Hero Live enhances the gameplay experience by introducing a modern, redesigned guitar controller, featuring two rows of three buttons that better reflects the way people naturally play. The new format ensures fun for players of all abilities. For beginners, you can feel like a rock star by mastering play with just the bottom three buttons. Medium-level players don't have to stretch their fingers down the neck of the guitar controller anymore and can instead skillfully play two-row combinations that mimic real chords. Experienced players have a new challenge in creating complex chord-like shapes and finger combinations that will bring new thrills to veterans. This simple innovation makes it easier for beginners to play and harder for veterans to master.
Guitar Hero Live will be available this fall for $99.