Antares Audio Technologies has updated Auto-Tune to version 8. The release of Auto-Tune 8 introduces a number of innovative features including Flex-Tune, which allows users to control the level of correction applied to notes that are out of tune. This feature allows singers a greater freedom when expressing a song's emotional moments in vocal recordings. Auto-Tune 8 works in two modes, an Automatic mode designed to be intuitive for all user levels and a more technical Graphical Mode for advanced refining.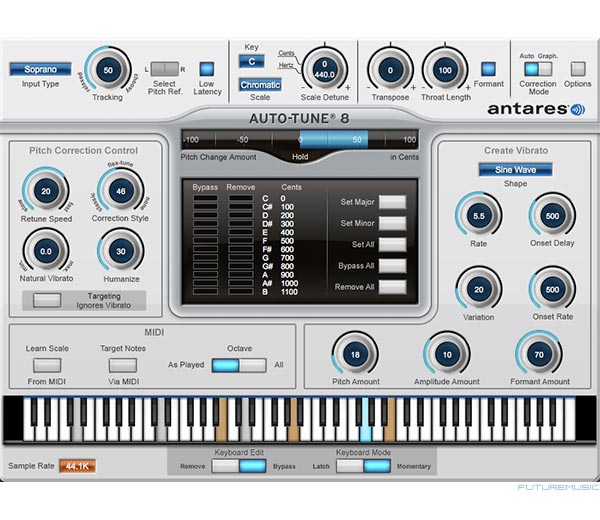 Dr. Andy Hildebrand, Antares CEO and Chief Scientist, first developed Auto-Tune in 1996 and it certainly has had its evangelists and detractors. Drawing on a background in Digital Signal Processing (DSP), he developed a method for how to detect and modify pitch, which brought vocal recordings into perfect intonation. Updates and new releases over the years saw advances to the plugin, culminating with the release of Auto-Tune 8. This most recent version of Auto-Tune also features a new, ultra-low latency mode that provides real time correction for tracking and live performance, editing tools that are now active during playback and an even easier to use and more customizable workflow.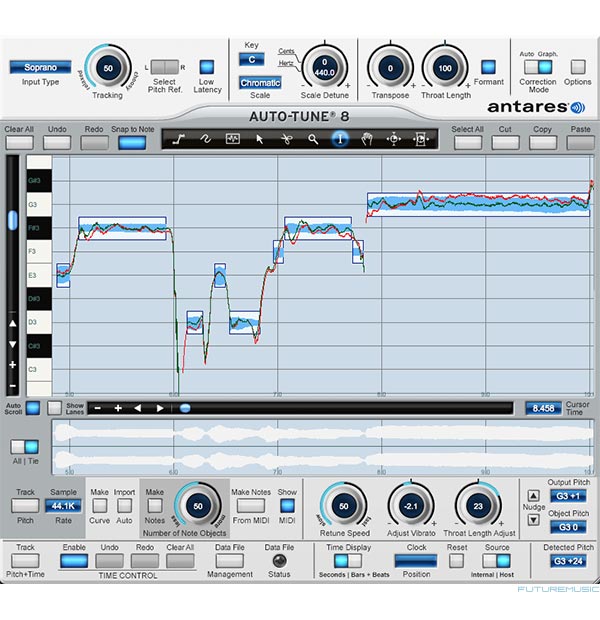 Features & Enhancements:
» Flex-Tune: The next revolution in natural pitch correction. (Automatic)
» Ultra low-latency mode for virtually instant response in live performance or when tracking in the studio. (Automatic)
» Editing tools that are now active during playback for the most immediate editing experience (Graphical)
» Audio feedback of selected target pitches when using Note Objects (Graphical)
» New interface customization options (Graphical)
Flex-Tune Natural Pitch Correction Technology: Other real-time pitch correction methods, including previous versions of Auto-Tune, pull every note towards a scale note. In contrast, Flex-Tune only provides correction when the vocalist approaches a scale note. At all other times, they are free to sing with whatever vocal gestures best express their emotional connection to their song, secure in the knowledge that Auto-Tune 8 will pass them through, exactly as they are sung.




Auto-Tune 8 works with most recording software programs, including Pro Tools, Logic, Cubase & GarageBand and is available now for AAX Native (Mac OSX and PC), VST3 (Mac OSX and PC) and Audio Units (Mac OS X) at a U.S.
Antares' Auto-Tune 8 is available now for $399. Users of previous versions have various reduced cost upgrade paths — See Antares website for details.



Antares