Ableton and Max for Cats have unveiled OSCiLLOT, a Max for Live-based polyphonic modular system with more than 100 freely patchable modules and dozens of pre-patched instruments and audio effects. Users of Ableton Live can build their own synthesizers and audio effects generators simply by connecting together OSCiLLOT's modules with virtual patch cords – no programming knowledge required. Complementing its extensive collection of modules, OSCiLLOT also boasts a number of features that makes it both fun and educational for Live users to explore the near-infinite possibilities of modular synthesis.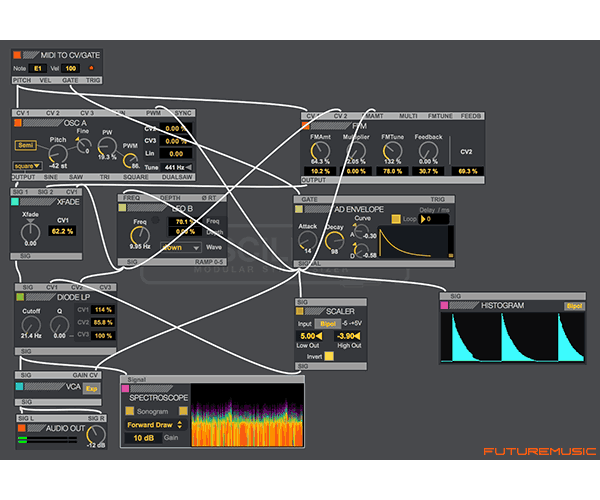 Among the included modules are a wide variety of oscillators, filters, mixers, modulators, amplifiers, sequencers, and more. With these, Live users can patch together their own FM, additive, or subtractive synthesizers, as well as filters, convolution reverbs, mixers, frequency shifters, sequencers, drum machines, compressors, and much, much more. There is practically no limit to the type of instrument, or effect device that can be made with OSCiLLOT. For Live users who are new to modular synthesis, OSCiLLOT makes it easy to get started with dozens of included pre-patched instruments and audio effects. These can be used as they are, or as starting points for users own creations. An additional learning resource is the detailed description of each module's function and features that can be called up in OSCiLLOT's Editor window.
While it faithfully emulates a CV/gate/trigger-based modular hardware system, OSCiLLOT also provides a number of features that are only possible (or feasible) with software. Six voices of polyphony, the ability to annotate and save patches, and the choice of straight, curved or even hidden patch cords all make OSCiLLOT as convenient as it is powerful.
OSCiLLOT is available now for $99 / €79.



Ableton