After some initial teasers, Arturia has finally premiered AudioFuse, their "next-generation" computer audio interface, which they claim has unsurpassed connectivity and instant-access audio streams. By being built on a fully-symmetrical audio chain, AudioFuse offers two DiscretePRO microphone preamps, 24-bit AD/DA (Analogue-to-Digital and Digital-to-Analogue) convertors (at up to 192kHz sampling rate), and a new advanced clocking system.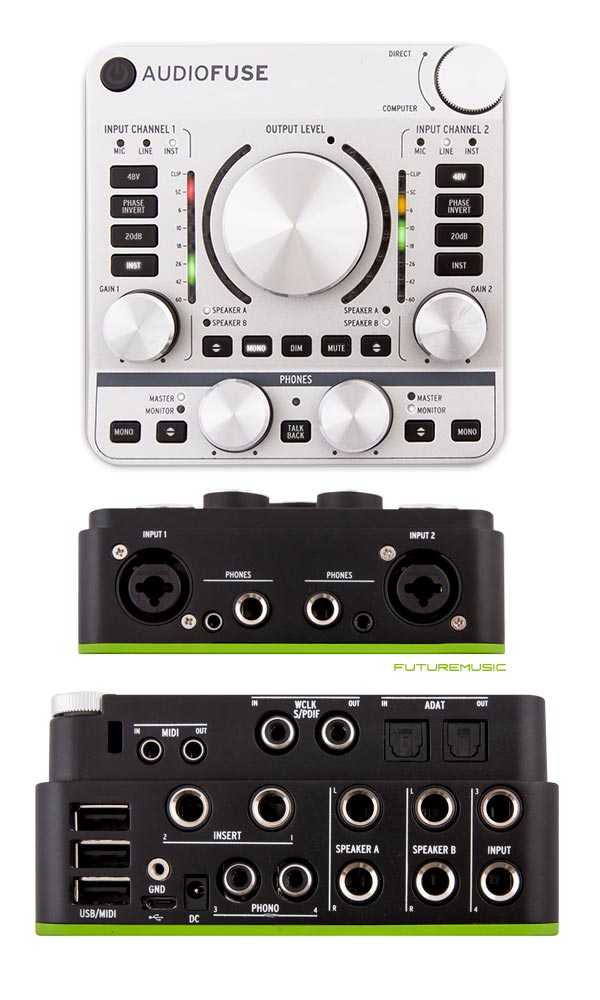 AudioFuse has been directly developed with workflow of musicians in mind. Need to adjust the gain on INPUT CHANNEL 1? Turn the topside GAIN 1 knob. Need to switch between two pairs of speakers connected to the rear-mounted (SPEAKER A and SPEAKER B) balanced 1/4-inch outputs? Press the SPEAKER A SPEAKER B button. More level needed for the two front-mounted PHONES outputs (on both 1/4-inch and 1/8-inch connectors)? Turn up the appropriate PHONES knob. Nothing is buried behind convoluted menu-driven access systems, everything is directly accessible and controllable.
Modern-day musicians more often than not need to connect a variety of equipment to an audio interface. Everything including microphones, instruments, turntables, pro audio equipment, Macs, PCs, tablets — even iOS and Android smart phones — can be directly connected with full flexibility with ADAT, MIDI, phono, S/PDIF, Word Clock, USB, XLR/ balanced 1/4-inch combo connections, to name but a few, in a compact aluminium chassis.




AudioFuse also acts as a three-port USB/MIDI hub as well as offering a TALKBACK feature (to give directions to talent in another room using the built-in microphone) and INSERT connections (to add external line level devices, such as compressors or other effects processing, into the signal flow before the digital conversion stage). Enjoy zero-latency DIRECT monitoring of recorded signals then blend them into the COMPUTER mix courtesy of another clearly-labelled knob.
Arturia's AudioFuse will be shipping in Spring 2015 and available to buy in a choice of silver, grey, and black color finishes from Arturia online or through retailers for $599 / €549.



Arturia