Arturia has released the Matrix-12 V and the Solina V virtual software emulations. Oberheim's Matrix-12 analog polysynth returns as an authentic-sounding soft synth, boosted by modulation and effects extras. Bringing back the sounds of the Seventies, Arturia drops the vintage Solina String Ensemble as a software recreation of one of the era's defining string machines.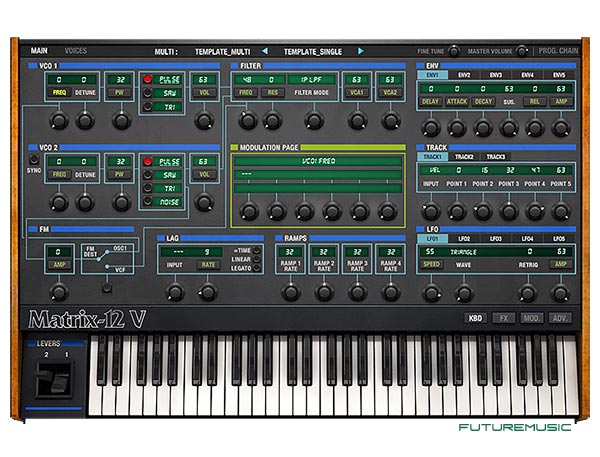 The Matrix-12 V effectively emulates all the original parameters of Oberheim's expansive Matrix-12 analog polysynth. Perhaps the crowning glory of legendary Californian synth designer Tom Oberheim's namesake Californian company, the Modulation Matrix that gave rise to this innovative instrument's notable name was a revelation at the time of its 1985 launch. Why? Well, it effectively enabled flexible routing to rival the monstrous modular systems that preceded it in decades gone by, but buried its patch cords behind the vast vista of a futuristic-looking frontage for accessing multiple menu pages with few hands-on controls. Little wonder, then, that top-tier synthesists such as British synth pop pioneer Vince Clarke and German electronic trailblazers Tangerine Dream were amongst its early adopters, attracted to the 15 filter types and almost endless modulation possibilities — cutting-edge even by today's standards — and, of course, Oberheim's trademark thick and warm sound that was thicker than ever thanks to 12 truly-independent analogue voices with two oscillators apiece.
Features:
» Two oscillators, each offering triangle, sawtooth and variable-width pulse wave with PWM
» Oscillator 2 also offers a white noise generator
» Oscillator 1 can be frequency modulated
» Single filter with 15 modes, 4 Low Pass, 3 High Pass, 2 Band Pass modes, Notch, Phase Shift plus four additional "combo" filter modes
» Powerful modulation matrix with 27 sources and 47 destinations.
» Sources include 5 envelopes, 5 LFOs, 4 Ramp, 3 Track generators, Velocity, Pressure, Keyboard follow
» Two insert effect slots with six studio-grade effects to choose from.
» 12 voices of polyphony like the original instrument
» Multitimbrality
» Works in Standalone, VST, VST3, AU, AAX
Arturia's TAE (True Analogue Emulation) engine enables Matrix-12 V to deftly deliver all that and more to today's computer-based music-making masses for a fraction of the cost of its hefty hardware namesake. New aliasing-free algorithms allowed the varied waveforms of the original Oberheim Matrix-12's two oscillators to be accurately modelled and recreated for starters. So are those 15 flexible filter types (selectable via FILTER MODE). Meanwhile, the MAIN (VCO 1, VCO 2, FM, FILTER, LAG, RAMPS, ENV, TRACK, LFO, and MODULATION PAGE) sections all feature dedicated parameter controls — unlike the original Oberheim Matrix-12, which was not necessarily an ideal performance instrument. Indeed, all Matrix-12 V parameters can be controlled via MIDI, allowing automation within a DAW or manually with a keyboard controller.




Cleverly, what was once hidden (in hardware) is now revealed (in software) for all to see (and hear), thanks to the crystal clear Matrix-12 V GUI that is as easy on the eye as it is easy to use. Nowhere is this more apparent than when working with the pièce de résistance… recreating the original Oberheim Matrix-12's Modulation Matrix meant Arturia could enhance and expand this ear-opening experience, such are the advantages of working with software. While adding a dedicated drop-down MOD page to show each and every modulation source, destination, and its associated amount aids navigation no end, Matrix-12 V mind-bogglingly doubles the number of routable modulation sources to 40! Flexibly, spatially-aware users can choose from one of six studio-grade effects available in each of the two drop-down FX slots provided. 500-plus professionally-programmed presets across a wide range of musical styles showcase the sheer scope and power of this innovative instrument.
The AAX-, AU-, VST-, and VST3-compatible Matrix-12 V is available to purchase as a boxed version for $169 / €169.



Arturia Matrix 12


Arturia has also debuted the Solina V software emulation of the Solina String Ensemble. The silky-smooth, shimmering sounds of the Solina String Ensemble effectively defined the late-Seventies disco era, ending up on countless hit records recognisable by the ensemble/chorus effect to which it lends its name. This is achieved by passing the sound through three modulated delay lines to produce pitch-shifting, sounding thicker and animated as a result. Reliant on paraphonic-playing-enabling divide-down technology found in organs of the time, that these sounds became so sought-after is a happy accident of sorts since they started out as part of Dutch home organ manufacturer Eminent's 310 Unique dual-manual model. Fortunately for Eminent, in 1974 they separated this unwieldy instrument's String Ensemble section to create the eminently portable Solina String Ensemble as a 49-note keyboard instrument in its own right with much subsequent success — so much so that pre-eminent American synth manufacturer ARP also rebadged various versions for the US market until production ceased in 1981.


Features:
» All the original parameters of the Arp/Eminent Solina string ensemble.
» Vox Humana sound modeled after the original Polymoog™ synthesizer
» Classic Paraphonic operation as well as separate Polyphonic mode
» Polymoog resonator section on Upper Section
» 24dB per octave resonant filter on Bass Section
» Arpeggiator on Bass Section
» LFO for Vibrato, Tremolo and filter modulations
» Aftertouch and velocity modulations
» Solina MK1 and MK2 ensemble modes
» 3 mode Stereo chorus
» Stereo dual phaser
» Analog delay
» Digital sync delay
» Convolution reverb with 24 modeled reverbs
» 150 presets
Fast-forward 40 years from its incept date and the Solina String Ensemble is not so portable (or reliable) by today's exacting standards. Still sounds stunning, though! Which is why Arturia agreed to faithfully replicate this keyboard classic conveniently in software. Six Solina String Ensemble-emulated presets — CELLO, CONTRA BASS, VIOLA, VIOLIN, HORN, and TRUMPET — are accessible instantly in Solina V via a gorgeous GUI that looks like the real thing. As authentic as those presets all sound in software, that's not all. An additional preset, HUMANA, replicates the instantly-recognisable, resonator- reliant Vox Humana from the PolymoogTM polysynth, popularised by British synth pop pioneer Gary Numan's 1979 chart- topper 'Cars'. The PolymoogTM provided a unique and flexible filter bank with three parallel filters with three filter modes to create such stunning sounds, so these are also included in Solina V via the UPPER RESONATOR section in its OPEN mode.




Arturia artfully opens up the still-sought-after Solina String Ensemble sound still further by offering other OPEN mode- accessible additions. An EFFECTS section, for instance, includes a vintage-sounding dual PHASER — perfect for (re)creating those slow phased strings showcased so beautifully by French synth showman Jean-Michel Jarre's multi-million-copy-selling breakthrough Oxygene and Equinoxe albums — as well as a CONVOLUTION REVERB (with no fewer than 24 modelled vintage spring and digital reverbs); MIDI-sync-able DIGITAL DELAY; three-mode ANALOG CHORUS; and ANALOG DELAY. Deeper still, a lively LFO section and dedicated BASS SECTION controls such as a 24dB/octave filter emulation and BASS ARP (arpeggiator) also serve to open up sound sculpting possibilities well above and beyond the creative scope of the original instrument.
Interestingly, even Eminent changed their excellent ensemble effect from mono to stereo, so Solina V boasts both 'Mk1' (mono) and 'Mk2' (stereo) ENSEMBLE modes to cover all bases. Speaking of which, an abundance of ambient pads, mono leads, basses, brass, and arpeggios reside within, with 150 presets professionally produced by some of the top sound designers around to showcase its capabilities and kickstart creativity. Whether working within a DAW or standalone, Solina V has genuinely got you covered… from the Seventies through to today!
The AAX-, AU-, VST-, and VST3-compatible Solina V is available to purchase as a boxed version for $99 / €99.



Arturia Solina V