Tascam's unique UH-7000 is a combination microphone preamp and USB audio interface with some nice tricks up its sleeve. The UH-7000 can be used as a 4-in/4-out audio interface in a DAW production environment, as well as a separate microphone preamp and A/D D/A converter. The unit has somewhat flown under the industry radar, but after our extensive testing, we can tell you that you're getting a ton of value for what amounts to be a fistful of twenties. Tascam has managed to package quality microphone preamps, A/D and D/A converters and a USB audio interface in one well-built unit without compromise. Reviewers comments are in quotes below.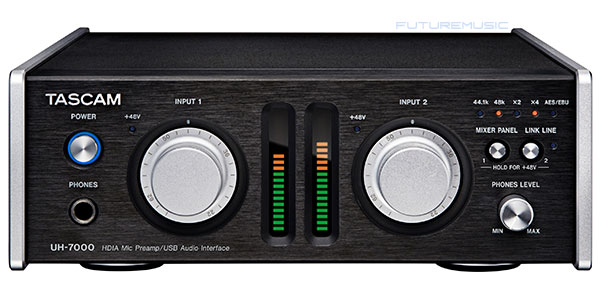 Packs A Punch
The built-in HDIA (High Definition Instrumentation Architecture) microphone preamps were designed specifically for the UH-7000 with the goal of providing a transparent, low noise sound stage. Our reviewers found that UH-7000 lived up to that target "with a tight, clean sound that belies the price." In fact, the UH-7000 excelled at bringing out the essence of each mic tested without any "colorization" or "bastardization" of the sound. Phantom power was "seamless" and "a simple affair," and was able to provide "plenty of power for several different brands of condensers."
Tascam married Burr-Brown PCM4220 ADC and PCM1795 DAC converters to a TCXO clock generator with a claimed +/?1ppm precision. This union provided "solid" and "punchy" translation of analog audio into the digital realm "without aliasing" or "a trail of artifacts."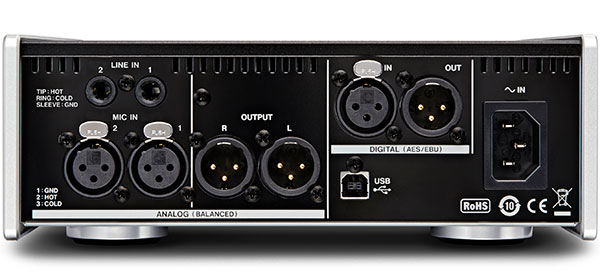 The rear of the UH-7000 shows off the connectivity options


Features:
» HDIA (High Definition Instrumentation Architecture) mic preamps
» Equivalent Input Noise (EIN): ?128 dBu
» Signal-to-noise (S/N) ratio: 117 dB (mic to AD converter)
» Total harmonic distortion (THD): 0.0009% or less (mic to AD converter)
» Frequency Response: 20 Hz to 80 kHz, +0.005 dB/?0.16 dB (mic preamp at all sampling frequencies)
» Large aluminum input level knobs and 20-segment LED level meters
» Built-in temperature-compensated crystal oscillator (TCXO) clock
» Burr-Brown PCM4220 ADC and PCM1795 DAC converters
» 4-in/4-out audio streaming from a PC connected via USB 2.0
» Low latency monitoring through the DSP mixer
» DSP mixer can be switched between multitrack and stereo mix modes
» DSP mixer enables independent adjustment of recording and monitoring levels
» Line or digital outputs can be selected using the DSP mixer
» DSP dynamics effect can be applied to inputs, outputs or the master (compressor, noise suppressor, de-esser, exciter, EQ, limiter/low cut)
» Sampling frequency: 44.1kHz, 48kHz, 88.2kHz, 96kHz, 176.4kHz, 192kHz
» Quantization bit rate: 24bit
» Analog Line inputs 1&2: 1/4″ TRS
— Input impedance: 15kohms
— Maximum input level: +26.5dBu
— Minimum input level: -38dBu
» Analog MIc Inputs 1 & 2: XLR Balanced
— Input impedance: 2.2kohms
— Maximum input level: +2dBu
— Minimum input level: -60dBu
» Analog Line output 1 & 2: XLR Balanced
— Output impedance: 100ohms
— Maximum output level: +24dBu
» Digital audio inputs: AES/EBU
— Connecter: XLR
— Formats: IEC60958-3 (S/PDIF), IEC60958-4 (AES/EBU)
— Sampling frequencies: 44.1kHz, 48kHz, 88.2kHz, 96kHz, 176.4kHz, 192kHz
» Digital audio outputs: AES/EBU
— Connecter: XLR
— Formats: IEC60958-3 (S/PDIF), IEC60958-4 (AES/EBU)
— Sampling frequencies: 44.1kHz, 48kHz, 88.2kHz, 96kHz, 176.4kHz, 192kHz
» Headphones: 1/4″ stereo phone jack; output: 45mW+45mW or more (THD+N 1% or less, 32ohms loaded)
» USB: 2.0 High Speed (480 Mbps), Full Speed (12 Mbps)
» Support for Mac and Windows operating systems
» Confirmed operation with major DAW software, including Sonar X3, ProTools, Cubase and Live
» RoHS Compliant
» Power: AC100-240V, 50/60Hz
» Power consumption; 15W
» Half-rack size
» Dimensions: 8.4(W)×3.2(H)×9.2(D)inch
» Weight: 2.2 kg, 4.85 lb
» Operating temperature: 5?C to 35?C

Chunky Chassis
Every reviewer who unboxed the UH-7000 for the first time commented on the weight of the unit and the quality of construction. The "chunky aluminum" side panels sandwich the UH-7000's 2U, half-rack size, making it at home stuffed into a rack or next to your computer. The dual 20-segment LED level meters were another welcomed choice and "demonstrated a commitment to quality" by Tascam "to distinguish the UH-7000" from other manufacturers. "Large, tasty aluminum gain knobs on the front have a taunt, yet smooth action" that you'll find yourself "twiddling absentmindedly."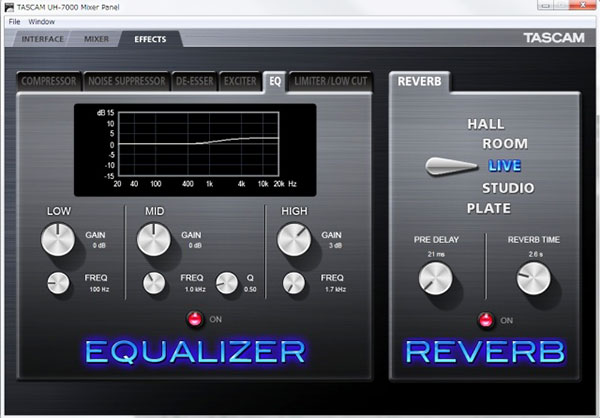 TASCAM's companion software offers some limited effects


The UH-7000 comes with a software companion containing a mixer, DSP effects and a routing matrix. Implementation of the effects are "somewhat restrictive" and the software seems to have been created "solely for the podcaster in mind," which is probably a fair assessment. Available DSP effects include a compressor, equalizer, gate de-esser, exciter, limiter and highpass filter with reverb only available as a send effect for monitoring.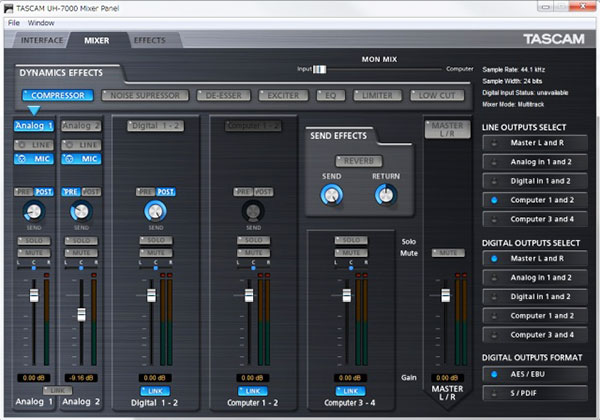 The UH-7000's mixer, effects and routing matrix view


Two modes are available, Multitrack, where you can record up to four inputs, with a single DSP effect on one of them. The second option is Stereo Mix mode, which enables you to perform somewhat complex routings. For example, you can mix the four inputs from the UH-7000, as well as a stereo input from the computer, such as background music, into the internal software mixer, and then route that back to the computer for recording. Again, this is perfect for podcasters who need this type of flexibility, however, our reviewers felt that they would "focus on capturing the best performance" from the mics, and then "work the higher quality effects in a DAW."


Conclusion
Considering how well Tascam executed on both the USB audio interface and 2 channel microphone preamp fronts, not to mention the fine build quality, they could have sold the UH-7000 as separate units for $800 apiece. However, you get both of these features in one unit plus quality Burr-Brown A/D & D/A conversion for that same $800 – making the UH-7000 an outstanding value. Highly Recommended.


The Future
A comprehensive software update with enhanced effects and more routing options that goes beyond Podcasting, could send us over the edge!
FutureMusic Rating: 95%


Cheers:
+ Incredible Value
+ Sound Quality
+ Build Quality
+ Audio Interface
+ Lot's Of Fun
+ A/D D/A Conversion
+ Meters

Jeers:
– Software Could Use An Update
– Limited Effects
Off The Record:
"Once I pulled the weighty UH-7000 from the box, I had high expectations, but after using the unit, they were exceeded." —Dan Brotman
"Tascam packed a tremendous amount of features into the UH-7000 for not a lot of money. I can name several other manufacturers who would have debuted the same product at double the MSRP." —Greg Geller
"The bundled software could use an update, or three…" —Garth Fields
"I'd be hard pressed to recall another bit of kit that packs this much punch into it's handsome chassis." —Hunter Hawthorne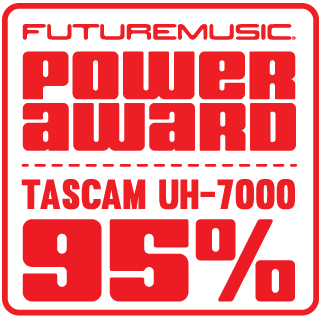 The Tascam UH-7000 retails for $799, but streets at $599. Now add the $100 manufacturer rebate, available until the end of 2014, and you have a stellar deal.

TASCAM