?Native Instruments has announced that the Traktor Kontrol DJ controller will be available on October 30, 2014 for $1199. The new, all-in-one DJ controller is designed specifically for NI's Traktor Pro 2 DJ mixing software. Traktor Kontrol S8 features full color displays, touch-sensitive hardware controls and a 4-channel standalone mixer.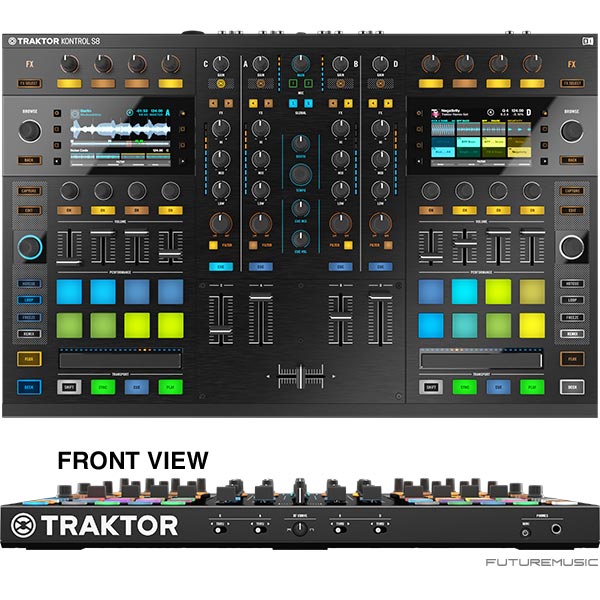 In developing the Traktor Kontrol S8, Native Instruments added one significant feature and eliminated another to finally shift the traditional DJ platform into a new direction. With the addition of XLR outputs, the S8 is now truly a professional interface that can now connect to club and live PA's with balanced analog outputs. The significance of this addition cannot be overlooked, and finally positions the S8 as a proper all-in-one solution. The second is the elimination of the turntable paradigm. Seemingly required by marketers, who believed they needed jog wheels and the such to position these new controllers to retail as, well, DJ controllers, the elimination of these little used devices is a big step in the industry moving away from traditional DJing setups. Now firmly in the "Post Beatmatching" phase of mixing, manufacturers can now focus on new methodologies, as DJing goes into more of a live remixing era. We would have certainly loved to see the displays, lifted directly from the Maschine Studio, to be multi-touch sensitive, which would have provided the ability to directly interact with running waveforms, but that's certainly something we can see happening in the future. As NI continues to enhance the excellent Traktor iOS app, and touch screens come down in price, the next incarnation of the S8 will be able to further simplify the interface by including this technology. Native did an excellent job of getting the price point right, even below our initial thoughts when they provided a sneak peak, which should result in solid holiday sales.
Traktor Kontrol S8 contains two high-resolution displaysSadly not multi-touch that respond to touch-sensitive knobs. Tracks appear on the displays as vector waveforms while an array of key views and context-sensitive pop-up panels instantly activate when the corresponding control is touched. The Browse Knob for example, triggers the Browse View for track selection directly from the controller. When activated by performance knobs, Performance Panels appear over track waveforms to view and modify BPM, key, filter, or individual effect values. The FX Panel reveals current parameters of up to two TRAKTOR FX units when an FX knob is touched.


The deck sections on Traktor Kontrol S8 were designed for enhanced Remix Decks integration and live performance features. When the Remix Deck View is active, samples and loops all become accessible in full screen on the displays for mixing with the eight dedicated Remix Deck faders. Eight color-coded pads per deck can trigger sounds while in Remix View, juggle cue points, or rearrange a playing track in Freeze View on the fly for boundless live improvisation.
Traktor Kontrol S8 also delivers increased hands-on editing functions for track adjustments or further creativity. The Beatgrid View enables instant fine-tuning of a playing track's beatgrid when adjustment is needed. Enhanced Remix Decks workflow allows live capturing of loops from a running deck for instant sampling. And two LED-guided touch strips provide motion-sensitive pitch bending, track seeking, vinyl scratch emulation, and keep track of phase in dark environments.




Traktor Kontrol S8 also integrates a 24-bit/48kHz audio interface designed for expansive connectivity. Four analog RCA inputs with phono and mic preamps allow connection of turntables, CDJs or other analog gear. XLR and RCA master output and a 1?4 inch booth output provide versatile connectivity with any sound system. And MIDI In/Out allows external gear like Maschine to sync with Traktor via MIDI clock.
Adding to its workflow innovations, the S8 boasts a mixer section with enhanced pro features. Four mixer channels can also work in stand-alone mode when Traktor Mode buttons are deactivated – making DJ switchovers or mixed analog/Traktor Scratch usage possible with the touch of one button. The fader section debuts unique wear-resistant faders, which prevents debris from damaging the fader's carbon strips – prolonging fader life, and maintaining proper function at all times.
Fueling the technology behind Traktor Kontrol S8 is the included Traktor Scratch Pro S8 2 software, featuring four software decks, over 30 effects, and advanced features for creative looping and cueing.
Traktor Kontrol S8 will be available for $1199 / €1199 at the NI Online Shop and at local retailers on October 30, 2014.



Native Instruments