Telefunken is looking for future growth by extending their brand deeper into the studio signal chain. They recently debuted headphones, and are now looking to advance into different areas including studio monitors and preamps.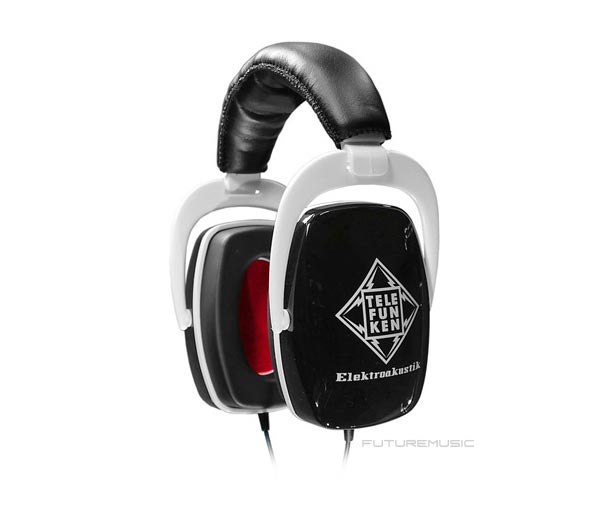 THP-29 Extreme Isolation are designed for both the studio and live sound environments. The 40mm speaker drivers, featuring TruSound Tonal Accuracy, are integrated with 29dB of natural passive isolation. The result is a headphone designed to protect the eardrums from damage and improve the recording, performing and listening experience.
Telefunken aimed for the THP-29's to be utilized by live mixers who need to block out monitor speakers, or by drummers who need to be able to hear the mix without setting their volume at an unreasonably high level. The closed back design, lightweight construction, adjustable head strap and padded ear cushions provide comfort during lengthy recording or listening sessions. The advanced isolation capabilities eliminate extra bleed in the recording studio while giving an average of 29dB of noise reduction over a wide frequency range. Telefunken also claims the THP-29's can also be used as critical mixing headphones during post-production.
The once strictly tube microphone concern has also, (gasp!) unveiled a solid state condenser microphone (blasphemy!) which they will start selling in the near future. Sold as a single unit with multiple cap options, or as a matched pair the new solid-state design should spur additional interest and position them for future models, is successful.
In addition, dedicated preamps, matched for their current lineup of mics, or stand-alone, is a natural addition, and a great way to advance into even further MI areas. We'd love to see and computer audio interface with tube driven preamps and excellent conversion. A strategic alliance with a smaller company with great engineering, like a Black Lion Audio, would make a lot of sense, if they wanted to motivate quickly into this sector.
The Telefunken THP-29 Extreme Isolation headphones cost $135 and are available now.
The Future: Developed in partnership with Direct Sound, the headphones appear to be more of a licensing deal, then a true, in-house Telefunken product. With everyone and their mother coming out with headphones, Telefunken probably thought, why not? We have a cool logo, let's come out with something a little different and test the waters. However, Telefunken, Elektroakustik if your nasty, does have a real opportunity in the monitor and, especially, preamp arena. We'd also like to see them leverage their storied brand into the prosumer market. A high-quality entry-level product, such as a USB microphone, would build brand awareness and develop an on-ramp to their more sophisticated offerings.



Telefunken