IK Multimedia has released iRig Pads, a portable, MPC-like MIDI groove controller for iPhone, iPad and iPod touch, as well as Mac and PC. IK claims the Pads has a lightweight and compact form factor and draws power directly from its host device. It can be used with iPhone, iPad and iPod touch via its included Lightning cable (a 30-pin connector is an optional accessory) without the need of an adapter, as well as Mac and PC via its included USB cable.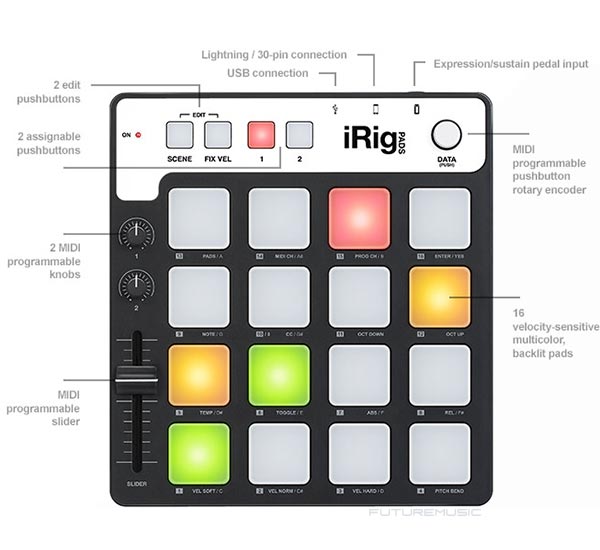 The iRig Pads features a 4×4 grid of 16 velocity-sensitive, backlit multicolor rubber pads. Each pad lights up in multiple colors – red, green, orange and every shade in between – depending on the velocity of your playing and the MIDI information sent by your chosen music app or software. It contains two knobs, two buttons, one slider and one pushbutton rotary encoder, which are MIDI assignable and customizable: Up to 16 distinct MIDI maps or "scenes" can be saved, which allows for full control of apps and software on stage or in the studio. iRig Pads comes with 6 pre-programmed scenes designed to work with many of your favorite apps and software right out of the box. iRig Pads is also fully MIDI class-compliant, which means you can use it and customize its controls for use with virtually any MIDI-compatible app such as FL Studio Mobile, iMPC Studio and GarageBand or Mac/PC software such as MPC Studio, Ableton Live, Maschine, GarageBand and more.
To help you get in the groove, IK is working to make iRig Pads the ultimate controller for beats, loops and more by adding support for a growing suite of powerful apps and software. iOS users will be able to make beats out of the box with the included SampleTank free, and they'll soon be able to control grooves and launch loops with GrooveMaker 2 free for iPhone and iPad and remix their preferred tracks with DJ Rig free.
IK Multimedia's iRig Pads is available now for $149.99 / €119.99.



IK Multimedia