Based out of Sydney, Australia, the Misa Tri-Bass, a new guitar-oriented instrument designed specifically for "tomorrow's electronic music," is starting to gain some momentum. Although it looks like a guitar and even has a bass guitar moniker, it is played like neither. The neck is touch sensitive and is played by sliding along the "frets." In fact, there are no push buttons. This is to stop the bad sound of amplitude and filter envelopes restarting, something that happens when trying to slide across an array of push buttons. When you set your synth to glide, this neck design will make sure it sounds better than anything. The fingerboard is wave shaped with channels to lock the finger to the sensor area. This is mainly to provide the tactile information a player needs to know their exact hand position.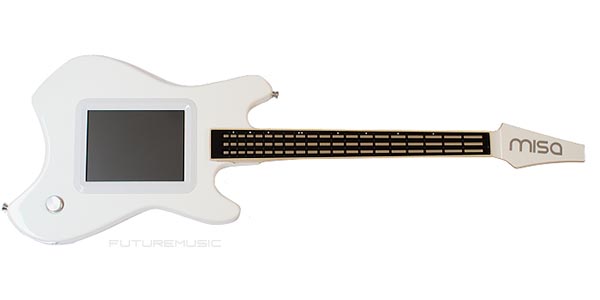 So why come out with the Tri-Bass? According to the inventor, Michael Zarimis: "I've always wanted to see live bands play electronic music. That's what Misa is about."
The tri-bass has only three "strings." Why? Zarimis feels that six strings are unnecessary. He offers this explanation. "YES I know that's a controversial statement to make. But after learning how other people were using the misa kitara, understanding their expectations as digital guitarists and most importantly seeing the workflow and processes others are currently using to produce modern electronic music, I knew it was the right decision to make."




Since its debut a year ago, the Tri-Bass has picked up some significant retailers and is now being distributed in Europe.
The Misa Tri-Bass costs $649 and is available now.



Misa