Nugen Audio has premiered SEQ-S, a high-fidelity, linear-phase equalizer intended for music production and mastering as well as film and post-production applications for Mac and PC.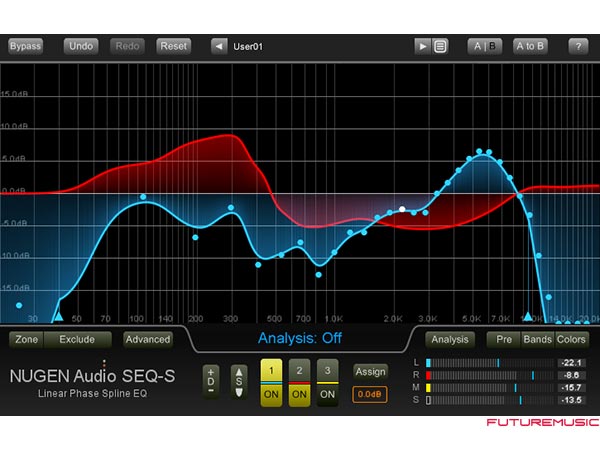 SEQ-S provides stereo mid-side operation, automated spectrum analysis, curve smoothing, and a direct-draw spline interface for corrective applications, supporting mono, stereo, 5.1, and 7.1 surround formats. Through SEQ-S's direct-draw interface and spectrum analysis, users can identify and fine-tune their audio. When coupled with EQ matching via sonic fingerprinting, they can match one recording to another to capture the "flavor" of a piece of source audio and then transfer it to the current project—a technique that can be used on individual tracks to unify different takes and microphone positions.
Features:
» Linear Phase Technology
—Transparent sound without phase smearing
—Sharper transients
—No phase warping
» High specification match EQ
—Match different takes and environments
—Mono, stereo, 5.1 and 7.1 operation
—Clone source EQ to target mix
» Create specific EQ spaces
—Invert facility to sculpt specific space
—Mid/Side options available
—Individual surround channel access
» Precise & Scalable
—Easily generate complex curves
—Curve scale and smoothing
—Zoomable interface
In addition, SEQ-S's EQ invert button provides a technique for creating space in a complex mix. In a typical music project, by "sampling" the vocal and then using the EQ invert button to apply the inverted curve to the backing, users can reportedly add specific space without damaging the original tonality of the underlying audio.
Unlike many linear phase EQs, SEQ-S has a unique Quality Setting that gives it great precision in the low frequencies, allowing you to make highly transparent adjustments without muddying the mix. The resolution is scalable to suit your task. Choose all the precision you need for demanding work during mastering, or vary the setting to run multiple instances concurrently during a mixing session.
SEQ-S supports AAX, VST, VST3, AU and AudioSuite in both 64-bit and 32-bit versions. RTAS is also available as 32-bit only.
Nugen Audio's SEQ-S costs $249 and is available now.
Nugen Audio