elysia, a German concern, has released the xfilter, a new creative equalizer for sound design, mixing and mastering. The xfilter, which comes in either the 1U rack or 500 series flavors, provides a compact, intuitive interface with everything you need right at your fingertips.

elysia is focused equally on aesthetics and sound quality

An "Affordable" Museq
We reviewed the 1U rack version, which featured the distinct dark blue faceplate, matte aluminum knobs, circular glowing logo and a full-metal chassis. Every knob was discretely labeled and contained some clever multi-functionality to expand the unit's flexibility for isolating frequencies. Based on elysia's museq offering, the xfilter already contains a proven approach to quality sound manipulation, but in a more "affordable" package. Like the museq, the xfilter is extremely well-built using top components and graceful, solid potentiometers. However, it is light as a feather, which belies its substantial audio heft. [Reviewers comments in quotes below]
The xfilter provides four overlapping EQ bands: high shelf, low shelf, low/mid peak and high/mid peak. The mid peaking bands have ±13dB of cut/boost, two narrow and wide Q bandwidths and range from 45Hz to 16kHz. The shelving bands feature a cut/boost of ±16dB and can be switched to resonant low/high cut filters where the gain knob assumes the duty of resonance control. A Passive Massage filter, a fixed frequency passive LC (inductor-capacitor) allows for a little extra dB of resonance pop at 12kHz while cutting around 17kHz for additional clarity and openness. Most of our reviewers found that the Passage Massage "worked best on individual tracks and not the stereo buss." Songs with heavy guitar tracks at the forefront or drummers who have "overbearing cymbals" revealed "a harshness" and "bite" to the filter that could not be overcome. However, on a Deep House track, "the Massage nicely brought out the vocal and elevated some of the ambient synth waves."


Features:
» 100% Class-A Topology
— Discrete input, output and mix stages plus the complete audio path running in constant class-A mode
» True Stereo Operation
— The xfilter processes both of its channels with just one set of controllers
» Resonance High & Low Cut Filters
— The shelving filters can be switched into high and low cut filters with an additional resonance peak
» Switchable Filter Quality
— The quality of the peak filters can be switched from a wide to a narrow Q factor which remains independent from the setting of the gain controller
» Additional Passive High-Band
— An additional LC filter with shielded coils gives you the 'Passive Massage'
» Stepped Controllers
— All potentiometers on the xfilter have 41 steps, which can assist in recalling your previous sessions if you actually want to count and record every button.
» Computer-Selected Potentiometers
— Every single dual and quad layer pot we buy is measured with custom computer routines
» Special Low Tolerance Capacitors
— The film caps used for the xfilter doubles the industry standard in terms of component tolerance
» Ground Layer Shield
— One of the four layers of both PCBs is a full copper plane which helps to reduce interferences caused by electric fields


The great thing about the xfilter is that you're not relegated to one methodology of dialing in the sound you desire. While users may jump on the Passive Massage if their looking for a top end lift, the high-shelf may be a better choice for achieving effective, but subtle results. The word "character" came up over and over in the evaluation sheets for the xfilter and it's understandable to see why. The unit can easily be used to "bring out the essence" of the elements you want to target in a "way that doesn't detract from the surrounding frequencies."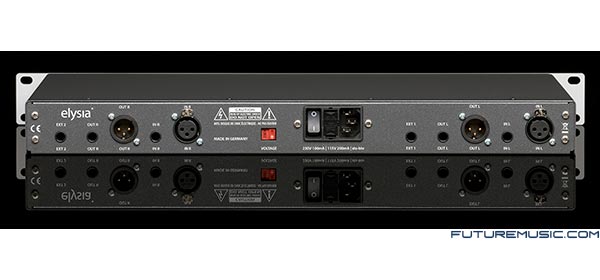 You'll find this approach "creates very pleasing harmonic outcomes even when using the high-shelf at frequencies beyond the human hearing range." Musicians, producers and engineers who are particular about their low-end will find a lot of useful features in the xfilter toolbox. Shaping a kick drum to bring out deep, thick low end punch can be achieved in minutes, but where the xfilter really shines is how you can "sculpt the kick to bring out the meat, but leave the gravy at the bottom of the bowl, so it doesn't sap the energy, or kill your headroom." Bass guitar can be "focalized" to give it that "thump and a nice round, full tubbiness while still retaining the spirit and vigor of the live playing." Using the xfilter on dedicated bass synths, such as the Moog Minitaur, allowed our evaluators to "bring out more of the soul and character of the famed 4-pole filter."



Specifications:
» Frequency response: <10 Hz - 400 kHz (-3.0 dB) » THD+N: -- @ 0 dBu, 20 Hz - 22 kHz: 0.0018 % -- @ +10 dBu, 20 Hz - 22 kHz: 0.005 % » Noise floor: -- 20 Hz - 20 kHz (A-weighted): -98 dBu » Dynamic range: -- 20 Hz - 22 kHz: 120 dB » Maximum level: -- Input: +21 dBu -- Output: +21 dBu » Impedance: -- Input: 10 kOhm -- Output: 68 Ohm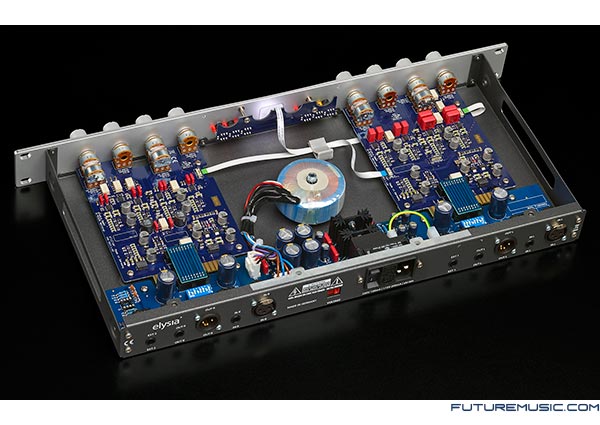 The sweepable midrange filters feature a wide and a narrow Q. The wide provides a "smooth and full flavor," thanks to the "delicious filter curves," and the narrow, which is "really more medium, rather than steeple narrow," enables users to target frequencies in a more musical fashion, instead of with pinpoint accuracy. You can really hear the xfilter's colorization here, which one reviewer said it "reminded him of the SSL," but others felt the unit had "a special essence all its own."


In a world now dominated by EQ plug-ins, including elysia's own emulators, there is something really special about a quality, dedicated outboard EQ. Having the opportunity to put the xfilter through a variety of real world situations, certainly re-established to many of our reviewers why a discreet EQ unit can make all the difference.

The Future
We'd love to see more "affordable" versions of elysia products!
» FutureMusic Rating: 85%


Cheers:
+ Sound Quality
+ Versatility
+ Quality Of Results
+ Build Quality
+ Low Noise
+ 500 Series
+ Creative

Jeers:
– "Affordable" is certainly relative
Off The Record:
"Reconfirmed my love to great outboard gear!" —Greg Geller
"Super creative, super fun…can't remember the last time I said that about an EQ," —Mark Weaver
"The delicious filter curves will make this a go-to solution for smoothing out the character of any sonic question that arises during a session." —Garth Fields

The elysia xfilter rack is available now for $1679, and the 500 series will set you back $1049.

elysia