Zivix Now Shipping PUC – Wireless MIDI Link
Zivix, a new concern from the tundra that is Minnesota, has announced that their wireless MIDI module, the PUC, is now shipping. The compact device acts as a wireless link to connect MIDI compatible musical instruments with iOS devices. If a user has an iPad with music creation apps or a synthesizer, the PUC makes it easy to connect to instruments like a digital piano, DJ controller, or a drum machine and quickly start making music.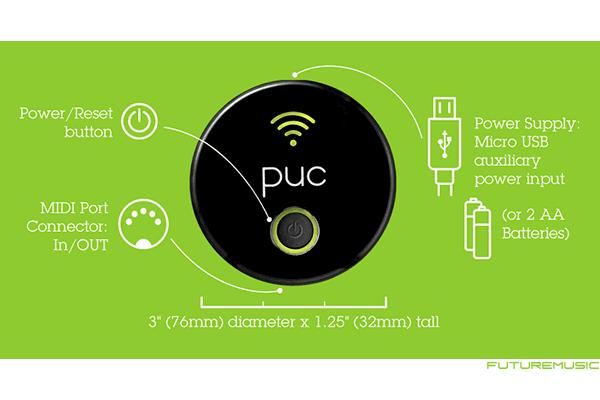 PUC makes MIDI connectivity easy. Simply plug your controller into PUC's MIDI port, establish your WiFi link, and get on with your business – making music. PUC also connects to your Mac for Wireless Core MIDI control.
Features:
» Integrate into studio or live applications including Logis, ProTools,Life, Cubases, Sonar, Reaper and Garageband wirelessly
» Leverages your existing iOS apps to create music and experiment with MIDI devices
» Proprietary MIDI interface is designed specifically for iOS
» Companion app for connectivity and tuning on iOS
» Mac Driver for superior performance



The PUC communicates directly to the iPad via WiFi directly as a device, no "host" WiFi network is necessary. PUC uses an open standard for Core MIDI over WiFi. Once your legacy MIDI signals are translated into Core MIDI by the PUC, any Core MIDI compatible app can recognize it.
Zivix's PUC is now available for $129.99 on mipuc.com
Zivix