AAS Releases String Studio VS-2 String Modeling Plug-In For Mac & PC
Applied Acoustics Systems (AAS) has released String Studio VS-2 for Mac OS X (10.6 or later) and Windows (XP, Vista, 7, or 8) — an updated 64-bit version of its original String Studio VS-1 string modelling synthesizer plug-in.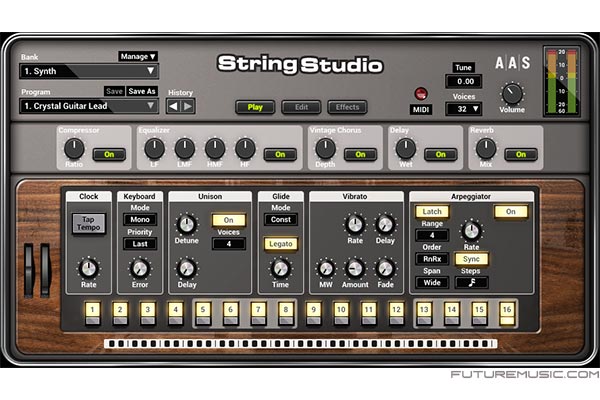 String Studio VS-2 has been redesigned from the ground up, the new interface now divides String Studio VS-2 into three panels: Play presents shortcuts to the performance and effects parameters, including bypass switches for quick edits, as well as an Arpeggiator — offering various synchronisation resolutions, playing algorithms, and rhythmic patterns; Edit allows users tweak and create sounds by combining acoustic modelling parameters and classic synth features in a unique way; while FX adds all-new Equalizer and Compressor modules as well as an overhauled multi-effects processor featuring AAS chorus, delay, phaser, flanger, distortion, notch filter, wah-wah, and reverb.
Other new features include structured organization, backup, and sharing of sounds via String Studio VS-2's Bank and Program management system. The factory library has been refreshed with well over 600 sounds already classified across 11 categories, including a collection of 50 inspiring signature presets by producer Sean Divine. Seasoned String Studio VS-1 users, of course, can simply drop exported presets into String Studio VS-2's Bank folder to convert them for continued usage, while the more adventurous sound designers out there will welcome Scala scale file format support for microtonal music-making. A new output limiter protects ears and monitors and also ensures distortion-free dynamics at all times.




String Studio VS-2 includes performance features, such as realtime control over any parameters via MIDI controller knobs, faders, and switches; MIDI clock, tap, and host tempo synchronisation for effects and modulations; and editing with unlimited undo/redo capability. Combine these with the benefits of physical modelling, sound manipulation at the source core, fast preset loading times, and a small memory footprint, and you have a new synth methodology.
The AAS String Studio VS-2 is available now for $199. String Studio VS-1 users can upgrade to String Studio VS-2 for $39.
AAS