XILS-lab Releases EMS VCS4 Analogue Matrix Modular Emulator
XILS-lab has released the XILS 4, a software emulation of the VCS4, a dual VCS3 analogue matrix modular synthesizer prototyped by EMS back in 1969, but never commercially released.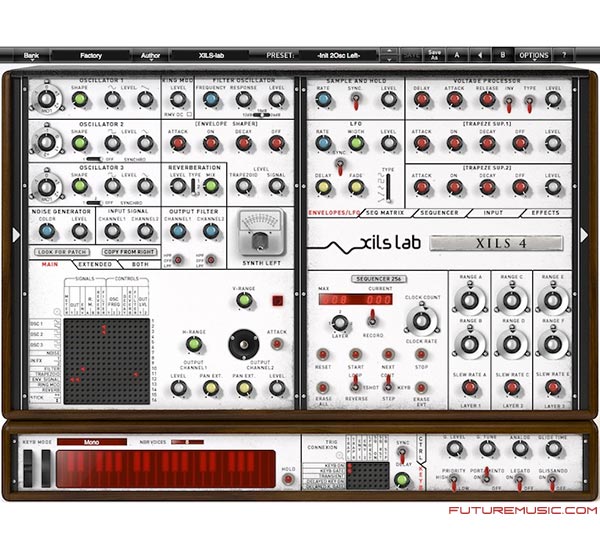 EMS (Electronic Music Studios), a British company founded by the pioneering Peter Zinovieff, made musical history in 1969 with its introduction of the VCS3, the first portable synthesizer commercially available anywhere in the world. Its innovative modular matrix-based patchboard dispensed with the telephone exchange-like cabling of other (much larger) modular systems in favor of making connections with removable, colored pins, so it could be comfortably housed in a small wooden cabinet.
Needless to say, the (hi)story of the EMS VCS3 is well documented, with XILS-lab later playing its part in resurrecting its still-sought-after sound with its XILS 3 software emulation for Mac (OS X 10.4 and above) and PC (Windows 7, Vista, and XP) proving popular with both first-time buyers beginning a wonderfully in-depth journey into the wonderful world of modular synthesis and also seasoned synth explorers, including renowned sound designer Richard Devine and original VCS3 aficionado Tim Blake (Hawkwind), and even Peter Zinovieff himself, who commented kindly: "A great step forward!"
Features:
» 12 Aliasing free Oscillators, grouped in 6 pairs, with WaveShaping, 3*2 Hard synchronization modes, + 2 additional Noise oscillators
» 2 Analog Multimode Filters, Non Linear and zero delay Behaviors, with 3 Modes (12/18/24 dB)
» 4 Trapezoidal, looping, Envelope Generators. ( Switchable to standard ADSR )
» 5 Polyphonic LFOs ( including 4 Oscillator acting as LFO at audio rate )
» Polyphonic Ring Modulator and VCA engine
» Cascade Mode : Synthesizer 1 can feed Synth 2 engine inputs
» 4 independent outputs feeding the Stereo Bus, each with one analog Lp/Hp filter
» 2 Programmable Joystick Vector Controllers ( up to 32+32 modulation targets )
» Polyphonic Sequencer with 3 independent lines, Slew rates, 3 recording modes.
» Sequencer can behave as modulation source.
» Pitch Tracker, Enveloppe Follower, Transient, Gate, Sample & Hold Modules
» Chorus, Delay, Phaser, Spring Reverb
» 6 Play modes (including Unison 2/4/6 ), Polyphonic and mono Portamento/Glissando/Legato, 2 different Keyboard Scaling, Polyphonic Aftertouch and VCA handling.
» Nearly 700 presets made by worldwide famous Sound Designers
» Preset Database Engine
» Comprehensive manual with a getting started and tutorial sections
» More than 100 parameters mappable to midi controllers
Not so well documented, though, is the stuff of legend: the 1969-vintage VCS4 was EMS designer David Cockerell's so-called Live Performance Module, comprising two VCS3s sat side by side, together with a five-octave keyboard, a mixer, and a signal-processing unit, all housed in a single wooden cabinet. Only one prototype was ever produced, its ear-opening sounds lost in the sands of time…until now, that is!
By being based on two intricate and interacting VCS3 (Synthi) cores — following in the fanciful footsteps of its one-off analogue ancestor to a tee, XILS-lab's XILS 4 favorably emulates EMS VCS4. Indeed, those two cores can be set to work side by side or operate in serial (with one feeding the other). Each and every module on one side can be used to modulate or feed anything on the other side with stunning sound possibilities plus weird and wonderful effects readily available in abundance as a direct result. That said, XILS 4 shows its true 21st Century colors by also allowing amount settings to be individually applied to each patch pin. Little wonder, then, that XILS 4 is billed by its creator as being the Ultimate Analog Matrix Modular Synthesizer!
XILS-lab has sought to take things severals steps further still by coupling those cores with the SEQUENCER 256 module, inspired by EMS' trailblazing Synthi Sequencer 256 namesake. Needless to say, this three-layer sequencer with analogue-to-digital and digital-to-analogue converters to enable digital processing of control voltages to drive multiple analogue synthesizers or multiple parameters with storage of up to 256 'events' was well ahead of its time when released in 1971. Here in the virtual world, XILS-lab has well and truly transported it to the present day with three independent layers, slew rates, and recording modes, together with added abilities like sequencer layers acting as modulation sources in a dedicated SEQ MATRIX — matchless, even by today's most sophisticated DAW standards!
So is that all? No, not at all! Adding a second 'pin matrix', two additional envelopes, an LFO, comprehensive SAMPLE AND HOLD module, and VOLTAGE PROCESSOR, plus several new input modules — including GATE, ENVELOPE FOLLOWER, and PITCH TRACKER — means that there are hundreds of additional connections available to the discerning synthesist set on exploring XILS 4 to the full as a superlative soft synth or as a powerful effects processor plug-in in its own right. The fact that there are over 1,140 possible connections per patch makes for a literal lifetime of programming possibilities that will surely far outlast the host computer concerned, though those in need of a helping hand have easy access to almost 700 professionally-programmed presets from world-renowned sound designers, including the complete XILS 3 factory library and over 350 presets specifically designed for XILS 4. A selection of tutorial-style patches are also available to help users.
Simply put, with a whole host of modules and associated far-reaching functionality — for starters, 12 aliasing-free oscillators, grouped in six pairs with wave-shaping and hard sync — yesteryear's impossibilities have become today's possibilities with XILS 4… a great step forward, indeed! A giant leap for modular synthesis software, some might say.
XILS 4 is available to purchase as an eLicenser or iLok copy-protected virtual instrument and effects plug-in for an introductory discounted price of €149. Note that this time-limited offer also includes the XILISTICS sound bank with 160-plus presets worth €25, plus a free USB-eLicenser copy-protection dongle!)
XILS 3 owners can upgrade to XILS 4 for an introductory price of €29. XILS 4 can be directly downloaded as a 32- and 64-bit-compatible virtual instrument and effects plug-in for Mac (AAX, AU, RTAS, VST) and Windows (AAX, RTAS, VST).
XILS-lab