Native Instruments Updates Maschine To Version 2.1
Native Instruments has updated their excellent Maschine software to version 2.1. Featuring the new Grit kick engine, shaker performer mode, group MIDI export, and much more, the update is free for Maschine 2.0 users.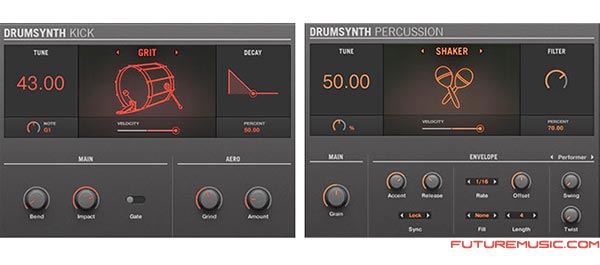 New Grit Engine in kick drum synth. The Grit kick is a modern, versatile electronic kick drum. Tuned loose, it's deep, open, boomy, and airy. Tightened up, it adds punch and heft. At high tunings, it can become gritty and bit crushed. New Shaker Performer mode in percussion drum: Hold down a note, and the innovative Performer creates natural-sounding shaker patterns automatically. Tweak the feel of the groove in real time, and add fills and syncopated riffs, with adjustable swing, shuffle, and groove.




New Features & Enhancements:
» New Grit Engine in kick drum synth
» New Shaker Performer mode in percussion drum
» Sounds accessible on pads on sample recording screen
» A batch function to set all sounds in a group to the same MIDI channel.
» MIDI export available on the Group and Sound levels
» Undocked NI plug-in windows can be pinned to remain active when not in focus
» Scenes can be selected/triggered via MIDI input when MASCHINE is running standalone
» Mix page on MASCHINE and MASCHINE MK2 controllers has been expanded and now provides access to level and pan settings for groups and sounds
» A setting that only turns the metronome on when the Record button is enabled
» Real time group erase function.
» Shift functions allow fast scroll browsing.
» Play quantize option — notes played live on the pads are quantized in real time
» Control software views from the navigate page on MASCHINE and MASCHINE STUDIO controllers
» Instantiating the first plug-in on an empty sound updates the name of that sound to the plug-in name
» Sound, group volume & pan knobs are only displayed on hover
» ALT+Drag for copy-pasting single elements (patterns, scenes, plug-ins) in the Groups / Sounds lists and the plug-in chain
» Browser performance improvements
» Numerous bug fixes, as well as performance and stability improvements
Native Instruments