FabFilter Pro-MB Multiband Compressor Review
The FabFilter Pro MB is multiband compressor plug-in for Mac and PC. It is available in the VST, VST3, Audio Units, AAX Native and AudioSuite formats (all both 64-bit and 32-bit), as well as RTAS (32-bit only). The Pro-MB is well executed on every level from the intuitive and attractive interface, to the brilliant sound quality. Not only did it achieve a FutureMusic Power Award, but it was also named as a 2013 Gear Of The Year winner in the Dynamics Plug-In category.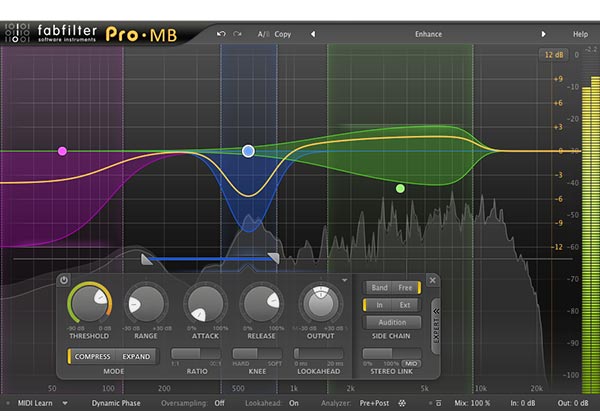 Multiband compression is a valuable utility to have in your plug-in arsenal due to its ability to target specific frequencies without affecting the entire range. FabFilter takes this to the next level by allowing the user to freely single out any band on the spectrum with a variety of crossover curves, a flexibility that other products on the market don't possess.
Six bands can be earmarked and can be individually modified or mated. This allows the user to approach dynamics by thinking in individual bands and not crossovers, providing the ability to target problematic areas in the frequency spectrum without disturbing other areas of the range.
Features:
» Up to six processing bands
» Bands can be placed anywhere in the spectrum
» Bands can be easily joined together to form a traditional crossover system
» Unique Dynamic Phase processing mode featuring zero latency, no static phase changes and no pre-ringing artifacts
» Linear Phase processing mode
» Minimum Phase processing mode
» Fully customizable per band: threshold, range, attack, release, output gain, ratio, variable knee, lookahead (up to 20 ms), variable stereo linking, mid- or side-only processing, external side chain input, triggering on a separate frequency range
» Steepness of each crossover slope can be freely adjusted between 6 dB/oct and 48 dB/oct
» Program- and frequency-dependent attack and release curves
» Global dry/wet mix from 0% to 200%
» Unique interactive multi-band display
» Accurate and smooth real-time frequency analyzer with pre- and post-processing options and 'freeze' feature
» Quality audio processing algorithms with 64-bit internal processing where needed
» Up to four times linear-phase oversampling
» Band solo/mute and bypass options
» Precise output metering
» GPU-powered graphics acceleration
» Double-click text entry of parameter values
» Stereo and mono plug-ins available
» Supports common Pro Tools hardware control surfaces
» MIDI Learn
» Undo/redo and A/B comparison
» Sample-accurate automation of all parameters
» Help file with interactive help hints
» Available in VST, VST3, Audio Units, AAX Native and AudioSuite formats (all both 64-bit and 32-bit), as well as RTAS (32-bit only)


With the Pro-MB, FabFilter also introduces a proprietary Dynamic Phase processing mode that features zero latency, no static phase distortion or pre-ringing artifacts, and only presents phase modifications when the gain is changed. FabFilter achieves this with what they call "intelligent dynamic filters" which does not split the signal and offers the same frequency response as Minimum Phase and Linear Phase. The Pro-MB also offers Linear Phase and Minimum Phase to provide additional options. Linear splits the incoming signal into bands and then sums them together for a flat phase response, but at the expense of pre-ringing potential and significant latency. Minimum Phase also splits the signal into bands using filters but can introduce disconcerting static phase effects at higher slopes. While not the "go to" method for many applications, it can be used creatively to attain unique sonic signatures.
Our reviewers raved about the Pro-MB's "flexibility and customization options" for "timesaving workflows" and "addressing repeat frequency offenders." The Pro-MB's flexibility allows you to handle a wide range of dynamics processing from "subtle effects to extreme sound design experiments." Having a Global Wet/Dry mix that goes to 200% helps for more adventurous aural excursions. The plug-in works with many control surfaces, including ProTools, and has a MIDI Learn attribute.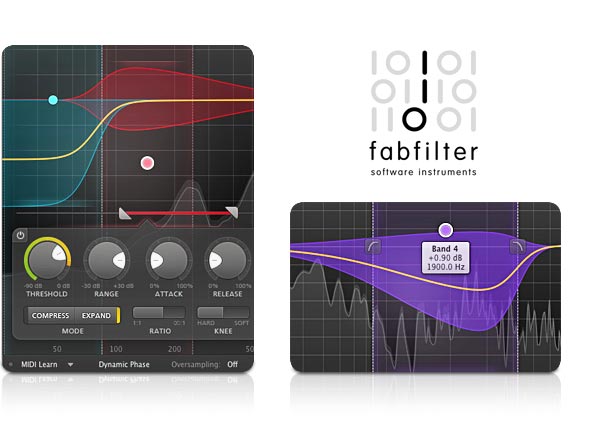 Each band can be tweaked with output gain, threshold range, attack, release, lookahead (to 20ms), ratio, variable knee and variable stereo linking. Full side chain action is also available with mid or side-only processing, external side chain input and triggering on a separate frequency range. The steepness of each crossover slope can also be tweaked from 6 dB to 48 dB per octave. Although the Pro-MB's interface received high marks as far as usability and aesthetics from our evaluators, a couple cited that some of the pop up windows for band attributes ended up masking the spectral display. "I was somewhat disappointed in one aspect of the interface that left me a tad frustrated. The parameter windows often covered up the visual analysis, which meant a lot of back and forth."

But How Does It Sound?
The sound quality of FabFilter's Pro-MB was described as "excellent" – "detailed" and "one of the best band processors I've ever used." The "ultra-sensitive processor" can reveal "artifacts in the spectrum" that you had no idea existed, and can double as "a tool to investigate unwanted noise." Results from "refined to ear bending" can be achieved in short order and each one of our evaluators found that the Pro-MB "will certainly occupy a slot in my audio tool box." The response was so overwhelming positive, that FutureMusic have given the Pro-MB a 90% Power Rating and awarded it as the Gear Of The Year in the Dynamics Processing category.

The Future
We'd like for the Pro-MB's "popups" to have the flexibility to move anywhere on the interface to eliminate the eclipsing of the spectrum. It would also be a benefit to have different fractional octave FFT resolution, since most will not utilize the Pro-MB for dramatic frequency dips. Adding the Bypass feature along side of the Solo and Mute buttons would enhance workflow for some who may want to compare different settings. Finally, adding the Threshold attribute to along with the Range and Gain on the curve would add convenience and efficiency.
» FutureMusic Rating: 90%


Cheers:
+ Sound Quality
+ Aesthetic
+ Quality Of Results
+ Features
+ Metering

Jeers:
– Attribute Pop-Ups Mask Small Interface Window
– Workflow Efficiency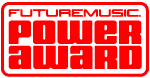 Off The Record:
"You have to be very careful on how you apply the Pro-MB, but careful and patient application yields tremendous rewards." —Greg Geller
"The ultra-sensitive metering can also be used to trouble shoot unwanted noise and artifacts." —Chaylin Thomas
"I'm finding that I'm using the Pro-MB more and more on my tracks. It slowly works its way into the DNA of your workflow…the results speak for themselves." —Dan Brotman
"Lower FFT resolution would be valuable for a multiband compressor of this nature." —Garth Fields



The FabFilter Pro-MB costs $229 and is available now.
FabFilter