WREN V5 AirPlay Sound System Review
Let's just get this over with right from the start, the WREN Audio V5 AP (AirPlay) is the best WiFi/Airplay sound box we've ever tested and not only did it receive our Power Award, but it has also secured a spot in our coveted Gear Of The Year selections for 2013. There, now you don't have to actually read any further. Just go buy it.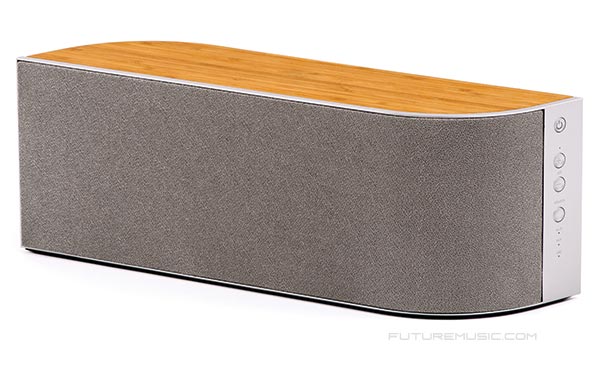 For those of you who actually enjoy the english language and are interested in learning how the WREN achieved those three distinctions, read on. The WREN was designed by long time, audio-design journeyman, Mike Giffin, who sought to bring a more polished and refined approach to wireless audio. While the WREN's $399 price point, may give prospective customers pause, the aesthetic appeal, the sound quality and the fact that the WREN works every time you use it, should put those notions to bed. We spent considerable time with the WREN and our evaluators comments are in quotes below.
Features & Specifications:
» Stream music wirelessly from iTunes (PC and Mac), as well as AirPlay-equipped iOS devices (iOS 4.3 and higher) including iPhone, iPad and iPod Touch.
» Wireless Music Content: iTunes, plus any app that supports AirPlay, such as Spotify, Pandora, YouTube, iHeartRadio and numerous others.
» Wireless 802.11 b/g/n Wi-Fi sound quality: HiFi-quality lossless playback. Limited only by the quality of the source music.
» Connection range: 50 feet
» Audio inputs: Wi-Fi (AirPlay), 3.5mm Aux-in Minijack, USB dock connector
» Multiple speaker support: Stream music to multiple Wren V5 speakers simultaneously from iTunes on a Mac or PC.
» Intersil D2 Audio DSP controlled stereo Class D amplifier — 25 watts-per-channel
» Acoustically inert half-inch internally braced MDF cabinet
» 4mm low durometer silicone pad to stabilize the chassis and absorb cabinet vibration
» Device charging through USB port
» Power: 24V, 2500mA
» Drivers: Two 3-inch throw drivers with 4-layer voice coils augmented by stereo bass-reflex design; Two 19mm edge-driven wide dispersion soft dome tweeters
» Dimensions: Height: 61?8 inches/15.56 cm; Width: 4¼ inches/10.79 cm; Length: 165?8 inches/42.23 cm
» Weight: 6.6 pounds/2.99 kg
Acoustically Transparent Grille Frame
Giffin believes poorly designed grilles can seriously impair a speaker's acoustical output, thus the grille on the Wren V5 incorporates such design features as radius ribs that add stiffness without diffraction and a diamond matrix that creates more open space so sound is not restricted.


The WREN comes in a unique curved "parallelogram" shape with two distinctive finishes, bamboo and rosewood, and features a silver fabric mesh grill on one side and connectivity and a bass port on the other. Pictures on WREN's website, showcase the V5 laying on its "back," but for the best audio reproduction, you'll want to place it on its silicone padded "footbed" with the tuned bass port at least 12 inches from a wall or other solid obstacles.

"Room Filling Sound"
The V5 houses two 19mm soft dome tweeters and two 3-inch full range drivers with 4-layer voice coils, both fueled by a 25 watts per channel, Intersil D2 Audio Class D amplifier. All of our reviewers found the WREN to be "the perfect size" — "not too small to sound thin and unsubstantial," but "not too big to be unwieldy" or "take up too much space." The 6.125″ Height x 4.25″ Width x 16.625″ Length MDF cabinet allows the V5 to provide "room filling sound" with "plenty of punch" to deliver today's contemporary bass-driving music at "significant sound levels."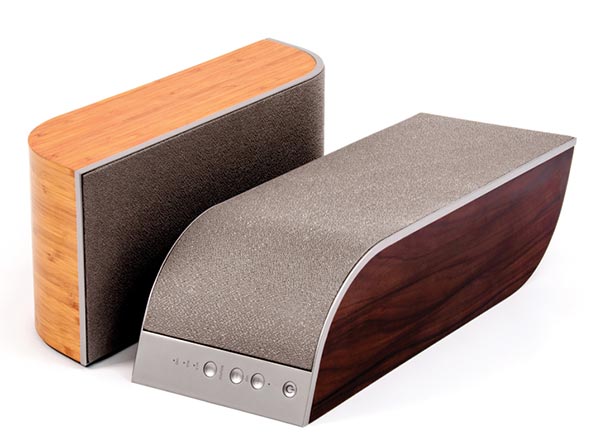 The speaker on the right is NOT how you want to place your WREN V5 for full sound reproduction


The wide dispersion tweeters "don't bite" and "smooth out the rough edges" of even the harshest dubstep with a "velvety" sound signature "without being doughy." While the V5's "bass won't move major air" they do provide a nice "rounded tone" with "texture and separation" without the "muddy overtones that many wireless speakers can't seem to escape." From the latest Katy Perry sparkly pop, to deep, minimal house, the WREN V5 delivers a "full-bodied" sound with enough energy to rock an afterhours, or providing the soundtrack to family prepping Thanksgiving dinner.
The Achilles Heel of many wireless systems is often connectivity issues. Setting up the WREN, for AirPlay via Wi-Fi, really couldn't be easier and worked for all evaluators the first time. The V5 features only four buttons, On/Off, Volume Up, Volume Down and Source. LED indicators for Wi-Fi Connected and Aux Input are minimal and elegant. In the back you have USB 2.0, an Aux minijack (3.5mm) input, power, a setup button and a bass port for enhancing low-end frequencies. The one caveat is that the WREN needs to be pretty close to your Wi-Fi source to provide seamless music play. The unit was able to perform flawlessly up to 50 feet line-of-sight and about 25 feet through one or two walls. Once reviewer found the distance to be slightly greater using "a hot 1000mW signal" from one of the latest Wi-Fi routers on the market, but that was the exception and not the norm. If you want a solid, uninterrupted signal, then you'll need to situate the V5 relatively close to your Wi-Fi source, which is a consideration if your wireless is not in a convenient location to where you want to play music.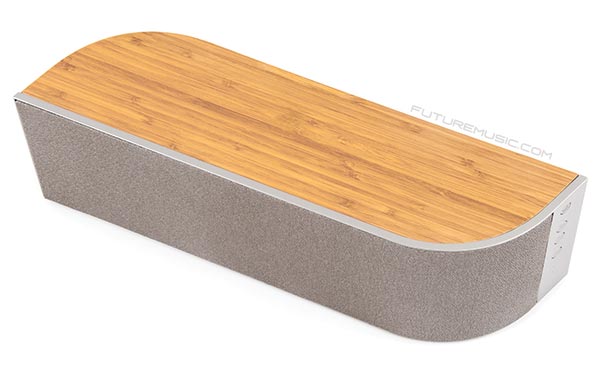 The WREN V5's fit and finish is first-class, with "luxurious wood" and "tight reveals" (spaces between the seams of two adjoining pieces –Ed.). A couple of reviewers felt the "silver plastic belied the quality" of the V5, but others "liked the contrast between the organic wood and the high-tech luster." Overall, the aesthetic earned high marks overall, and we salute WREN for pushing the design envelope and coming out on top.
The V5 comes with a remote, but our evaluators didn't have much use for it. "The remote may have some value at a dinner party, but since music is now the soundtrack for whatever else you happen to be doing, and not a solitary recreational activity, I only picked it up to gauge if all the functions worked."
At $399, the WREN V5 is no small chunk of change, but if you're looking for the best looking, best sounding and best performing AirPlay device at this price point, then the WREN V5 stands alone.

The Future
We'd like to see an iPhone app for potentially tuning the sound character. A few choice presets and the ability to configure (and save) your own custom selections would be solid. The app could serve as a remote control, eliminating the hardware, and have a few features, such as an alarm clock and fall asleep mode.
» FutureMusic Rating: 95%


Cheers:
+ Sound Quality
+ Design
+ Build Quality
+ Ease Of Use
+ Functionality

Jeers:
– None!
Off The Record:
"Wow…the setup could not be easier — plug in your iPhone into the USB port in the back, press the Setup button and the V5 asks to share your current Wi-Fi connection…once connected, you're done. The USB port even doubles as a device charger. Pure elegance!" —Chaylin Thomas
"This is not one of those devices that you hide in a bookcase or slip behind the spice rack, this handsome unit needs to be prominently displayed where its sound can breath and take over the room." —Dan Brotman
"Easily the best AirPlay device I've used to date — the new high water mark." —Greg Geller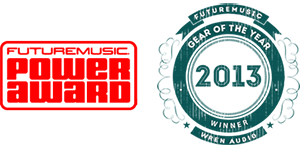 The WREN V5 is available now and comes in three incarnations, AirPlay, Android and Bluetooth.
WREN Audio