What's Wrong With Beatport?
By Dan Brotman – Editor In Chief – Special To FutureMusic
As a user of Beatport since it first debuted in 2004, I have used the site extensively to find tracks, not only for DJing, but also for personal listening. With it's extensive library, and exclusive offerings, the service is clearly one of the top depots in the world for electronic music, and beyond.
The problem lies not with the amount of available tracks, the checkout procedure, the download process, the file formats tendered, or its excellent needle drop functionality, it's simply the ability to find the tracks you desire. The site's pathetic search mechanism rarely, if ever, allows you to explore relevant keywords that match a tracks aural description.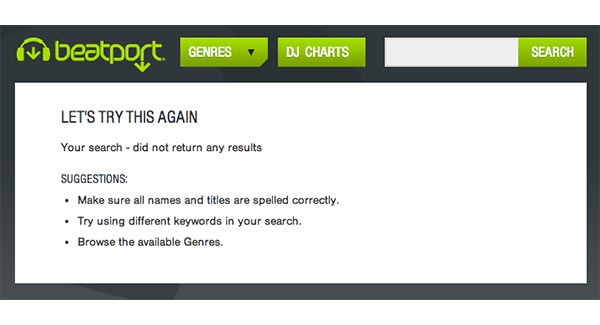 Beatport even fails in their ability to breakdown tracks by genre. A paltry 23 genres are present. In a market where sub genres sprout like weeds in an abandoned Detroit suburb, Beatport only features a couple of sub genres. Even some sub genres that have been around since the dawn of electronic music aren't available, Acid House, Tribal House? Nope. There is Tech House and Deep House, but that's it. I'm just using Tribal House as an example, but it's indicative of the problem for all the descriptive genres fo electronic music. Searching for "Tribal House" yields only 204 "Releases." For a service that has hundreds of thousands of songs in its library, Beatport is telling its users that it only has 204 Tribal House releases. Pitiful.
The biggest problem is that when Beatport was designing their database, they failed to include a simple "Track Description" category when labels uploaded new tracks to the service. Many other fields were presented, such as track name, artist, etc., but the most crucial one for sales, was absent. One of the best examples of Track Descriptions, I've ever encountered in an online record store belonged to the now defunct dancerecords.com. Not only were the descriptions spot on, but having that field in their database meant that searching for precisely the types of tracks you were looking for was dead simple, accurate, and most importantly efficient.
One of the "Big Ideas" of translating a brick 'n' mortar record store to the online space is efficiency. If I want to spend an afternoon crate digging for records at my local vinyl shop as a leisure activity that's one thing, but if I'm online, and I know I'm not alone here, I want to find exactly the types of tracks I'm looking for, buy them, download them and start working them out on my rig as soon as possible. Spending hours to find just a handful of tracks is simply a complete waste of everybody's time and most likely why profitability eludes Beatport to this day.
But what about the daunting task of putting in descriptions for 750,000 songs on Beatport? Yes, it's a formidable proposition. But here's the catch, Beatport shouldn't be the one inputting the descriptions. The labels should do it when they upload a track and have the ability to modify and change the descriptions in their past catalog. But what if the labels don't do it? Then they will simply lose business since their tracks won't appear in the search results. Savvy and sophisticated labels will devote serious resources to composing keyword rich descriptions that capture the essence of the song they're categorizing. Thus, those "optimized" tracks will rise to the top of the search results positioning them for vital exposure to potential customers. Using an auction advertising system like Google, Beatport could even create an additional revenue stream by offering paid placement in the search results.
So almost ten years, yes t-e-n, with a 1 and a 0, since Beatport bowed, why isn't there kick ass search functionality? I asked Jonas Tempel this question when he was the CEO of the concern five years ago and he admitted that the search mechanism was poor and "[Beatport] had to get better" in that regard, but nothing has been achieved. The site was one of the early adopters of HTML5 technology, but still left search stuck in a 1996 time warp.
But Beatport does have "People Also Bought" and "More Releases From This Label." They do, but the results are often completely irrelevant. With proper track descriptions, the e-commerce engine could offer CrossSell and UpSell suggestions that would be markedly more appropriate and actually increase conversion rates.
SFX purchased Beatport last February for a reported price of just over $50 million. Clearly no one at SFX actually searched for a track during the disclosure process. Mesmerized by the financial statements, they must have missed that Beatport was leaving significant money on the table by not providing visitors with an efficient process of discovering tracks they wanted to buy.
True search functionality is what is clearly wrong about Beatport. It's obvious that implementing a quality search product is beyond the in-house capability of the company, so SFX should outsource this to a market leader. Make this a goal for your 10 year anniversary and you'll not only elate your customers, but more importantly…
…you will make your company considerably more profitable.