Nagra Trots Out Mezzo & Seven Portable Digital Recorders
Nagra has debuted two new digital recording products, the Seven and the Mezzo. The Seven is a portable two channel recorder with a modular design, allowing it to be a recording ninja and adapt to a variety of field applications. The concept was to build a quality 2-channel recorder that offers modern features not otherwise seen in battery operated on-the-shoulder type recorders with an intuitive interface.



The audio inputs are equipped with user-programmable audio limiters, an AGC system and digital filters. This new concept allows not only cleaner ALC and Limiters, but also simplifies the design of the preamplifiers making the audio path more direct. The onboard operation system has also been further refined highlighted by a modern, sunlight-readable, color touchscreen.
Specifications:
Recording
» Internal storage: MIcro SD Flash memory card
» Removable media: SD Flash memorycard
» Disk format: FAT 16 / 32
» Recording Method: Linear digital PCM, optional:MPEG 1 layer II
» File type: 16 / 24 bit Broadcast Wave File BWF (WAV)
» A/D & D/A conversion: 24 Bit Sigma Delta
» Bit rates: 32 kbits/s up to 384 kbits/sec
» Tracks: 2 individual
» Sampling Rate: 44.1, 48 kHz, 88.2, 96, 176.4 and 192kHz
» Recording capacity: 1hr at 24 bit 48 kHz per GB of memory
» Pre-recording buffer: Programmable
» Display: Color LCD touchscreen
» Level meters: On color display
Inputs
» Digital input: XLR 3-pole / AES 42
» Analogue inputs: 2 x XLR Microphone (Dynamic, +48V Phantom) / line
» Microphone input sensitivity: 2.8, 10 and 40 mV/Pa selectable
» Mic input noise: Uin < 1µV (2.8 and 10 mV) @ 220?; Uin < 1.6µV (40 mV) » Limiters: On microphone inputs » Line input sensitivity: Adjustable from -6 dBm up to +24 dBm for 0 dBFS recording » Frequency response: Mic, 10Hz - 75 kHz (+0 - 3dB), Line 10 Hz - 90 kHz (+0 -1dB) (measured on AES out) » Signal-to-noise ratio: >110 dB ASA "A"
» Input level adjustment range: 45 dB Mic and from -6 to +24 dB Line
» Input filters: LFA
» Internal microphone: On the front panel
» Crosstalk: Mic >70dB : Line > 110dB
Outputs
» Analogue line output: XLR 4.4V max (+15 dBm)
» Crosstalk: >110 dB
» Signal-to-noise ratio: >100 dB
» Digital output: XLR AES-3 (24 bit or 16 bit)
» Frequency response: 10 Hz – 75 kHz (+0-3dB)
» Headphones: Stereo 6.3mm (¼") Jack 50 ?
» Internal speaker: 0.3W
Other
» USB: Micro AB connector
» M/S Decoder: Switchable
» Ethernet: RJ 45
Standard on-board features include full iXML metadata, AES inputs equipped with a sample rate converter and AES-42 for digital microphones, up to 24 bit 192 kHz recording, analog and digital inputs and outputs and Ethernet and USB 2.0 ports for built-in communication. Programmable digital filters are also incorporated, allowing both frequency and slope to be set. The principal recording media is an internal MICO-SD flash memory card and the removable media is a standard SD card. The size of both can be changed by the used as required.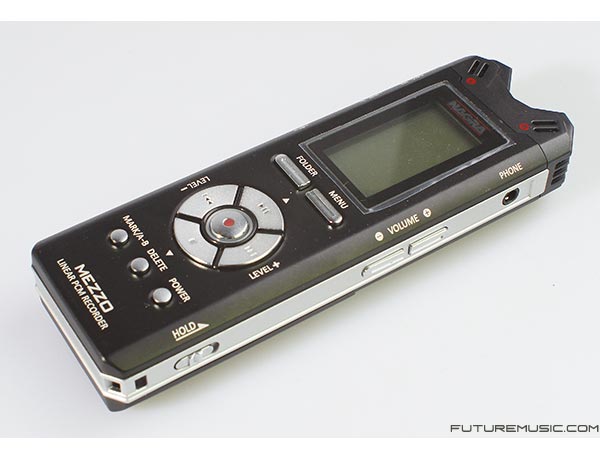 Ideal for on-the-go interviews, conferences, live music, the Nagra Mezzo records to internal 8GB flash memory. It will record in 24bit linear PCM (up to 96 kHz) and MP3. The lightweight and ergonomic Mezzo fits comfortably into your hand and offers high quality preamplifiers, stereo and mono recording, VOR operation and long running time of nearly 40 hours.
Nagra